US Youth Soccer South Presidents Cup 2019: Day 1 Recap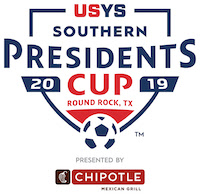 Schedules, Scores and Standings 
Facebook | Twitter | Instagram | #USYSPCUP
ROUND ROCK, Texas (Via US Youth Soccer) – The 2019 US Youth Soccer Southern Presidents Cup is now underway in Round Rock, TX. The five-day event, which takes place June 12-16, kicked off Tuesday with 13U through 18U Boys and Girls teams starting the action at the Round Rock Multipurpose Complex and Old Settlers Park.
Preliminary games will continue through Friday, June 14. Semifinal matches will take place on Saturday, June 15. Regional champions will be crowned following final matches on Sunday, June 16.
The event features more than 130 US Youth Soccer boys and girls teams competing for a regional title and a chance to advance to the 2019 US Youth Soccer National Presidents Cup, July 10-14 in Murfreesboro, Tenn.
South Texas Youth Soccer Association will host the event, and the 11 other State Associations represented include Alabama, Arkansas, Florida, Georgia, Louisiana, Mississippi, North Carolina, North Texas, Oklahoma, South Carolina and Tennessee.
The US Youth Soccer Presidents Cup offers teams the challenge of experiencing different types of play by competing from state to regional to national levels. The Presidents Cup provides teams with a progressive, competitive experience that highlights competition, camaraderie and community.
Preliminary Round Recaps:
13-Under Boys
KSA 06 Boys (TN) got off to a strong start with a 6-1 over LA Fire 06 White (LA), when Seth Meade, Benjamin Brophy and Franklin Von Hagen all found the back of the net. KSA was joined by United Stars Miami (FL), which earned a 4-1 victory over 06 WFC Raleigh Gold (NC). In Group B, Dallas Rebels 06 (TX-N) used a big win over MS Rush 06 Premier (MS), while a pair of braces from Gregoly Vladimir Soto and Cuahutli Santillan combined with goals from Jesus Gutierrez and Krystofer Clemente resulted in Alianza Gold 06 (GA) defeating OK Energy FC Central Navy (OK) 6-0. Mobile United 06 (AL) also used a 6-0 win against FCD Central Arkansas 06 Red (AR) to move to the top of its group, where they are joined by Miners FC 06 (TX-S), after the South Texas side won 6-1 over USA/MP 07 (SC).
13-Under Girls
Ellie Miller's five goals propelled Cape Coral Cyclones (FL) into a 7-1 win against GCR 06 Red (AL) as Sophia Kerns and Caroline Pelkofski also found the back of the net for Cape Coral, while Elizabeth Hope scored for the Alabama side. Joining Cape Coral at the top of Group A is CFC Redstar 06 Elite (GA), which won 3-1 over TN Soccer Club Premier (TN) courtesy of a pair of goals from Erica Mathews and a goal from Lieren Frullaney. A Vivian Geesbreght hat trick gave Impact FC 06 Bertelsen (TX-N) a 5-0 win over USAMP Stars (SC), while 06 WHYFC 07 White (NC) won 6-2 against Gonzales SC 06 Blue (LA). OK Energy FC Central Green (OK) wrapped up the group with a 3-1 win over Lady Lions 06 (TX-S) when Evelina Selph, Raelynn McMahan and Jordan Tanges all found the back of the net, while Kailee Meyer scored the lone goal for the Lions.
16-Under Boys
Sporting United 03 (TX-N) and 03 PGSA Stars (NC) each used three-goal wins to move to the top of Group A. Sporting United defeated FC Westlake 03 (TX-S) 3-0, while PGSA won 4-1 against Alabama Rush 03 (AL). Klein FC Aztecas (TX-S) earned a 6-1 win against FC Dallas Central Arkansas 03 (AR), while CFA Gainesville 03 Archies (GA) won 2-1 against Mandeville SC Premier 03 (LA). The match between Nashville United Soccer Academy (TN) and FC Tampa Hawks (FL) was a back-and-forth thriller that ultimately ended in a 4-4 draw, while the match between Coast FA 03 Red (SC) and Western Oklahoma FC (OK) was on the opposite end of the spectrum as neither group found the back of the net. Tampa Bay Rowdies United Rowdies 03 (FL) won big in a 5-1 victory over DC Galaxy FC 03 (MS).
17-Under Boys
Ivan Orellana scored the lone goal in a 1-0 CFA Correcaminos (GA) win against Charleston United (SC). Braces from John Carrera and Andrei Maruntelu led Elite FC 02 (TX-S) to a 6-0 win against 02 Lobos Rush Elite (TN). Steve Brunner and Caleb Birkenfeld netted goals for OK Energy FC East Green (OK) in a 2-1 win over LA Fire 02 Navy (LA) as Bryce Kennedy scored the Louisiana side's lone goal. In Group A, Quintil Cardona and Giovanni Aguilar each netted a pair of goals as Dallas Kicks 02 Selecao (TX-N) won 4-1 against 02 CR NM Burundy Rapids (NC). SSC 02 (AL) also scored four goals, all courtesy of Daniel Morris III as the Alabama side defeated Soccer Paradise (FL) despite goals from Lucas Calvelo and Satiago Cuina Pace.
17-Under Girls
Alliance SC 02 Elite (GA) and Ajax 02 White (TX-S) battled to a scoreless stalemate, while GPS Coastal Academy 2002 (SC) moved to the top of the group after edging out BUSA 02 Premier (AL) 2-1. Adrianna Machadoand Ashleigh Snyder scored for GPS, and Frances O'Hare netted BUSA's goal. Abigail Clark's two goals combined with goals from Anna Grosseim, Emma Brock and Alexis Gordon to give 02 NCFC Gold North (NC) a 5-2 win against 02 Lady Lobos Rush Elite (TN). A Katherine Carnes brace along with a third goal from Emily Rosalesresulted in Plant City Lancers (FL) winning 3-0 over Frisco Fusion 02 (TX-N). Rise 02 Elite (TX-S) secured a 2-0 win against Dynamo 02 Elite (TX-S) after Emma Kate Howell struck twice.
18-Under Girls
After a scoreless draw against Q Factor 01 (TX-N), NUSA Maroon (TN) used a 3-2 win against Ajax 01 White (TX-S) to move to the top of the group. Kaitlyn Clamp, Evelyn Jimenez and Sarah Cloud all scored for NUSA, while Serena Ruiz and Jenna Townsley found the back of the net for Ajax. Rage FC (TX-S) started the tournament strong with a 7-0 win over Tigers SC Southside Heat (GA). In Group B, 01 FSC Force Blue (NC) and CRFC Sky 01 (SC) used shutout wins to move to the top of the group. FSC Force won 4-0 against Brownsville United 01, while CRFC earned a 2-0 win against Winter Haven Kicks (FL).
For complete event results for the Southern Presidents Cup, click here. For more information on all US Youth Soccer Regional and National Presidents Cup events, visit the US Youth Soccer Presidents Cup Homepage at www.usyouthsoccer.org/presidents-cup.
Note:  The US Youth Soccer Presidents Cup is a separate series of events from the US Youth Soccer National Championship Series.