US Club Soccer's Boys id2 National Selection Team defeats Leeds United U-14s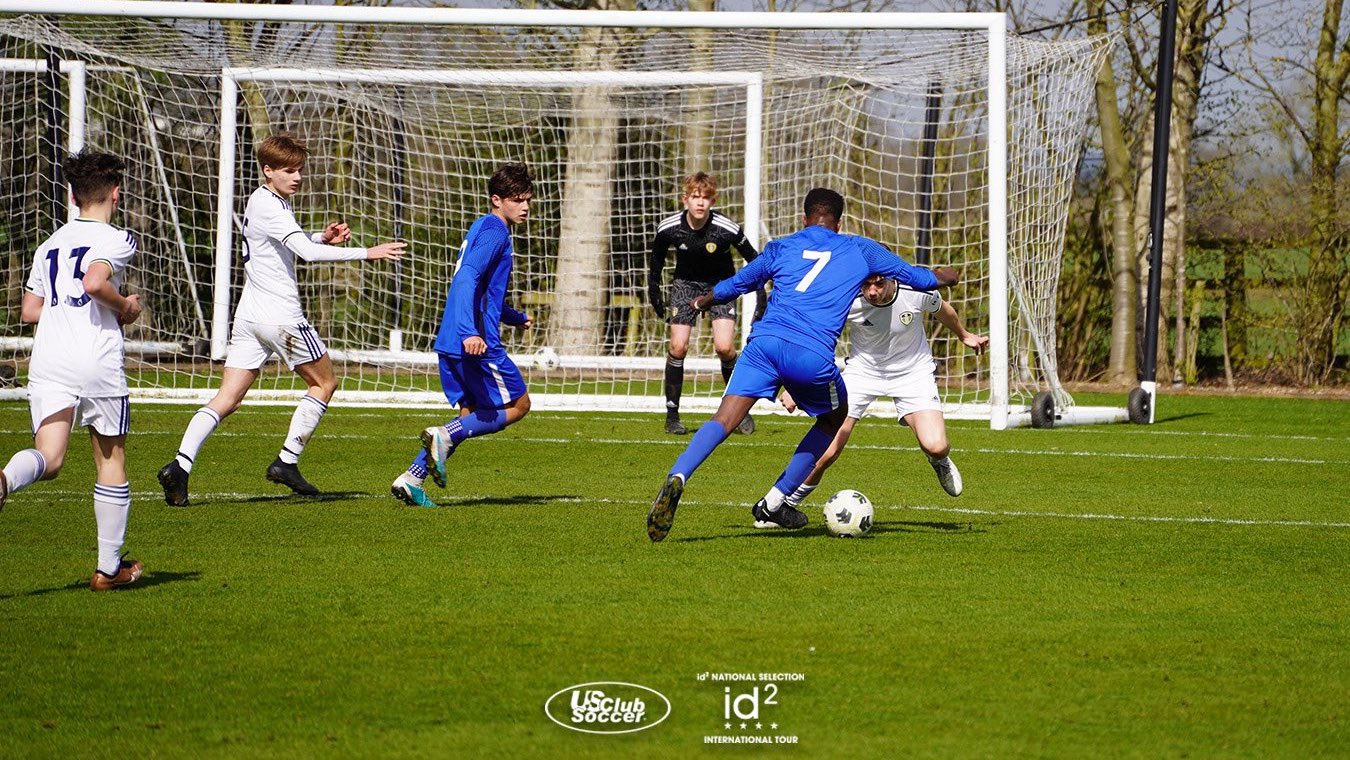 LEEDS, England – In the opening game of the 2023 US Club Soccer id2 National Selection International Tour, the id2 boys team defeated Leeds United's U-14 academy team, 3-0. It was the first of four opponents the '09 squad will face in England over seven days.
Cyrus Kowall (Phoenix Rising FC) started the scoring, finding the back of the net in the 8th minute, assisted by Sebastian Moran Ruano (Strikers Irvine). The id2 team had a few chances to extend its advantage in the first half, but Leeds United settled in defensively to keep it 1-0 at intermission.
The Americans would strike again, though, early in the second half. Dylan Mazzarella (STA) scored in the 54th minute off a well-placed cross from Matthew Belgodere-Santiago (Florida Kraze Krush). Moran Ruano returned to the box score, this time as the beneficiary of a long through-ball from Anderson Torres (1974 Newark FC). Moran Ruano's goal was in the 75th minute, and the 3-0 lead was unchallenged for the remaining five minutes. James Donaldson (Atlanta United) provided security in net with four saves.
The 2023 id2 National Selection boys and girls teams face five worthy challengers in England during the tour:
April 3 vs. Leeds United FC (boys only)
April 4 vs. Everton FC (girls only)
April 6 vs. West Bromwich Albion FC
April 8 vs. AFC Wimbledon (boys only)
April 8 vs. Haringey Girls Academy (girls only)
April 10 vs. Oxford United FC
The id2 National Selection girls squad will play the U-16 teams of their academy opponents, except for the Haringey Girls Academy U-15 team.
The matches take the teams to several sites in England, which speaks to the value of cultural immersion on this trip. These clubs offer unique training styles and developmental experiences that the id2 National Selection teams will see first-hand. Cultural immersion isn't limited to matches and training sessions, though; the American delegation will also attend professional men's and women's games and tour stadiums in Manchester and London.
The 2023 id2 National Selection International Tour officially began March 30 with a two-day domestic camp in New Jersey before traveling to Manchester for the first half of the England stay and then London for the remainder. The tour, which concludes April 11, represents the final progression of the current id2 age group cycle targeting players born in 2009.