Jefferson Cup Boys Showcase draws to a close with over 200 college coaches on hand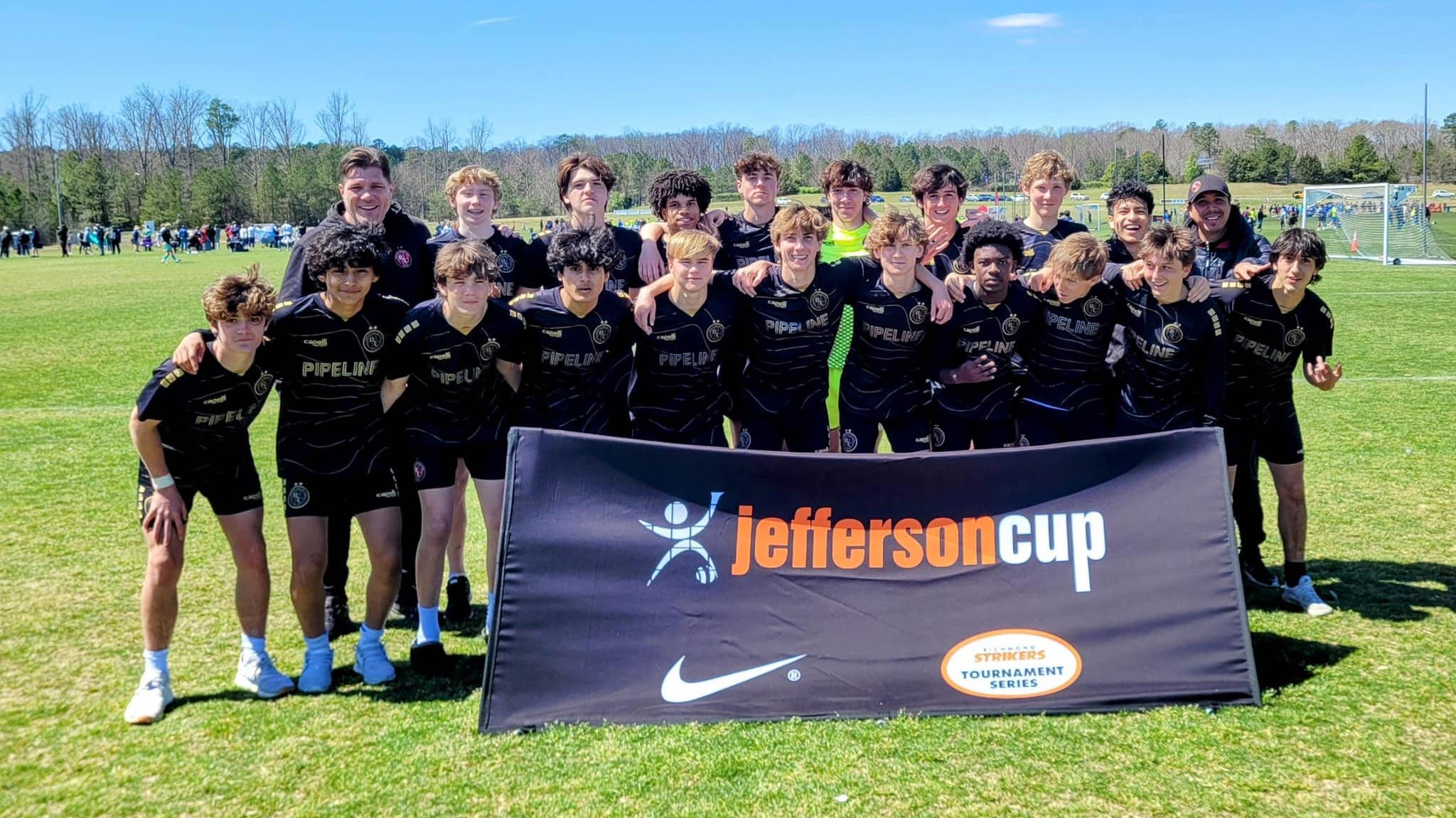 By Sean Maslin
SoccerWire Staff Writer
Follow the Jefferson Cup:
Twitter | Facebook | Instagram
RICHMOND, Va. – The 2023 edition of the Jefferson Cup wrapped up play this weekend with an electric Boys U15-U19 Showcase.
The event featured the top sides from across the boys youth soccer landscape including MLS Next, Girls Academy, US Youth Soccer National League, and US Club Soccer's National Premier Leagues (NPL). Twenty-five different states were represented in this year's competition, which featured a standard tournament format for the U15 age group and a college showcase format for ages U16 and above.
Several teams from Canada and another from Puerto Rico joined the group of U.S. squads who were able to finish atop their respective divisions at the Jefferson Cup Boys Showcase. The event also played host to over 200 college coaches from across NCAA Divisions I, II and III, and other levels of the college game including NAIA. To view full results from the Jefferson Cup Boys Showcase, click here. To view the full list of registered college coaches, click here.
"Obviously, the main reason for attending this Showcase is to have our players gain the exposure with the college coaches," said Pipeline SC ECNL '07 and '06 Head Coach Phil Greatwich. "But it is also good preparation for the remainder of our season. We have five games left in league play and then the playoffs in North Carolina and then we're off to Los Angeles in July. So these are the games that we need."
Continue reading for a rundown of things shook out across the U15-U19 age groups.
U15
SYC MLS Next placed first in the Championship Division, but it was a tough run to top honors. In the Group Stage, they had to win their final two matches (5-0 against Las Vegas Diversity FC '08 and 2-0 over Loudoun Soccer '08) to overcome a tough 2-1 loss to Charlotte Soccer Academy ECNL 08 to make it to the finals. Things did not get any easier in the finals, where they encountered a tough Pipeline SC ECNL 08 team that had won all three of their matches and not conceded a goal during Group Play. But SYC held firm, grinding out a 2-1 win to finish first in the top division.
U16
For the fourth consecutive year, Pipeline SC ECNL 07 (3-0-0, 29 points) placed first in their division, capping a strong Championship Division run with a 6-0 win over Quaker Elite Rowdies. Their win on Sunday was preceded by wins over Wake FC MLS Next (4-0) and SYC U16 MLS Next (2-0).
Forwards Stefan Garefelakis and Diego Peralta each bagged a brace while solo goals were scored by midfielder Aidan Heister and Keegan Nolan. Despite facing strong opposition from Quakers, especially during the first half, the Pipeline defense led by goalkeeper Jason Broome and defenders William Andrews and Shaun Hauserman held firm to earn their third consecutive shutout.
While Pipeline's attacking prowess was on full display this weekend, their defensive was also particularly on point. It has been a calling card for the side all season (they have conceded just four goals during ECNL Mid-Atlantic league play this). "It is the base of the team," said Greatwich. "No matter who we put on defense they just really work hard. Our goalkeepers are very serious about keeping clean sheets and our backline is super composed and they listened to everything that we [the coaching staff want."
"But it also starts from the top," Greatwich added. "So the front two work really hard in the press the midfield diamond that we plan, it's a lot of running. So that's why we substitute early and often is the outside of diamonds because we could have as good of a backline as we can with the guys in front and don't do their job then you know we are going to get scored on. It's impressive that through all of these games here and 14 in the league and to only concede four goals, is really impressive."
–––
Finishing in second in the Championship Division was Richmond United (2-0-1, 21 points) with a strong 4-1 over Wake FC '07 MLS Next. After a tight 0-0 draw with Bethesda Blue 2007 0-0 on Friday, they followed it up with an impressive, come from behind 2-1 win over SUSA FC 07 ECNL. Their two goals conceded was tied with Loudoun Soccer 07 for the second lowest Goals Allowed in the Championship Division.
Charlotte SA Academy ECNL 07 (2-1-0, 19 points) and Manhattan SC Roma 2007 ECNL (1-0-2, 18 points) round out the top four. After having dropped a tough 3-2 result to SUSA FC 07 ECNL 3-2 on Friday, Charlotte rallied to earn a 5-1 win over Quaker Elite Rowdies on Saturday and 2-1 to SYC U16 MLS Next on Sunday. Their nine goals was the second highest in the Championship Division.
Manhattan also saved their biggest result for the end of the weekend, downing Potomac Premier I 07 4-2 on Sunday. That result was preceded by a pair of strong draws against two difficult sides in Loudoun ECNL 07 (1-1) and VDA ECNL U16 (2-2).
U17
Pipeline SC ECNL 06 ECNL (3-0-0, 25 points) finished the weekend undefeated, capping a strong three days with a tough 3-1 win over Match Fit Academy FC ECNL 2006.
Blake Lloyd put Pipeline up early with a low shot in the first half. But Match Fit came out of the second half swinging, with forward Ari Pollak netting the equalizer in the 64th minute. But Pipeline pulled away midway through the second half with Andrew Denard heading home the game-winning goal off of a rebounded free kick in the 71st minute. Match Fit pressed to get an equalizer but thanks to some effective marking from Kobe Keomany and Dan Klink in the midfield, their attempts were thwarted. Klink put the match away in the 76th minute making a strong run down the left flank and slotting a low shot past the Match Fit goalkeeper.
"It was a really good game,"said Greatwich. "We've competed against these guys numerous times, and it's always an interesting matchup. I think we rode our luck at times, but we grinded out a good little win here while we were missing a lot of key guys."
Pipeline's strong effort on both sides of the pitch against Match Fit capped a strong weekend from the side. They started off the weekend in fine form as well, pulling off a 1-0 win over SYC MLS Next U17. On Saturday it was another close match, this time with the side defeating Dix Hills EST Ultimatum 2006 1-0. Against a very tough defensive side in Dix Hills, Pipeline used their speed in the midfield by Keomany, Denard, and Lloyd to force Dix Hills to continuously track back.
Their efforts paid off in the 31st minute when Keomany earned a penalty. The captain delivered on the ensuing kick, putting his side ahead 1-0. Despite facing significant heat in the second half, Pipeline stood firm with goalkeeper Darius Geaman earning his second clean sheet on the weekend.
" I really give the boys a lot of credit for their effort this weekend and putting their bodies through this weekend," said Greatwich. " We played some high quality opposition and i think we put together three really nice performances."
–––
Arlington SA 2006 ECNL (3-0-0, 26 points) topped the Championship Division also with an undefeated weekend. The Virginia-based side from the ECNL defeated Dix Hills EST 2006 Ultiamtum 2-1, Eclipse Select 2006 West 3-2, and Potomac Premier I 2006 3-1.
Charlotte SA Academy ECNL 06 (2-0-1, 25 points) placed second in the Championship Division. They led the division in goals with 14, including a 5-0 win over SUSA FC ECNL 2006 which saw a brace from midfielder Tyler Schwartz and solo goals from Alex Herrera, Edwin Sosa and Adriel Sorto. They also earned a 4-4 draw against NEFC ECNL 06 on Friday and a 7-1 win over NJ Premier 2006.
U19
Match Fit Academy FC ECNL 2005 (3-0-0, 27 points) claimed top honors in the U19 Championship Division, winning all three of their matches over the weekend. The side earned three clean sheets over GESP FC Hoosac (1-0), Boston Bolts U19 ECNL (3-0), and Charlotte SA ECNL 04/05 (2-0). They were the only side in the U19 Championship Division to go the entire weekend without conceding a goal.
Placing second was Steel United CA 04/05 Elite Academy (2-0-1, 22 points), who also went undefeated on the weekend. The high-scoring side netted 10 goals in three games, the most out of any team in the U19 Championship Division. They started their Jefferson Cup Showcase in fine form, defeating Kings Hammer B05/04 6-1. They followed it up with a solid 1-1 draw against Charlotte SA Academy 05/04 and a 4-2 win over SUSA FC B04/05 ECNL.
Rounding out the top three in the Championship was SUSA who despite a tough loss against Steel United, had a strong weekend in Richmond. The New York side started their weekend with a pair of wins over Charlotte SA Academy 05/04 (2-0) and Kings Hammer 05/04 (4-1).
Full List of Division Champions
U15 (2008)
Championship: SYC MLS Next (VA)
Elite Orange: SMS Strikers Red Premier (MD)
Elite Black: Stony Brook – LGN Wildlings Blue (NY)
Superior Orange: Manhattan SC Barcelona ECNL (NY)
Superior Black: Baltimore Celtic Green Sporrer (MD)
Superior White: PWSI Courage ECNL RL (VA)
Platinum Orange: GFRSC 08 Elite (VA)
Platinum Black: Arsenal 08 Academy (PA)
Classic Orange: Glenshields Juventus 08 FC (CND)
Classic Black: STA-MUSC ECNL RL (NJ)
Classic White: NJ Blaze Black (NJ)
Premier Orange: Jersey Shore Boca Jr FC Silva (NJ)
Premier Black: TSF Academy Boys N.E.A.L (NJ)
U16 (2007)
Championship: Pipeline SC ECNL (MD)
Elite: Boston Bolts ECNL (MA)
Superior: TKFC Elite (MD)
Platinum Orange: King United (CND)
Platinum Black: Lakeshore Soccer Club (CND)
Classic Orange: Old Line FC United (MD)
Classic Black: Pipeline SC RL (MD)
Premier Orange: Coppermine SC Boys Elite 64 (MD)
Premier Black: Evolution Boys Mercurial (IL)
U17 (2006)
Championship: Arlington SA ECNL (VA)
Elite: Juventus Academy Boston IFA (MA)
Superior: Milton Showcase (CND)
Platinum Orange: PR Surf (PUR)
Platinum Black: BRAUSA Blue (VA)
Classic Orange: Vaughan Azzuri (CND)
Classic Black: Princeton FC Barcelona (NJ)
Premier Orange: Pipeline SC ECNL RL (MD)
U19 (2005/2004)
Championship: Match Fit Academy FC ECNL (NJ)
Elite: Maryland United FC ECNL (MD)
Superior: GESP FC South Kent (CT)
Platinum: CT Rush Select (CT)
Classic Orange: Stony Brook – LGN United (NY)
Classic Black: SDor Elite (VA)
Premier Orange: Charlotte SA ECNL RL White (NC)
Premier Black: Black Rock FC Academy | Northwood (MA)