University of Oklahoma hires Mark Carr as head soccer coach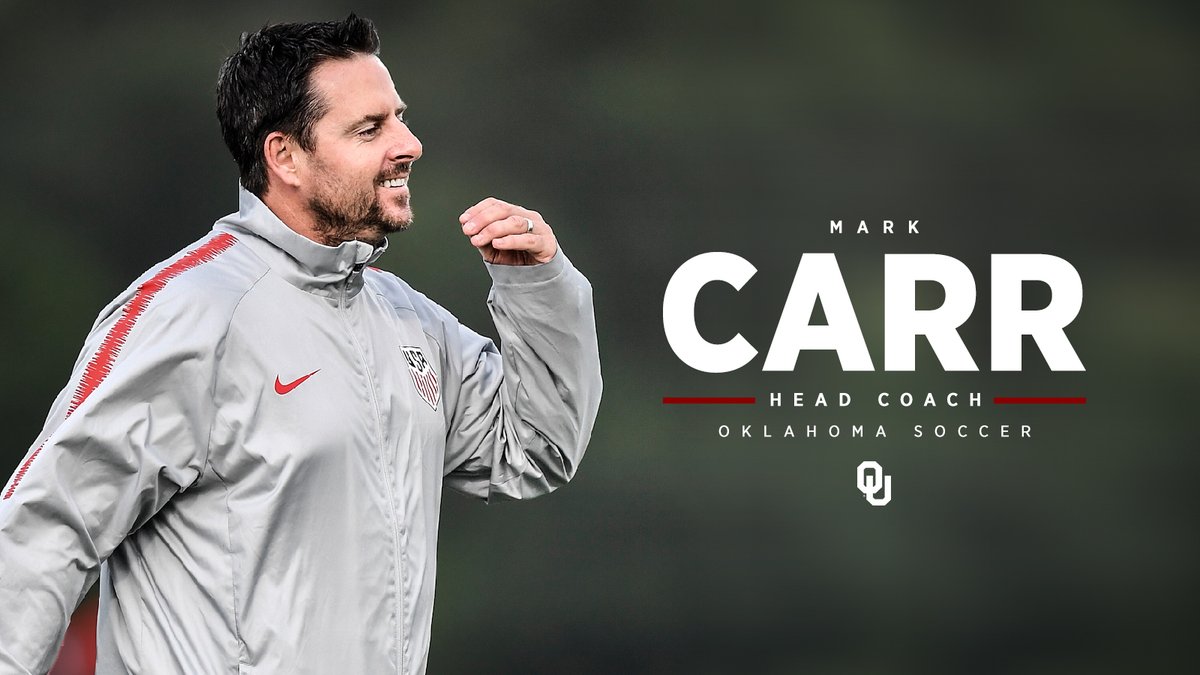 NORMAN — University of Oklahoma Vice President and Athletics Director Joe Castiglione announced the hiring of Mark Carr as head coach of the Sooners' soccer program.
Carr has spent the last six years coaching with the U.S. Soccer Federation, serving the last year as head coach of the Under-20 Women's National Team as it prepared for World Cup qualifying in February 2020. He was also head coach of the University of San Francisco's women's team from the 2007 through 2011 seasons.
"We are thrilled to welcome Mark, his wife Caroline, and his children Ella and Oliver to the Sooner family," said Castiglione. "As we all know, there's a journey and a process to developing the skills of individual players and building the chemistry of a team. I wanted our next soccer head coach to be somebody who's not afraid of the expectation and who genuinely relishes the competition, but most importantly recognizes their role in putting others in a position to be successful. Mark exemplified all of those traits during our head coaching search.
"We vetted a variety of diverse candidates for this job, but Mark's excitement and passion for wanting to compete and develop student-athletes at the highest level was second to none. His U.S. Soccer National Team experience and his collegiate and club background were extremely attractive to us, and we felt that his proven success in competing at the highest level allowed for him to understand that at Oklahoma there's an expectation of excellence.
"We look forward to the future success of our women's soccer program under Mark's leadership."
Prior to coaching the U.S. U-20 Women's National Team, Carr presided over the U-17 Women's National Team in 2017 and '18. He led USA to the 2018 Concacaf Women's U-17 Championship and earned a berth in the World Cup. His squad beat Haiti in the Concacaf semifinals and Mexico in the championship game and entered the World Cup with a 14-1-3 record.
In 2017, Carr's U-17 team went 9-1-3, playing in tournaments in Slovenia/Italy and in China while also defeating England in two games in Portland, Ore., by a combined score of 12-3.
Carr also managed the integration and programming of the Under-15 and Under-16 Girls' National Teams, working closely with the head coaches of those age groups during the World Cup cycle to maximize the evaluation and movement of players between the age groups for training camps and matches.
"I am thankful to Joe (Castiglione), Armani (Dawkins), Lindy (Roberts-Ivy), Toby (Baldwin) and the whole OU athletics department for affording me this incredible opportunity," said Carr, who is originally from England. "From the moment I stepped on campus, it felt like home. The spirit of everyone at OU is infectious, and so is the championship culture. That hit me right away and made the decision to accept this opportunity an easy one for my family and me.
"I have high expectations for myself and for the OU women's soccer program, and will work tirelessly to develop every one of our student-athletes in the classroom, on the field and in the community, with winning in all these areas as the end goal."
Carr joined U.S. Soccer in November 2014 as development coach for the USA's Women's Youth National Teams in one of three newly created positions and was responsible for heading the U.S. U-15 Girls' National Team programming and camps for two-and-half-years, providing him an excellent base of knowledge and experience with which to lead the U.S. U-17s.
In 2016, Carr coached a U.S. team that participated for the first time in the Concacaf U-15 Girls' Championship. He led the USA to shutout wins in all seven games, compiling a 49-0 goal difference. His squad defeated Costa Rico 5-0 in the semifinals and Canada 2-0 in the championship game to win the regional title.
Carr came to U.S. Soccer after spending three years (2012-14) as the Girls' Premier League Director and Technical Director for the Lonestar Soccer Club in Austin, Texas. He was also active in the Women's National Team programs, serving as a scout, helping run U.S. Soccer Training Centers in Texas and assisting with U-14 national camps.
"I am certain Mark will do great things in his new position at OU and we wish him the very best," said Jill Ellis, who served as the U.S. Women's National Team head coach from 2014 until this past October and won the 2015 and 2019 World Cups. "He is an exceptional coach and has an energy and passion for developing players and competing at the highest level.
"I have known Mark for a long time and the caliber of coach is matched also by the caliber of person."
From 2003 to 2011, Carr was a collegiate coach, first as an assistant at UCLA (2003-06) and then as the head coach at San Francisco, where his players won 16 all-conference honors. During his time at UCLA working with Ellis, the Bruins posted an 81-15-5 record, produced nine All-Americans, won four Pac-10 titles, advanced to four Final Fours and to two NCAA championship games. They also posted an 18-4 record in the NCAA Tournament.
Carr was active in the Southern California club circuit, coaching the Force Soccer Club (Redondo Beach) and serving as the head coach for the Girls' U-11 and U-14 teams. He also worked with the Region IV Olympic Development Program.
Carr graduated from England's Bournemouth University in 2001 with a Bachelor of Arts degree in international marketing. A decorated amateur player, he competed on various youth teams until he was 18.
He holds a USSF National "A" License, a USSF "A Youth" License, a USSF National "Goalkeeping" License and an English FA Coaching Certificate.
"We have everything here at OU to be successful," said Carr. "The combination of a high-level academics and an unmatched soccer experience in a special place will attract the very best student-athletes regionally, nationally, and internationally.
"There is a lot of work to be done, but I can't wait to get started."