University of New Mexico women's soccer announces promotion for Michaela Supple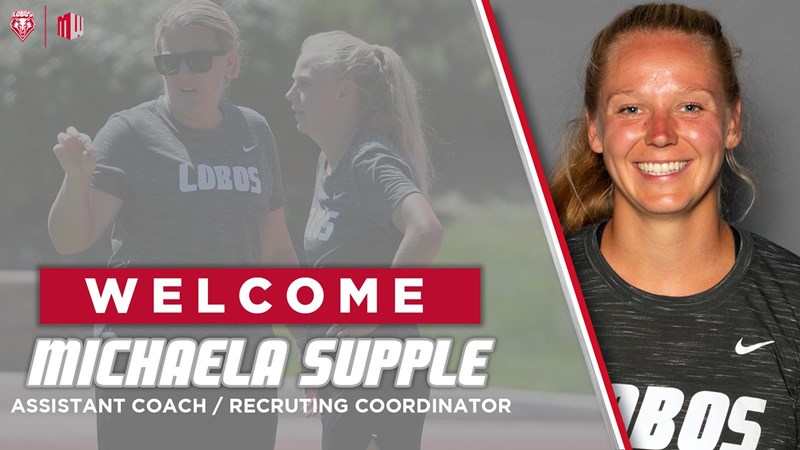 ALBUQUERQUE, N.M. – The University of New Mexico head women's soccer coach Heather Dyche has announced the promotion of Michaela Supple to assistant coach and recruiting coordinator.
"Promoting Michaela on our staff is the absolute clear choice. She embodies everything we look for in our program. She is hard-working, loyal to the state and our program, highly knowledgeable, and just an incredible person," said Dyche. "She has already been an integral part of everything we are doing here, but with her new role she will elevate our team and staff. She has had multiple opportunities and job offers elsewhere and has stayed at UNM because this program means so much to her, we are lucky to have her."
"It is incredibly important to me to promote our state, New Mexico is special," added Dyche. "A large part of our success has been keeping New Mexican players home, and I feel the exact same way about our staff. We have special coaches and people in this state, and I am happy to give another opportunity to a native New Mexican in Michaela."
A native of Albuquerque, Supple has spent the past three seasons as the program's director of operations.
"I am elated and very thankful to Heather (Dyche), Ed (Manzanares), and Eddie Nuñez for this opportunity. From my time playing for Heather as a club kid in Albuquerque, she has pushed me to be a better person and coach in every aspect of my life. I could not think of someone I respect more as a mentor and a friend. I am grateful to learn from and work with our staff every day," remarked Supple. "I have some big shoes to fill and I am extremely appreciative to Karley for her mentorship during her time at UNM."
"This opportunity to continue to represent my home state, a wonderful university, and a team that I grew up cheering for my whole life is something that I don't take for granted for one second," added Supple. "I have so much admiration for this group of student-athletes. They are always pushing to achieve more, and I believe there is no limit to what this team and future Lobos can achieve. I am beyond excited to be a part of that journey."
A standout goalkeeper during her prep playing days in the Duke City, Supple was a key member of the Albuquerque Academy dynasty that won five-straight New Mexico 4-A State Championships from 2008-2012. Supple went on to play collegiately at Arkansas State University in Jonesboro, Ark. Injuries early on in her career ended her playing days, but Supple quickly transitioned to the coaching side of things and served as a student assistant throughout the remainder of her time at A-State.
In addition to her time as a student-athlete and student assistant coach, Supple excelled in the classroom graduating with an unblemished 4.0 GPA in exercise science from Arkansas State.