Kieran Hall promoted to associate head coach for Duke women's soccer team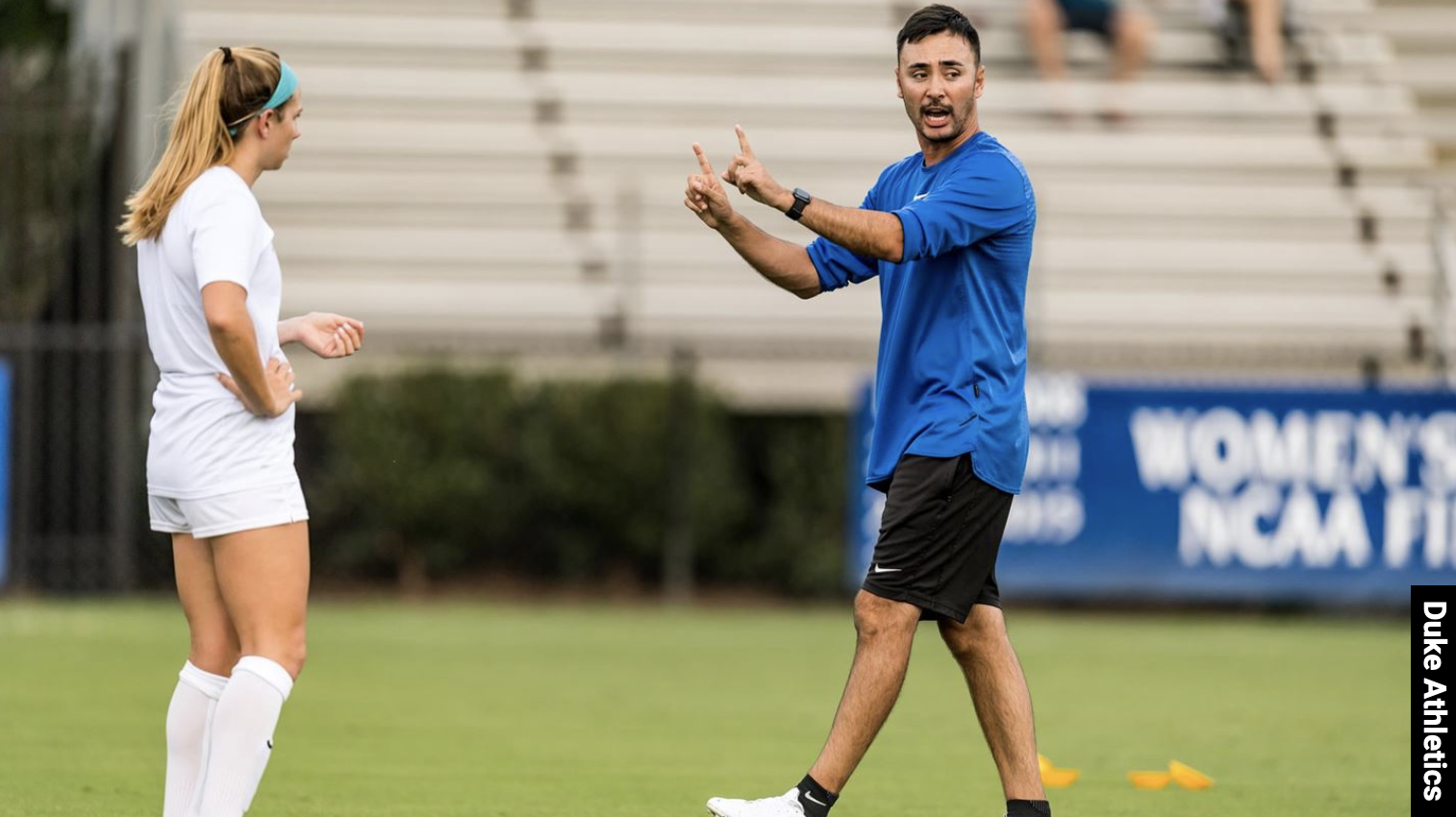 DURHAM, N.C. – Duke University women's soccer head coach Robbie Church announced Monday that assistant coach Kieran Hall has been elevated to associate head coach, effective immediately.
"We're excited to have this opportunity to promote Kieran (Hall) to associate head coach," said Church. "He has done amazing things in our program in the year and a half that he's worked with us. He's involved in every aspect of the program and has just done an outstanding job since he got here. We look forward to working with Kieran even closer and look forward to the future of Duke women's soccer."
Hall enters his second season with the Blue Devils' women's soccer program, looking to build on an impressive first year. Duke made its 25th NCAA Tournament appearance in Hall's first year, marking the program's fifth-straight showing in the Big Dance.
The Blue Devils amassed nine shutouts in Hall's first season, with four of those coming against top 25 opponents and three against top 15 foes. Duke's eight wins came by an average margin of four goals, as the team scored four or more goals on five occasions.
"I would like to extend my sincerest gratitude to Robbie Church, Dr. (Kevin) White and Dr. (Chris) Kennedy," said Hall. "It is an exciting time for the program; we have a team of fantastic student-athletes and support staff, incredible alumnae involvement, and our future Blue Devil classes are showing tremendous promise. The future is bright and I am fortunate to be part of the family."
A native of Blackburn, England, Hall joined the DWS program after spending the three seasons as a volunteer assistant coach with the Duke men's soccer squad. In his three years, Hall helped Duke tally a 31-19-7 record, including a 24-11-5 showing in his last two seasons.
Hall was an instrumental part in helping the Blue Devil men earn a pair of NCAA Tournament appearances, as the program captured the No. 6 national seed in 2017-18 and reach the Round of 16 in both showings. The No. 6 seed marked the first time the men's soccer program had earned a national seed since the 2009 season.
Prior to joining the Duke men's soccer staff in August 2016, Hall served as an assistant coach and consultant for the Indy Eleven of the NASL and as the Director of Operations at the University of Denver for a season.
A four-year starter at Fort Lewis College, Hall helped lead the Skyhawks to the 2005 NCAA Division II National Championship and the 2006 NCAA runner-up. He served as a team captain and was an all-conference and all-region selection during his time at Fort Lewis.
After completing his career and earning his bachelor's degree in business administration from Fort Lewis, Hall was drafted and was offered a contract by the Houston Dynamo of Major League Soccer.
Hall holds a Union of European Football (UEFA) "B" license earned a Master's in Football Management from Universidad Europea de Madrid.
For more information on Duke women's soccer, follow the Blue Devils on Twitter, Facebook and Instagramby searching for "DukeWSoc". You can also find all-access coverage of all Duke athletic programs on SnapChat by searching for "dukeathletics".