College of the Holy Cross appoints Kyle Bak as women's soccer head coach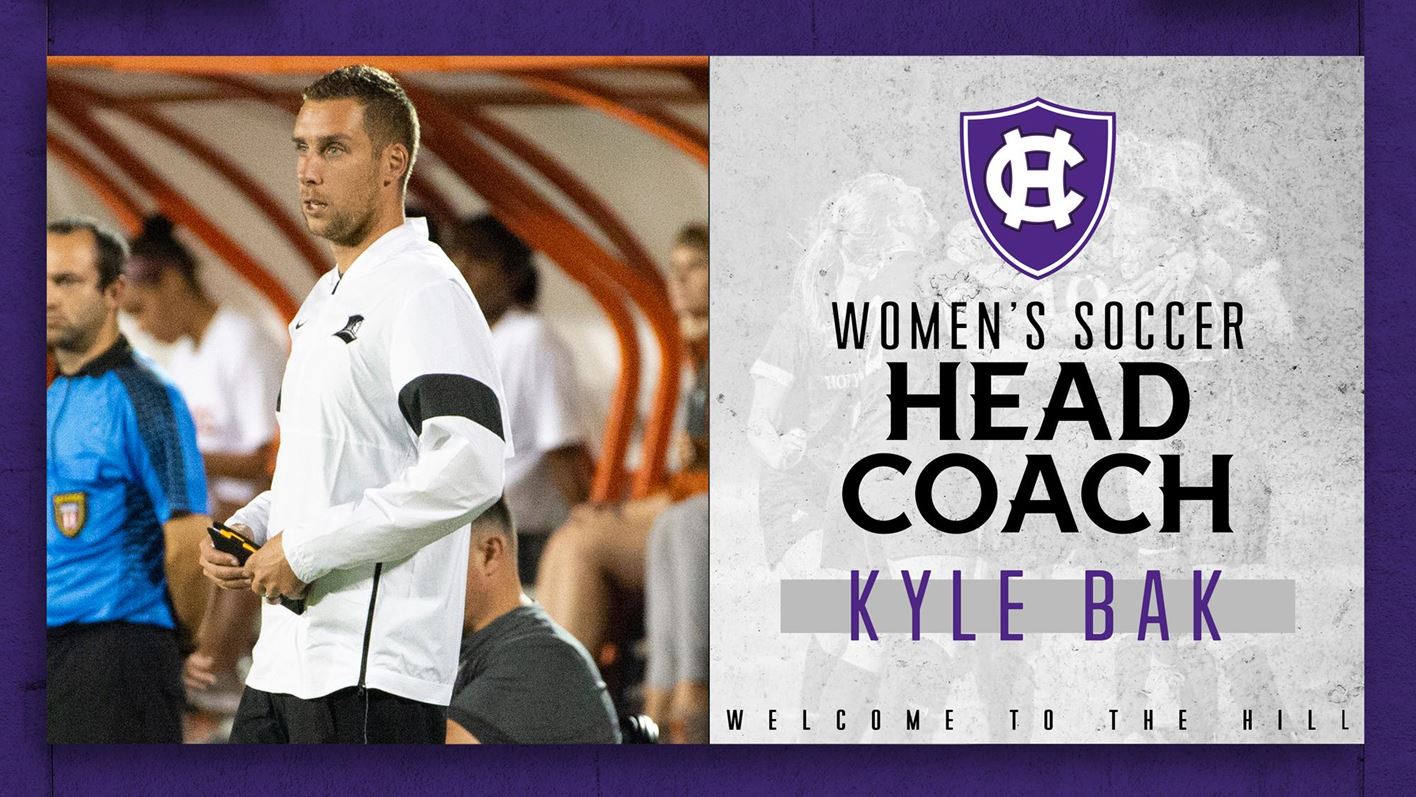 WORCESTER, Mass. – Holy Cross Director of Athletics Marcus Blossom has announced Kyle Bak as the next head coach of the Crusader women's soccer program.
Bak, who comes to The Hill after spending the last six seasons as the associate head coach at Providence College, will be the eighth head coach in program history.
"I am excited to welcome Kyle Bak to the Holy Cross family," Blossom said. "Kyle's ability to teach as well as his passion for developing student-athletes both on and off the field is a perfect fit for us. I look forward to working with him as we continue the upward trajectory of our women's soccer program."
Bak brings a combined 15 years of coaching and playing experience to Mount St. James. During his last six years at Providence, he helped guide the Friar women's program to six-consecutive Big East Tournament appearances, advancing to the finals in 2015.
Since joining the Friars in 2014, Bak helped Providence to a 62-46-13 overall record, while advancing to at least the conference tournament semifinals in four of those years. The Friars' appearance in the 2015 championship game was their second ever in program history and first since 1993. Bak saw Providence finish with a record above .500 for five-consecutive years from 2014-2019, which tied for the longest such streak in program history.
"I'm extremely honored to be the next head women's soccer coach at Holy Cross," Bak said. "I'd like to thank Director of Athletics Marcus Blossom, Taylor Leonard and the entire search committee for giving me this opportunity. I am looking forward to this incredible journey and to using the platform of soccer to lead our elite student-athletes as they grow and learn in a positive and challenging environment."
Prior to being named the associate head coach at Providence, Bak spent the 2013 season as an assistant coach at the University of New Hampshire. Before joining the Wildcats, he served his first stint at Providence as an assistant coach in the 2011 season. In 2010, Bak got his collegiate coaching start as an assistant coach with the Salve Regina men's team.
Bak has also held numerous youth coaching positions at elite New England programs, including with the Scorpions SC ECNL, Bayside FC Bolts, Rhode Island Olympic Development Program, New England Revolution Youth Academy, and LaSalle Academy.
The Cumberland, R.I., native attended Western New England University, where he played four seasons as a goalkeeper for the Golden Bears. Bak and his team accumulated a 63-18-14 record over his four years, winning four conference tournament championships and appearing in the NCAA Tournament each year.
Bak earned his bachelor's degree in Business Administration from Western New England University in 2010.
WHAT THEY'RE SAYING ABOUT KYLE BAK:
"I am excited for Kyle to make this step in his coaching career, and getting rewarded for the hard work he has done at Providence College. He has helped Providence become a perennial competitor in the challenging Big East Conference, and go deep in the conference tournament. He is an established recruiter who is passionate about the game and developing his players. I am excited to compete against the teams that Kyle will build and follow his impact on the program." – Mira Novak, head women's soccer coach, University of Massachusetts Lowell

"I believe Holy Cross has made an incredible hire in Kyle. He is a tireless recruiter, great coach, and even better person. His knowledge of recruiting in New England and nationwide will pay immediate benefits. I also feel the student-athletes he coaches will have an excellent experience as he takes the helm at Holy Cross." – Ron Rainey, head women's soccer coach, Dartmouth College

"Holy Cross is extremely lucky to have Kyle become the next leader of their program. He has the passion, work ethic and enthusiasm to build a championship caliber team." – Sammy Boateng, head women's soccer coach, Western Michigan University

"Kyle is going to be a fantastic addition to the Holy Cross community. The student-athletes will grow tremendously under his leadership. He is a caring, passionate and driven person who will push his players to become better athletes and, more importantly, better people. I have truly enjoyed my time getting to know Kyle throughout his years at Providence and I can't wait to see what he does with this new chapter in his career." – Ashley Phillips, head women's soccer coach, Northeastern University

"Since I arrived in New England in 2018, Kyle has been one of most welcoming and supportive coaches I've encountered. His passion for the game and the importance he puts on the relationships in our business are going to serve him well as he takes the lead role at Holy Cross. I have no doubt he will lead the women's soccer program to new heights." – Jason Dowiak, head women's soccer coach, University of Massachusetts Amherst

"Congratulations to Kyle on the extraordinary opportunity to be the next leader of the Holy Cross program. He is a talented, hard-working and fantastic teacher of the game. He's committed to maximizing the experience of the student-athlete in all aspects; developing and mentoring them as people while helping them excel in the classroom and on the field. I am forever grateful for his efforts with our program and wish him, his wife Alyssa and their family continued happiness and success as they begin the next chapter on a personal and professional level." – Sam Lopes, head women's soccer coach, Providence College