University of Colorado women's soccer signs five class of 2022 recruits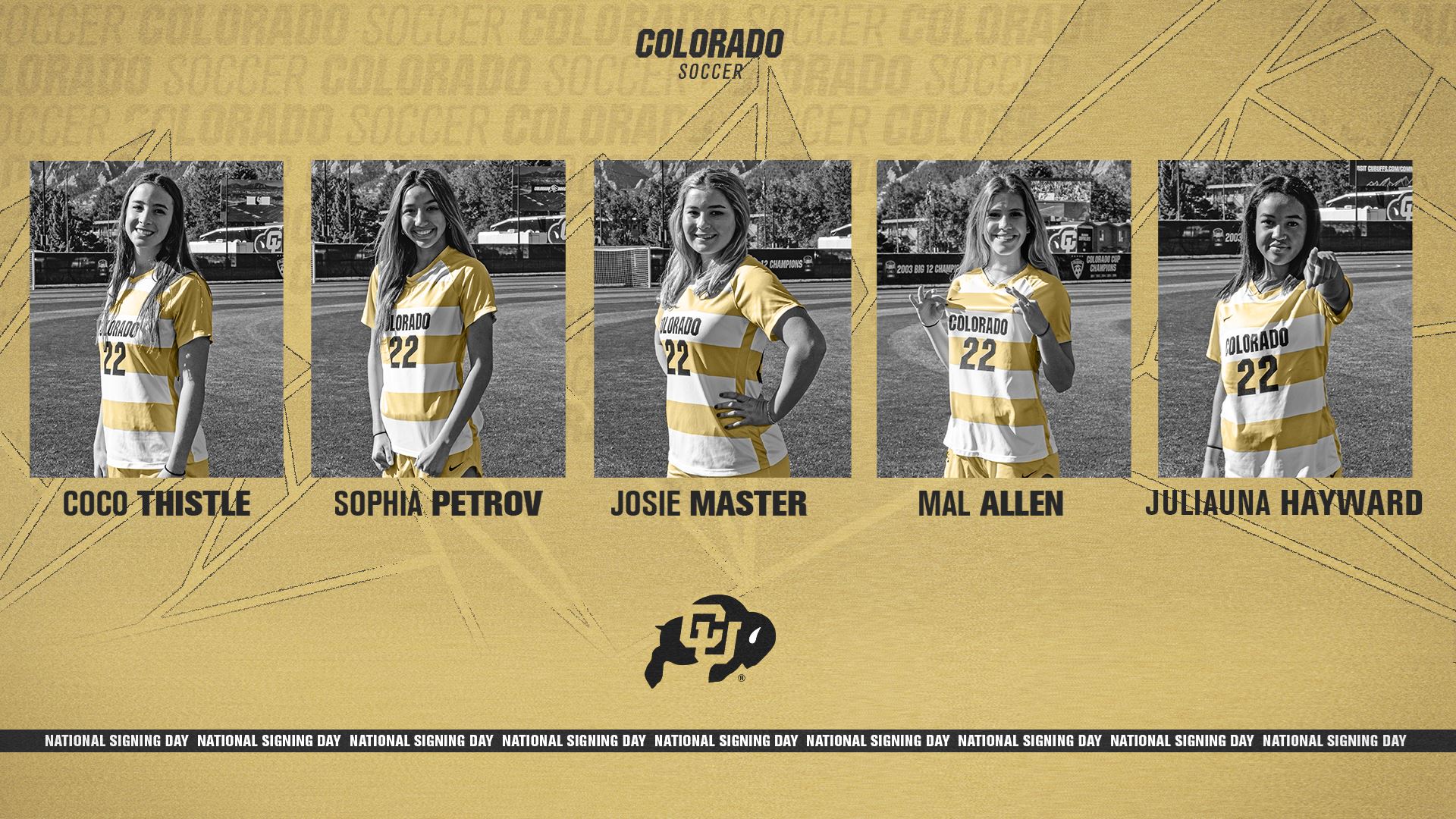 BOULDER — With the 2021 season freshly in the review mirror, the University of Colorado soccer team has already started to work towards 2022 with the addition of five new signees on National Signing Day.
The Buffaloes announced the signings of Coco Thistle (Encinitas, Calif.), Sophia Petrov (Chino Hills, Calif.), Josie Master (Corona Del Mar, Calif.), Mallory Allen (Austin, Texas) and Juliauna Hayward (Thornton, Colo.).
"This class is highly ranked, and we feel each player has the potential to really excel here at Colorado," head coach Danny Sanchez exclaimed. "We have a great group coming back and these five-incoming student-athletes will complement our squad and push to make immediate impacts. I want to give credit to recruiting coordinator Dave Morgan and Associate Head Coach Jason Green for helping to identify these players that will fit in perfectly with our culture and our goals on and off the field."
Thistle, a 5-8 attacking midfielder, comes to CU from the San Diego Surf ECNL program. Thistle is ranked the No. 12 midfielder by Top Drawer Soccer and is the No. 36 ranked player in the IMG Academy 150. She's won multiple MVP awards and one National Championship with the Surf. Thistle also attended US National Team trainings and was a part of the April 2021 U18 USGNT Virtual Camp. Thistle chose Colorado over other offers from Virginia, Florida State, Stanford and Florida.
"Coco is a very versatile player who can play any role in the midfield," Sanchez commented. "She can score and create goals. Coco has a true passion to improve and take her game to the next level. She has the potential to have a real impact in the Pac-12 from day one."
Petrov, a 5-7 forward, played two years at Chino Hills High School, totaling 16 goals as a freshman and sophomore. She was First Team All-League and Rookie of the Year before finishing her high school career with Slammers FC. Petrov helped Slammers to the 2018 ECNL National Championship and finished third in 2019. She has also attended ODP and National camps.
"Sophia came to us late in the recruiting process, but we are excited about her potential," Sanchez noted. "She has been scoring huge goals for her club team. Sophia can play anywhere along the frontline and has a great nose for the goal."
Master, a 5-7 forward, is a two-time letterwinner at Mater Dei High School. She was an All-Trinity League First Team selection as a junior. Master, the No. 8 player in California, is the No. 10 ranked forward in the 2022 recruiting class by TDS and is No. 34 in the IMG 150. Master helped the SoCal Blues to two Surf Cup championships and is a top-five goal scorer in the US Development Academy League (U15-U17). Master played with the U15 and U17 US National Teams and participated in the U19 Women's National Team Virtual Camp. She is currently finishing her club career with Slammers FC.
"Josie is a true winger who is an excellent 1v1 attacker," Sanchez said. "We are excited to see how she develops within our program. Josie has a ton of upside with her tenacity on the attack and quality around the 18 box."
Allen, a 5-8 midfielder, comes from an athletic background. Her two older sisters both play DI soccer. Carlee is a senior at Texas and Abby is a sophomore at North Carolina. Both her parents played basketball at SMU. Allen is TDS's No. 8 ranked player in Texas and is the No. 21 ranked midfielder in the country. She's also ranked 66th in the IMG Top 150. Allen has been a captain for the Lonestar Soccer Club in five of the nine years she's played. She was also a part of the U18 USGNT player pool and was the US Youth Soccer Region MVP and the leading scorer in 2017.
"Mallory is Pac-12 ready," Sanchez continued. "Physically, she can come in and have an impact. She can play along all three lines but may be best as a holding midfielder. Mallory is strong in the tackle and has great vision and range in her distribution."
Hayward, a 5-2 midfielder, was the Front Range Player of the Year in 2021, starring at Legacy High School. She had 10 goals and six assists, picking up First-Team All-League and Second Team All-State honors. Hayward helped Legacy to an 8-3 record in 2021 and an appearance in the Sweet 16 of the state playoffs. Hayward plays club for Real Colorado, where she was a US U15GNT CONCACAF Champion in 2018. She's TDS's top-ranked player in the Rocky Mountains & Southwest region to go along with being the No. 2 ranked midfielder in the country. Hayward is also No. 6 in the IMG 150 and has been an ODP all-star. Hayward won two State Cup MVP awards. Her dad, Julian, played football at Colorado from 1988-91. Hayward picked CU over offers from Duke, Utah and UCLA.
"Juliauna is an exciting attacking player that can play multiple roles," Sanchez explained. "She is fantastic taking on players but also has first-class vision in her distribution. Juliauna has all the tools to be a special player in our program."
Colorado graduates four players from the 2021 roster in Shanade Hopcroft, Haileigh Adams, Sofia Weiner and Gabbi Chapa. The Buffs return a bulk of the roster in 2022, including the team's leading goal-scorer, Shyra James. Key contributors Kayleigh Webb and Hannah Sharts will also be back for a second senior season.