Penn State women's soccer reveals No. 5 ranked recruiting class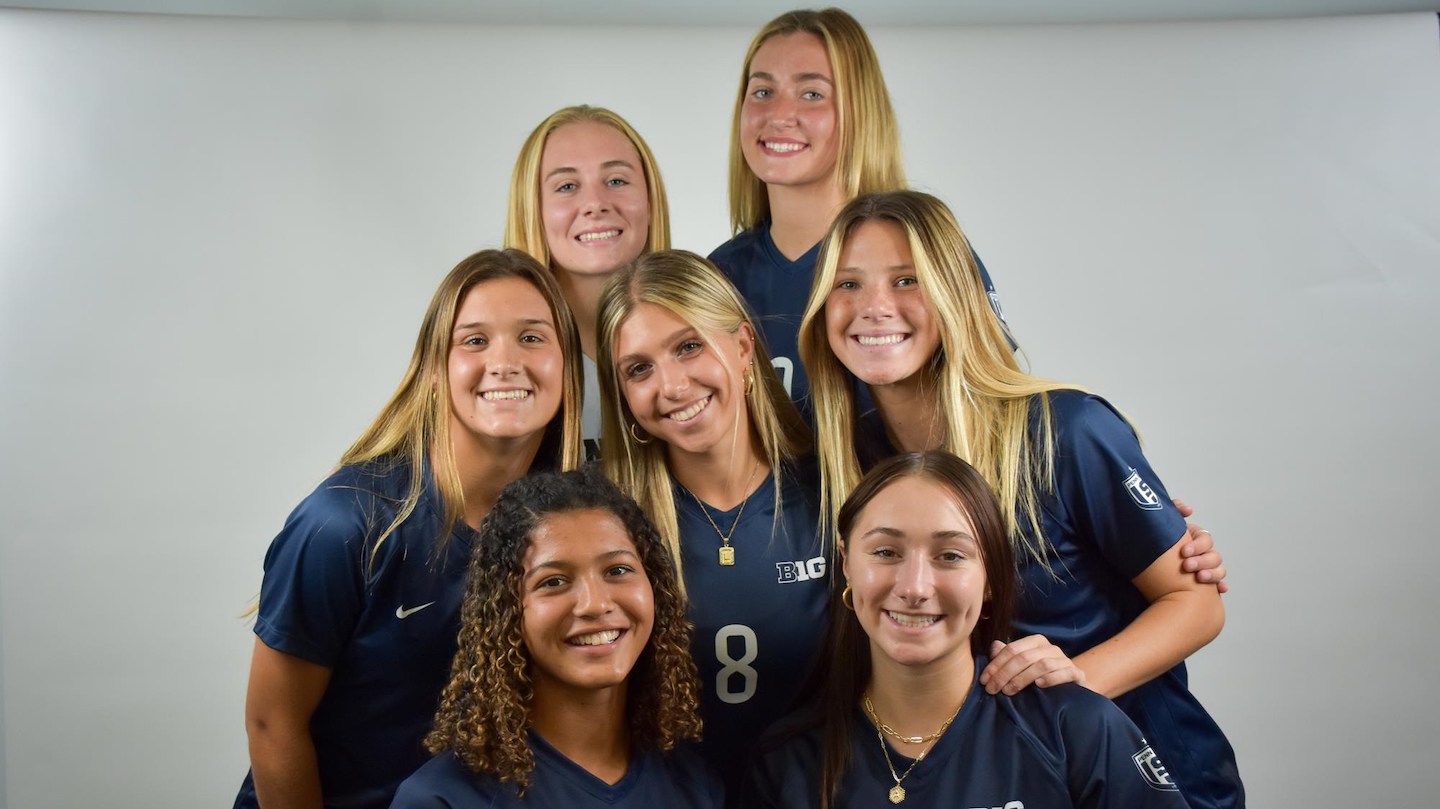 UNIVERSITY PARK, Pa. — The Penn State women's soccer program welcomed seven signees to their 2022 recruiting class on National Signing Day.
The class is ranked No. 5 in the country per Top Drawer Soccer and is the program's fifth Top 5 class in the last 9 years.
See below for a look at the newest group of Nittany Lions:
Olivia Borgen
Hanson, MA | #172 overall, #6 in Northeast
High School: Attends Whitman-Hanson Regional High School in Hanson, MA… 3x Patriot League All-Star…2x Boston Globe All-Scholastic… 2019 All-State…2020 All-New England… 2019 team MVP… 2019 Patriot League Champions…Club team is South Shore Select GA…2017 NPL National Champions… 2017 South Shore Select Coaches Award.
Personal: Full name is Olivia Halina Borgen…Daughter of Michael and Dorothy Borgen…Has 1 sibling, Max…Cousin Lindsay attended Penn State…Born on December 12.
Why Penn State? "I chose Penn State because they have a great soccer program along with great academics. I love the program's morals and the coaching style as well. Not only does Penn State have an amazing soccer program, but all their sports team do well, and it seems like such a cool experience to be surrounded by so many talented athletes at school. I know Penn State is going to push me out of my comfort zone every day on the field and in the classroom, and I cannot wait for it."
Mackenzie Gress
Lyndhurst, NJ | #17 player overall, #3 goalkeeper overall
High School: Attends Lyndhurst High School in Lyndhurst, NJ…Club team is STA Girls Academy…Selected as 2021 WPSL Eastern Region Goalkeeper of the Year…Ranked No. 17 overall and No. 3 goalkeeper in the 2022 class by Top Drawer Soccer…US National Team experience; Attended training camps with the U14 and U16 USYNT… played for the U16 USYNT in the UEFA Tournament in England… part of the U18 USWNT player pool.
Personal: Full name is Mackenzie Lynn Gress…Daughter of Diane and Richard Gress…Born on June 3.
Why Penn State? "The second I stepped onto the Penn State campus, I immediately felt at home. The coaches and players create a challenging yet encouraging environment that will push me to become a better person and player. I knew that the culture of the Penn State Women's Soccer family would drive me to reach my goals on and off the field. This program is the best in the country, and I can't wait to represent it!"
Luciana Latino
Norwood, NJ | #38 player overall, #2 in New Jersey and #14 midfielder overall
High School: Attends Northern Valley Regional High School in Demarest, NJ…Club team is PDA…2nd team ECNL…North Atlantic conference champs.
Personal: Full name is Luciana Olivia Latino…Daughter of Jen and Vin…has 1 sibling, Giovanni…cousin Gabriella attended Penn State…Born on November 2.
Why Penn State? "The real question is how could I not choose Penn State? The school has an incredible sense of unity and diversity that is unlike any other. Penn State's atmosphere and camaraderie that the students have with one another is one of a kind. The school is the ideal academic and athletic fit for me, and I could not ask for anything better. I am just truly blessed that I have this opportunity alongside top-notch soccer coaches, incredible teammates, and a flawless school. WE ARE!!"
Molly Martin
Acton, MA | #114 overall, #3 in Northeast
High School: Attends Buckingham Browne & Nichols School…Freshman year 2018 NEPSAC Class A Semi-Finalist…All-ISL 1st Team… All-NEPSAC 1st Team… NE Soccer Journal Rookie of Year…NSCAA All-State Team…TDS Prep All Region Team…Sophomore Year 2019 NEPSAC Class A Champions…USA Today Preseason All-American…All-ISL 1st Team… All-NEPSAC 1st Team… NEPSAC Class A MVP…NSCAA All-State Team…NE Soccer Journal Underclassmen Best XI… NE Soccer Journal Best XI…NE Soccer Journal Midfielder of the Year…Top Drawer Soccer 1st Team HS All-American…Top Drawer Soccer Prep All Region 1st Team…Top Drawer Soccer All State Team…Junior year 2020 team captain…Senior year 2021 Team Captain…Club team is FC Stars (ECNL Blue).
Personal: Full name is Molly Elizabeth Martin…Daughter of Naomi and Mark Martin…Has 1 brother, Tyler…Born on August 30.
Why Penn State? "Years ago, when I began the recruiting process, I asked some of my older ECNL teammates how they knew what school was right for them. At the time, they offered the seemingly unhelpful advice of "you will know when you know." When I came to State College and historic Jeffrey Field for the first-time years ago, I knew exactly what they were talking about and more importantly, I knew that it was exactly where I wanted to play college soccer. The PSU women's soccer coaching staff along with former and current players have worked tirelessly to create a hardworking, relentless, team over self culture that I simply cannot wait to be part of. I am grateful and honored to become part of the Nittany Lion Family."
Ava Minnier
Downingtown, PA | #155 overall, #4 in Pennsylvania
High School: Attends Downingtown West High School in Downingtown, PA…2020 All-Area First Team…High School All-American…Club team is Penn Fusion Soccer Academy.
Personal: Full name is Ava Dee Minnier…Daughter of Karin and Scott Minnier…Has 2 siblings, Max and Sydney…Born on May 14.
Why Penn State? "I chose Penn State University because of the amazing team atmosphere both on and off the field and the incredible coaching staff. I cannot wait to be surrounded by the best talent and be pushed to the next level with my new family!"
Ava Uribe
Sammamish, WA | #27 player overall, #2 in Pacific Northwest region, #9 forward overall
High School: Attends Eastside Catholic School in Seattle, WA…Club team is Eastside FC…2021 ECNL League Champions…2018-2021 US Youth National Team participant…2019 Development Academy National Playoff Quarterfinalist (Reign Academy 04).
Personal: Full name is Alivia Marie Uribe…Daughter of Cynthia and Mauricio Uribe…Has 1 brother, Gabe…Born on February 26.
Why Penn State? "I chose Penn State because of both the academic and athletic opportunity. Academically, Smeal College of Business provides a wonderful opportunity for me to pursue my dreams in finance. Eventually, I hope to use this business background to enter a sports marketing position.
"Athletically, Penn State Women's Soccer is the top tier. Since day one, the coaches have prepared a comprehensive plan for me to improve in my time at Penn State and prepare me to play professionally after. Likewise, my teammates have made me feel like a part of the family, even from all the way out on the West Coast! I cannot wait to continue my next steps academically and athletically, and there is no better place to do it than at Penn State! #WeAre"
Amelia White
Fort Wayne, ID | #2 player overall, #1 forward overall
High School: Attends Homestead High School in Fort Wayne, IN…Club team is Fort Wayne United…Also runs track.
Personal: Full name is Amelia Grace White…Daughter of Laura and Avery…has 2 siblings, Sophia and Addison…Born on June 17.
Why Penn State? "I chose Penn State because of the abundant academic options along with the amazing soccer program and coaches. It was the only college where I felt at home."