Syracuse women's soccer signs seven recruits to National Letters of Intent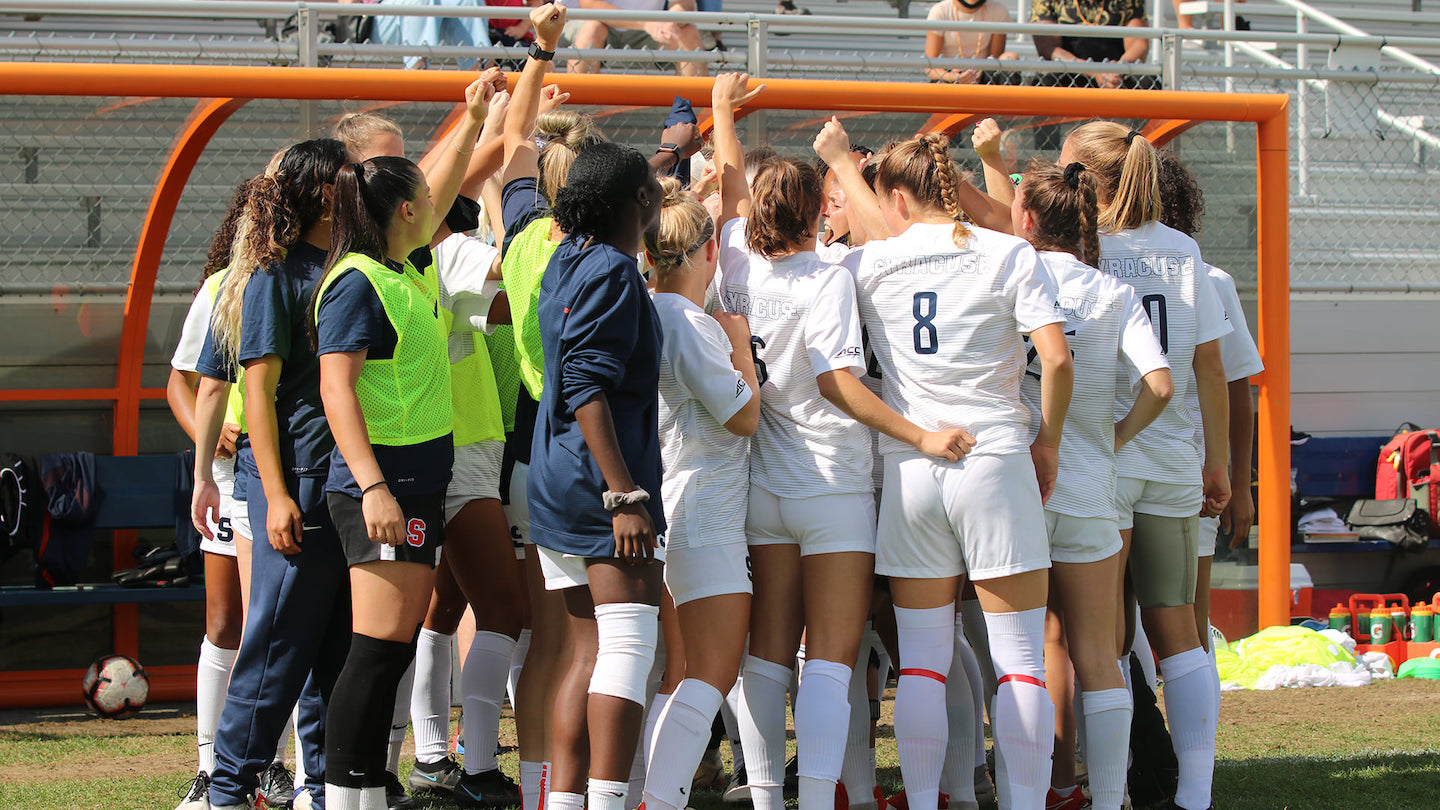 The Syracuse women's soccer program has signed seven newcomers to National Letters-of-Intent (NLI), according to coach Nicky Thrasher Adams.
The group consists of student-athletes who will enroll as freshman for the 2022 Fall season. The Syracuse class includes one goalkeeper, three defenders, one midfielder and one forward.
Alyssa Abramson | Defender | Medford, N.Y. | Patchogue-Medford HS
Club Team:  SUSA FC Academy
Abramson played for four years at Patchogue-Medford High School. She was a defender on Coach Chris Greico's squad. Abramson was a team captain for the Raiders as a junior and senior. She earned 2018-19 All-Division honors and All-Suffolk County recognition in 2019-20 and 2020-21. Abramson was a member of the Student-Athlete Advisory Council.
Coach Thrasher Adams on Abramson: "Alyssa will be able to help us on both sides of the ball. As a defender, she has the determination to compete in every one-on-one battle and as an attacker she is willing to join the attack and provide great service into the box.  She will add grit and competitive fight to our flank."
Club Coach JR Balzarini on Abramson: " Alyssa combines top notch athletics and positional versatility with being a great person who will fit the Syracuse culture very well!"
Bekah Doolittle | Defender | Beaverdam, Va. | Patrick Henry HS
Club Team: Richmond United
She played for Coach John Andruss at Patrick Henry High School. Doolittle was named a team captain for her junior season. She earned 4B All-Region Second Team honors a season ago. Doolittle was part of a state championship 4×800 relay team in 2020. She was a member of the National Honor Society and the National Science Honor Society. The Richmond United squad was coached by Mikah Elovaara.
Coach Thrasher Adams on Doolittle: "Bekah is another great addition that will add some depth as a center-back. She is strong in the air and in the tackle, she can quickly switch the point of attack, she is a very hard worker and I expect her to transition nicely to our system."
Club Coach Mikah Elovaara on Doolittle: "Bekah has been a very consistent player for Richmond United for many seasons. She is a caring and competitive teammate, a humble leader, an exemplary student athlete and a pleasure to work with. I am very excited for her to continue her career at Syracuse and compete in the ACC under the guidance and mentorship of Coach Adams and her staff. I have no doubt that Bekah will continue to develop, thrive and lead by example on and off the field."
Maya McDermott | Forward/Midfielder | Harleysville, Pa. | Springside Chestnut Hill Academy

Club Team:  FC Bucks ECNL 2004
McDermott was a standout performer on the pitch for Springside Chestnut Hill Academy and Coach Maria Kosmin. The 2019 team became the first in school history to win the Inter-Ac Championship in soccer. The Blue Devils posted records of 13-5-2, 18-2, 5-0 and 13-0-1 in her four seasons. The Blue Devils play in the Pennsylvania Independent Schools Athletic Association (PAISAA) Semifinals on Thursday, Nov. 11.  McDermott tallied more than 30 goals and 20 assists in her tenure. She was a team captain as a senior. McDermott also excelled in the Olympic Development Program (ODP). She was on the East Region Team (2017-21), the National Team (2018, 2020) and the International Team (2018-20). McDermott earned the most valuable player award for the ODP International team in 2020.
Coach Thrasher Adams on McDermott: "Maya is a speedy striker who can stretch teams because of her pace.  Her work ethic on both sides of the ball is tremendous and she will be a headache for opposing defenders. Maya is the ultimate teammate, and we look forward to her contribution to our team in the fall."
Coach Kosmin on McDermott: "Maya is explosive on the attack and has been a consistent threat throughout her high school career scoring goals and creating chances for her teammates. Her athleticism and runs off the ball make it very hard to defend against her. Maya's increase in confidence and her positive attitude throughout the years has made her a strong leader both on and off the field.  Maya is the type of player/person that is just enjoyable to be around and always finds a way to smile and have fun while competing!"
Anna Rupert | Forward/Midfielder | Arlington, Va. | Washington-Liberty HS
Club Team: Arlington Soccer's DA, GA, and ECNL Team
Rupert attended Washington-Liberty High School. She earned all-conference recognition for the Girls Academy League as a junior and was a member of the Washington Spirit Advanced Development Program (ADP). Rupert was on the Olympic Development Program (ODP) state team. Her Arlington Soccer squads were coached by Nicole Wright and Gerardo Ramirez.
Coach Thrasher Adams on Rupert: "Anna is a quality goal scorer.  She is a striker who works hard to put herself in front of the goal to give herself a chance to score.  She will be a constant threat and a handful for opposing players to deal with because of her speed, pace and her 1 vs. 1 ability.  Anna is really scrappy. She's willing to work hard, sacrifice her body and is someone who will definitely look to put the ball in the back of the net. We are very excited to see her play at the collegiate level."
Club Coaches Wright and Ramirez on Rupert: "Anna is a fierce and passionate competitor on the field who loves to take defenders on in 1 vs. 1 situations using her power and strength. Arlington Soccer is excited to follow Anna as she continues her soccer career at Syracuse."
Gianna Savella | Midfielder | Massapequa Park, N.Y. | Massapequa HS
Club Team: SUSA FC
Massapequa was 13-2, 12-1 and 14-0-1 with Savella on the squad. The Chiefs play Penfield in the New York State Public High School Athletic Association (NYSPHSAA) Class AA semifinals on Nov. 13. Coached by Bruce Stegner, Savella was third team all-state in 2019. She earned All-Long Island second team recognition in 2019 and 2020. Savella also was named 2019 First Team All-Nassau County. Savella was on the state and regional Olympic Development Program (ODP) squads. She was coached by JR Balzarini with SUSA FC. Her Elite Club National League (ECNL) U-17 team won the 2021 New England Conference Championship. Savella was a 2019 United States Soccer Federation (USFF) National Champion.
Coach Thrasher Adams on Savella: "Gianna is going to add tremendous strength to our midfield.  Her work rate and fitness level allow her to be a box-to-box midfielder.  She has very good vision and will create many opportunities at goal for herself and her teammates.   We are excited to see how she will execute in the final third."
Club Coach JR Balzarini on Savella: "Gianna's technical ability, passing range and vision is something that sets her apart from the rest of the midfielders at the highest level of the youth game in this country. This and the fact that she is a soccer junkie will allow her to succeed at Syracuse. I look forward to watching her compete in the best conference in the country and I have no doubt she will represent SUSA proudly."
Aleena Ulke | Defender | Moon Township, Pa. | Moon Area HS
Club Team: Pittsburgh Riverhounds ECNL '04
She's been a member of the Moon Area High School team coached by Keith Little. Ulke was a 2020 Western Pennsylvania Big 56 4A All-Section honoree. An injury kept her from competing as a senior. Ulke played for Coach Jason Kutney and the Pittsburgh Riverhounds in the Elite Club National League (ECNL). She's been a captain on the Riverhounds U-15, U-16 and U-17 squads. Ulke participated in ECNL Conference Selection Programs in Cincinnati in 2019 and 2020.
Coach Thrasher Adams on Ulke: "We absolutely loved watching Aleena compete during the recruiting process.  She fits our style extremely well.  Aleena is a strong courageous defender who is versatile enough to play central or outside.  She plays with passion and guts every time she steps on the field.  She is a leader on and off the field and I am looking forward to seeing the stamp Aleena will put on this Syracuse program."
Club Coach Kutney on Ulke: "Aleena possesses all the attributes of a top-level player, but it is her bravery that makes her special and her humility that makes her a wonderful teammate. She will make Syracuse better and her opponents miserable!"
Shealyn Vanderbosch | Goalkeeper | Lancaster, N.Y. | Lancaster HS
Club Team: WNY Flash ECNL
A goalkeeper at Lancaster High School, Vanderbosch was coached by Julie Taylor. Lancaster lost to Penfield, 1-0, in the New York State Public High School Athletic Association (NYSPHSAA) Regional Final Nov. 6. She served as a team captain as a junior and senior with the Legends. Vanderbosch was named 2020 First Team All-New York State, All-Western New York and United Soccer Coaches All-Mid-Atlantic. She was also 2019 First Team All-Western New York and the Section 6 Player of the Year. In 2018, Vanderbosch earned USC All-East Region laurels.
Coach Thrasher Adams on Vanderbosch: "We knew we wanted Shea to be a part of our Syracuse family the very first time we saw her play.  Shea is the ultimate teammate and a true competitor.  She is strong, explosive, vocal, courageous and a winner.  Shea impressed us during the recruiting process with her ability to command her box, come off her line and make incredible saves.  She has a physical presence that will allow her to have a smooth transition to the college game."
Coach Taylor on Vanderbosch: "Shea brings a high level of effort, energy and enthusiasm to every practice and game. She is an outstanding teammate on and off the field. Her commitment to her team and teammates is inspiring."
Club Director Aaran Lines on Vanderbosch:  "Shea has been the backbone of our 04 ECNL team for the past few years. A true leader in every sense, Shea leads the team not only in her actions, but vocally. She is an incredibly talented goalkeeper who has a bright future. We can't wait to see her play in the ACC."
Club Coach Dade on Vanderbosch: "Shea's a rare talent who without a question has the capability to make an immediate impact at the next level. She is competitive, coachable, hungry and driven to succeed. A genuine and humble teammate who has set the standard for future goalkeepers at the WNY Flash Academy. Her impact will be remembered and is greatly appreciated by all."