U.S. U-23 Women's National Team shuts out Norway 1-0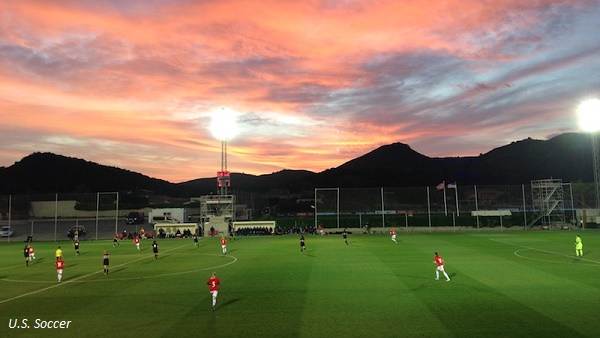 CHICAGO (Via U.S. Soccer) – The U.S. Under-23 Women's National Team finished its three-game set in La Manga, Spain, with a 1-0 victory against Norway as midfielder Morgan Andrews scored in the 34th minute. The USA also fell to England 2-0 and defeated Japan 2-0.
The goal came after Boston Breakers forward Margaret Purce had slammed a free kick into the Norway wall from just outside the left side of the penalty area. She got it back and re-served the ball, but this time it was cleared by Norway. Orlando Pride midfielder Danielle Weatherholt ran down the clearance above the right side of the penalty area and quickly played Portland Thorns forward Tyler Lussi down the right side. NC Courage forward Ashley Hatch got her foot on an excellent far post cross from Lussi, but spun her volley high and back to the right end line where Lussi, still in motion, headed the ball back into the middle of the goal. A Norwegian defender played another poor clearance right into the path of Andrews who hammed a left-footed shot into the net from 16 yards away.
+READ: U.S. U-20 Women's National Team falls to Germany 2-1
Next up for the U.S. U-23 WNT will be the Thorns Spring Invitational from March 26-April 1 in Portland, Oregon. The USA will take on three NWSL teams at Providence Park, playing the Houston Dash on Sunday, March 26 at 2:30 p.m. PT followed by Portland taking on Chicago at 5 p.m. PT. On Wednesday, March 29, Chicago takes on Houston at 5 p.m. PT and the USA will face the Thorns at 7:30 p.m. PT. The USA closes out the tournament against the Chicago Red Stars on Saturday, April 1 at 5 p.m. and Portland ends the tournament against Houston at 7:30 p.m. PT.
While this roster featured mostly professional players, the rosters for the events for the remainder of the spring and summer will feature primarily collegiate players as the NWSL season will be in full swing.
-U.S. Under-23 Women's National Team Match Report-
Match: U.S. U-23 Women's National Team vs. Norway
Date: March 6, 2017
Competition: Women's U-23 La Manga Tournament 2017
Venue: La Manga, Spain
Attendance: 75
Weather: 50 degrees; sunny
Scoring Summary:   1          2          F
USA                             1          0          1
NOR                           0          0          0
USA – Morgan Andrews (Tyler Lussi)                       34th minute
Lineups:
USA: 12-Madalyn Schiffel; 13-Kayla Mills (10-Celeste Boureille, 46), 3-Erica Skroski, 16-Kristen McNabb, 15-Adrienne Jordan (6-Tierna Davidson, 46), 18-Danielle Weatherholt (capt.), 8-Morgan Andrews (19-Emily Ogle, 62), 4-Margaret Purce (14-Makenzy Doniak, 46), 17-Tyler Lussi, 11-Arielle Ship (24-Savannah McCaskill, 75), 9-Ashley Hatch (7-Ashley Sanchez, 75)
Subs not used: 1-Casey Murphy, 2-Samantha Witteman, 5-Christina Gibbons, 20-Katie Naughton, 25-Miranda Freeman
Head Coach: Laura Harvey
NOR: 1-Josefine Ervik, 3-Ingrid Ostervold Stenevik, 4-Katrine Bjordal Leine, 13-Nora Byom-Nilssen, 10-Marie Dolvik (15-Camilla Ervik, 23), 16-Lisa Fjellstad, 7- Katrine Winnem Jorgensen (11-Synne Skinnes Hansen), 8-Amalie Vevle Eikeland, 9-Tonje Pedersen (6-Line Hem), 18-Marina Heggernes Jensen
Subs not used: 2-Ingrid Elvebakken, 9-Tonje Pederson, 14-Benedikte Birkelund, 17-Maria Hiim
Head Coach: Borje Sorensen
Stats Summary: USA / NOR
Shots: 11 / 7
Shots on Goal: 5 / 2
Saves: 2 / 4
Corner Kicks: 4 / 2
Fouls: 3 / 10
Offside: 2 / 0
Misconduct Summary:
USA – Ashley Hatch (caution)                         52nd minute
USA – Savannah McCaskill (caution)             87
Officials:
Referee: Lovisa Johansson (SWE)
Assistant Referee 1: Josefin Aronsson (SWE)
Assistant Referee 2: Jilan Taher (SWE)