U.S. U-20 Women's National Team falls to Germany 2-1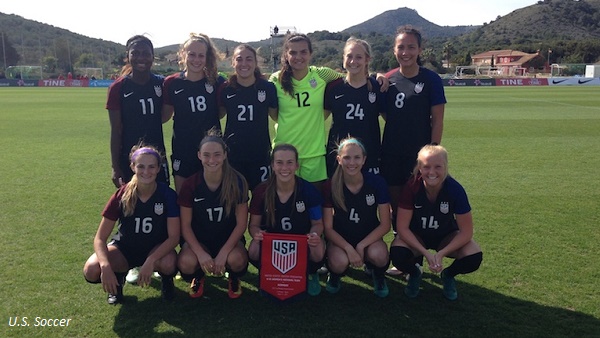 CHICAGO (Via U.S. Soccer) – The U.S. Under-20 Women's National Team fell to Germany, 2-1, in the second of three matches in Spain. The USA defeated Norway 8-2 on March 3 and will finish the trip against France on March 7.
Germany scored in the 6th minute off a corner kick, finishing when the USA failed to clear, and then doubled the lead in the 27thminute when Jana Feldkamp stole the ball from a U.S. defender and lofted a 40-yard shot over U.S. goalkeeper Laurel Ivory, who was caught off her line.
The USA pulled a goal back in the 87th minute as Sophia Smith stole the ball inside the Germany penalty area, took a few composed touches toward goal and slipped the ball past the onrushing goalkeeper.
+READ: U.S. U-23 Women's National Team shuts out Norway 1-0
It was Smith's eighth goal in her last five international matches, three of them with the U-18 U.S. WNT at the end of February in England plus two games for the U.S. U-20 WNT in Spain so far.
This trip marks the start of a new cycle for the U-20s with the goal of qualifying for the 2018 FIFA U-20 Women's World Cup in France. The 24-player U.S. roster is made up of 14 players born in 1998 (which is the age cut-off year for the next Women's World Cup), nine players born in 1999 and one in 2000.
-U.S. Under-20 Women's National Team Match Report-
Match: U.S. U-20 Women's National Team vs. Germany U-19 WNT
Date: March 5, 2017
Competition: 2017 La Manga Tournament
Venue: La Manga, Spain
Attendance: 100
Weather: 55 degrees; sunny, windy
Scoring Summary:   1          2          F
USA                             0          1          1
GER                            2          0          2
GER – Janina Minge (Laura Freigang)          6th minute
GER – Jana Feldkamp                                   27
USA – Sophia Smith                                        87
Lineups:
USA: 12-Laurel Ivory; 6-Samantha Coffey (20-Taylor Kornick, 46), 8-Samantha Hiatt, 11-Abigail Kim (23-Jordan Harr, 46), 14-Civana Kuhlmann (13-Cecilia Gee, 62), 16-Emily Fox, 17-Tara McKeown, 18-Jaelin Howell (25-Arlie Jones, 68), 21-Karlie Paschall, 24-Frankie Tagliaferri (19-Viviana Villacorta, 46), 4-Kelsey Turnbow (2-Sophia Smith, 46)
Subs not used: 1-Brooke Heinsohn, 3-Zoe Morse, 5-Sydney Dawson, 7-Isabel Rodriguez, 9-Belle Briede 10- Natalie Winters, 15- Karina Rodriguez
Head Coach: April Heinrichs
GER: 12-Vanessa Fischer; 2-Dina Orschmann (20-Franziska Gieska, 56), 4-Sophia Kleinherne, 5-Lisa Schoppl, 6-Janina Minge, 7-Giulia Gwinn (23-Meret Wittje, 74), 8-Jana Feldkamp (17-Giovanna Hoffmann, 62), 10-Laura Freigang, 11-Anna Gerhardt (24-Luca Maria Graf, 74), 13-Caroline Siems, 18-Klara Buhl (3-Katja Orschmann, 56)
Subs not used: 1-Lena Pauels, 9-Stefanie-Antonia Sanders, 14-Janina Hechler, 15-Tanja Pawollek, 16-Kim Fellhauer, 19-Annalena Rieke, 21-Leonie Doege, 22-Sarai Linder
Head Coach: Maren Meinert
Statistical Summary: USA / GER
Shots: 6 / 9
Shots on Goal: 3 / 5
Saves: 2 / 3
Corner Kicks: 3 / 4
Fouls: 7 / 8
Offside: 3 / 5
Misconduct Summary:
USA – Civana Kuhlmann (caution)                 23rd minute
Officials:
Referee: Lorraine Clark (SCO)
Asst. Referee 1: Mathilde Abildgaard (DEN)
Asst. Referee 2: Line-Maria Rasmussen (DEN)