U.S. U-20 WNT continues World Cup prep with Florida training camp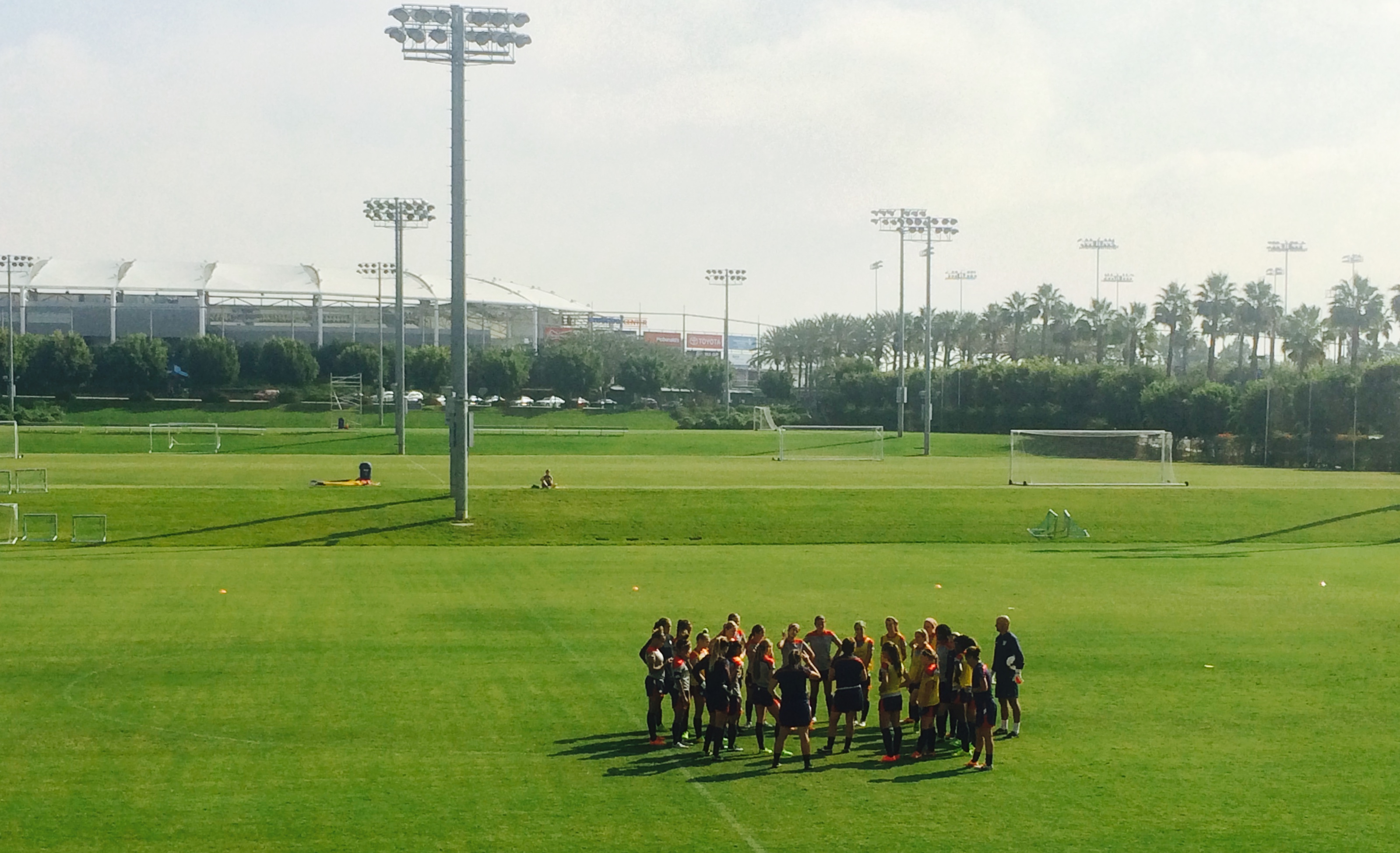 CHICAGO (Via U.S. Soccer) – The U.S. Under-20 Women's National Team will continue its preparations for the 2016 FIFA U-20 Women's World Cup with a training camp running from April 1-8 in Lakewood Ranch, Fla.
The USA is coming off a successful trip to La Manga, Spain, where it played three U-23 sides, drawing 1-1 with Sweden, defeating England 1-0 and downing Norway, 2-1.
U.S. head coach Michelle French will bring 26 players to the camp with only four of the players not currently in college. One of those younger players, Savannah Demelo of Beach FC has the most U-20 caps of anyone on the roster with 14. North Carolina's Jessie Scarpa (five goals in nine caps) and Texas A&M's Ally Watt (four goals in five caps) are the team's current leading scorers. Watt scored game-winners against the England and Norway U-23s during the event in Spain. The roster features five players from reigning NCAA champion Penn State.
+Read: U.S. U-17 WNT wins CONCACAF Championship 2-1 over Mexico
The USA earned its berth to the 2016 FIFA U-20 Women's World Cup by winning its semifinal match of the CONCACAF qualifying tournament against host Honduras last December and then defeated Canada for the regional title, 1-0. The eighth FIFA Women's World Cup for this age level (the first two were held as U-19 events) will take place from Nov. 13-Dec. 3 in Papua New Guinea.
The 16-team field for the tournament is strong, featuring Canada, Mexico, the USA, Papua New Guinea, New Zealand, Japan, Korea DPR, Korea Republic, Ghana, Nigeria, Brazil, Venezuela, France, Germany, Spain, and Sweden.
The Final Draw for the tournament was conducted on March 17 and the USA will face France, New Zealand and Ghana in Group C. The U.S. opens the tournament on Monday, Nov. 14 against France at 4 p.m. local time, faces New Zealand on Thursday, Nov. 17 at 7 p.m. and finishes the group against Ghana on Monday, Nov. 21 at 4 p.m.
+Read: Nation's top recruits thrive at Jefferson Cup Girls Showcase
The USA will play its first two group games at Sir Hubert Murray Stadium and its third group game at National Football Stadium. Both stadiums are located in Port Moresby, the capital city of Papua New Guinea.
The 2016 FIFA U-20 Women's World Cup features the 16 nations divided into four groups of four teams. The top two finishers in each group will advance to the quarterfinal stage to be held on Thursday, Nov. 24 and Friday, Nov. 25. The winners of those games will advance to the tournament semifinals on Tuesday, Nov. 29. The championship and third-place matches are set for Saturday, Dec. 3. All matches will be played across four stadiums in Port Moresby, with the final two matches being held at National Football Stadium.
U.S. U-20 WNT Roster by Position
GOALKEEPERS (4): Emily Boyd (California; Seattle, Wash.), Rose Chandler (Penn State; Atlanta, Ga.), Samantha Leshnak (North Carolina; Liberty Township, Ohio), Casey Murphy (Rutgers; Bridgewater, N.J.)
DEFENDERS (8): Madeline Elliston (Penn State; Omaha, Neb.), Emily Fox (FC Virginia; Ashburn, Va.), Hailey Harbison (Pepperdine; San Diego, Calif.), Ellie Jean (Penn State; Coventry, Conn.), Natalie Jacobs (Notre Dame; Coto de Caza, Calif.), Taylor Otto (CASL; Apex, N.C.), Ally Prisock (USC; Rancho Cucamonga, Calif.), Kaleigh Riehl (Penn State; Fairfax Station, Va.)
MIDFIELDERS (7): Marley Canales (San Diego Surf; San Diego, Calif.), Savannah Demelo (Beach FC; Bellflower, Calif.), Kelcie Hedge (Washington; Post Falls, Idaho), Emily Ogle (Penn State; Strongsville, Ohio), Courtney Petersen (Virginia; Canton, Mich.), Parker Roberts (Kansas; Leawood, Kansas), Shannon Simon (Washington; Torrance, Calif.)
FORWARDS (7): Mimi Asom (Princeton; Fairview, Texas), Jorian Baucom (LSU; Phoenix, Arizona), Katie Cousins (Tennessee; Forest, Va.), Mayra Pelayo-Bernal (Florida; West Palm Beach, Fla.), Taylor Racioppi (Duke; Ocean Township, N.J.), Jessie Scarpa (North Carolina; Lakeland, Fla.), Ally Watt (Texas A&M; Colorado Springs, Colo.)