Nation's top recruits thrive at Jefferson Cup Girls Showcase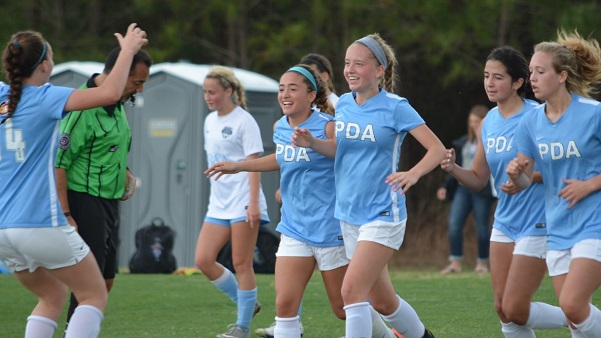 The Jefferson Cup concluded on Saturday with the final day of action at the Girls Showcase.
See below for a full list of champions and finalists from the event, along with game notes from various matches on Saturday.
Game Notes
FC Bucks Pride ECNL 2, NVSC Jr. Majestics 0
U-15 Elite Black Division
FC Bucks played its way into the U-15 Elite Black Division Final on Saturday morning with a 2-0 shutout victory against NVSC Jr. Majestics.
Nicole Palmer, Claire Sites and Erica Behr anchored the FC Bucks back line which stymied the NVSC attack, while goalkeepers Emily Helmich and Kathleen Rivera combined to earn the clean sheet in net.
Allison Trick and Maiya Barker scored goals within five minutes of each other during the first half, as the speedy Bucks team with several track stars on the roster covered substantial ground at every position.
+Read: Jefferson Cup Girls Showcase Weekend Day 1 Recap
Commack SC Academy GOL 2, Calvert SA Elite Rangers 0
U-15 Elite Black Division
New York side Commack SC Academy GOL blanked Maryland's Calvert SA Elite Rangers 2-0 on Saturday morning at Ukrop Park, earning a second place finish in Group A.
Commack put on an impressive defensive performance led by Violet Ferraro, Grace Syron, Olivia Teng and Victoria Bonner on the back line, and goalkeeper Nicole Scott in net.
PDA Splash ECNL 3, Bethesda SC ECNL Tempo 0
U-15 Championship Division Final
[player_box id=45841 leftright=right]
PDA Splash ECNL captured the U-15 top flight title with a 3-0 win over Bethesda SC ECNL Tempo in the Final, in a match-up of two ECNL playoff-bound teams.
PDA, which is one of two remaining teams with unblemished records at the ECNL U-15 level, once again validated itself as a truly dominant team at the Jeff Cup as it finished the weekend with its strongest performance yet.
[player_box id=45839 leftright=right]
Holly Burns, Colette Marciano, Victoria Carnevale, Erica Juliano, Juliette Pike and Leanne Engemann all contributed to the shutout effort for the PDA defense, while goalkeepers Genevieve Pike and Kristen Obetz combined to earn the clean sheet in net. Both Pike and Obetz made multiple superb saves throughout the match, both showing a great deal of poise even against a talented Bethesda side led by U.S. U-16 Girls National Team player Makenna Morris.
PDA built a a 2-0 lead in the first half, with Gianna Coppola providing an assist on a corner kick to Emily Leyson who pounded home a header for the first goal of the match, and in the 32nd minute Leyson set up Trinity Garay for a score to make it a two-goal game. Leyson ended up playing a part in all three goals, as she gathered the rebound following a shot off the foot of Damali Simon-Ponte which was saved, and knocked it in to put the game well out of reach early in the second half.
NEFC Elite 1, Century V Gold 0
U-15 Elite Orange Division Final
The Elite Orange Division title match between Massachusetts side NEFC Elite and Pennsylvania side Century V featured 90 minutes of tough, physical soccer in one of the most evenly-matched defensive battles of the weekend.
The first 89 minutes of regulation and overtime were completely scoreless, and the game appeared headed for penalty kicks until NEFC finally broke through in the final minute of the extra period. Gabby Delpico assisted Tyler Potter for the game-winner in the game's waning moments, setting up a much more satisfying trip home for the New England side.
Goalkeeper Skylar Kuzmich earned the clean sheet for NEFC, playing behind a relentless back line composed of Ainsley DuBose, Alexandra Campana, Zoe Chazan, Fiona Kane and Athena Kordis.
For Century, a back line of Julia LaLama, Sydney Snyder, Payton Fremer and Natalie Daube, along with goalkeeper Kate Feczko put forth a great effort as well, dominating for much of the contest.
+Read: In their words: Notable quotes from Jeff Cup Girls Showcase Day 1
Premier Strikers 1, FC Bucks Pride ECNL 0
U-15 Elite Black Division Final
Reigning Maryland State Cup champions Premier Strikers recorded their third shutout in four Jeff Cup matches in the title match against FC Bucks, earning a hard-fought 1-0 win against the talented ECNL side.
[player_box id=46847 leftright=right]
An early first half goal by Elyssa Nowowieski would be all Premier needed to come out on top, as goalkeeper Alyssa Minnick and the Premier defense held off one of the nation's fastest teams at the U-15 level.
In addition to several key stops by Minnick including a diving effort on what appeared to be a sure equalizer in the first half, the Premier back line of Raley Young, Lindsey Lurz, Emily Crusse and Kalli Bell largely held off the potent Bucks attack.
On the other side, Bucks goalkeepers Emily Helmich and Kathleen Rivera, along with the back line of Erica Behr, Nicole Palmer, Claire Sites and Jaydin Avery limited Premier to the lone goal early in the match.
Pittsburgh Riverhounds Academy 3, FC Bucks Rage NPL 2
U-15 Premier Division
After coming up just short of advancing to the knockout stage due to tiebreaker, Pittsburgh Riverhounds Academy won its consolation match on Saturday 3-2 in comeback fashion against FC Bucks Rage NPL.
Alaina Kalin scored in her third straight game at the Jeff Cup, netting the game-winner for Pittsburgh as the team climbed out of a 2-0 deficit. Kalin's game-winner came a day after she scored a late-game equalizer against NJCSA Imperials in a 2-2 draw.
Quickstrike FC Elite NPL 2, FC Virginia ECNL 0
U-16 Championship Division
New York side Quickstrike FC secured a second place finish in the U-16 Championship Division and handed FC Virginia ECNL its only loss of the weekend on Saturday morning at West Creek.
After applying sustained pressure on the attacking side for much of the first half, Quickstrike got on the board in the final minute of the opening period on a goal by Nicole Colantuono.
Colantuono netted her second of the game late in the second half, providing her team with an insurance goal as she showed great burst on her first touch, hit full speed and connected on a shot from inside left corner of box.
Richmond United ECNL 3, FC Pennsylvania Strikers 2
U-16 Championship Division
[player_box id=43425 leftright=right]
After trailing 2-1 in the second half, Richmond United ECNL stormed back to defeat reigning US Youth Soccer Region I and Pennslyvania East State Cup champion FC Pennsylvania Strikers 3-2 on Saturday.
Richmond equalized early in the second half on a well-timed cross from Hannah Potter to U.S. U-17 Women's National Team foward Paige Franks, who finished far post with precision after receiving the long-range pass.
[player_box id=45502 leftright=right]
Only five minutes later, United took the lead for good as U.S. Girls National Team player Jordan Canniff hit a perfectly-driven corner kick to the head of Page Frantz, who was able to find the net amid heavy traffic.
+Read: Jefferson Cup Girls Showcase Weekend Day 2 Recap
Shattuck St. Mary's Sabres 3, SDFC Liberty 0
U-18 Superior Black Division
The trip back to Minnesota for the Shattuck-St. Mary's U-17 team will go by much quicker after the team's third win in three days to put them on top of the U-18 Superior Black Division.
The Sabres controlled possession for much of the game and weathered defensive pressure from New Jersey side SDFC, coming away with a 3-0 win.
Kallie Clements opened the scoring late in the first half after Shattuck had created several quality scoring chances. Taking a pass from fullback Ana Ginez, Clements coolly finished her chance to give the Sabres the lead.
Hannah Melchiorre doubled the lead before half time by racing away from her defender and latched on to a Madison Smith through ball and fired a shot just off the inside of the far post an into the goal.
[player_box id=67880 leftright=right]
Midway through the second half Melchiorre iced the game with a great individual effort off the dribble, pushing the SSM lead to 3-0 and score the team's eighth goal of the event.
After a long trip with the added challenge of playing up an age group, head coach Nathaniel King was happy with both the performance and the results.
"We coped with everything well," King said. "The fact that we traveled so far and made the choice to play up an age group to challenge ourselves and find ourselves going home with three good wins is very satisfying."
A full-time residential soccer academy that is part of a boarding and day school, Shattuck has a unique structure playing club soccer year-round, and bringing players from all across the country who want to be in that sort of training environment.
"It's competitive and at times it's a grind," said King. "But ultimately you learn a lot about yourself as a player and you're challenged to fully develop to your potential and that's what our players want. We try to stretch them by doing things like playing up an age group at a huge showcase like the Jefferson Cup."
Riverhounds Development Academy 1, PWSI Courage Red 0
U-18 Championship Division
[player_box id=67800 leftright=right]
The Riverhounds Development Academy's Under-18 Girls took another step toward graduation with three straight wins over Virginia-based opponents in the top bracket of the Jefferson Cup.
After beginning the event with a 1-0 win over Richmond United on a late game-winner by Maya Watkins, Riverhounds went on to defeat McLean Youth Soccer 3-1 on Friday, and on Saturday closed the tournament with a 1-0 shutout victory against Virginia State Cup champion PWSI Courage Red.
Shawna Zaken scored the lone goal as the Riverhounds capped off the undefeated weekend. The game-winner was Zaken's second goal of the weekend. Mikayla Mance and Bailey Cartwright also found the net at the Jeff Cup for the Riverhounds.
"This team has gone 9-0 at the Jefferson Cup over the last three years," said Riverhounds coach Scott Gibson. "To come into the highest level at one of the most prestigious showcases in the country and play this way is a credit to the players and their dedication to our team philosophy."
"They never give up and always find a way to get the job done," Gibson continued.
Champions and Finalists
U-15
Championship Division
Champions: PDA Splash ECNL (NJ)
Finalists: Bethesda SC ECNL Tempo (MD)
Elite Orange Division
Champions: NEFC Elite (MA)
Finalists: Century V Gold (PA)
Elite Black Division
Champions: Premier Strikers (MD)
Finalists: Council Rock / FC Bucks Pride ECNL (PA)
Superior Orange Division
Champions: Lower Merion SC Storm (PA)
Finalists: Manhattan SC Crew (NY)
Superior Black Division
Champions: McLean 00 ECNL (VA)
Finalists: Oakwood SC Attack NPL (CT)
Superior White Division
Champions: Space Coast United Red (FL)
Finalists: GPS-MA NPL (MA)
Platinum Orange Division
Champions: FOSC Red Rage (OH)
Finalists: Whitby FC OPDL (CAN)
Platinum Black Division
Champions: FC Virginia United Elite (VA)
Finalists: SOCA Elite (VA)
Platinum White Division
Champions: Beach FC Red (VA)
Finalists: World Class FC Styles (NY)
Classic Orange Division
Champions: Syracuse Development Academy (NY)
Finalists: Triangle United Gold (NC)
Classic Black Division
Champions: United Mt. Pleasant Premier (SC)
Finalists: Penn Fusion NPL (PA)
Classic White Division
Champions: New Jersey Rush NPL (NJ)
Finalists: Holmdel FC NJX Crew (NJ)
Premier Division
Champions: NJCSA Imperials (NJ)
Finalists: Hulmeville SC Galaxy (PA)
U-16
Championship Division
Champions: PDA Gunners Blue (NJ)
Runners-Up: Quickstrike FC Elite NPL (NY)
Elite Orange Division
Champions: McLean ECNL (VA)
Runners-Up: Sunrise String Black (FL)
Elite Black Division
Champions: South Carolina United FC (SC)
Runners-Up: FC Europa Hotspurs (PA)
Superior Orange Division
Champions: Arsenal FC of PA Premier (PA)
Runners-Up: WNY Flash Academy (NY)
Superior Black Division
Champions: NJ Wildcats Troutman-NPL (NJ)
Runners-Up: Tampa Bay United Premier (FL)
Platinum Orange Division
Champions: Oakwood SC (CT)
Runners-Up: Beadling Bombers (PA)
Platinum Black Division
Champions: FC Boston NPL (MA)
Runners-Up: Seacoast United Elite (NH)
Classic Orange Division
Champions: VA Legacy CCL Elite (VA)
Runners-Up: SJA FC Azzurri (NJ)
Classic Black Division
Champions: Ohio Elite Academy (OH)
Runners-Up: Stafford Revolution Blue (VA)
U-17
Championship Division
Champions: Continental FC DELCO ECNL (PA)
Runners-Up: Richmond United ECNL (VA)
Elite Orange Division
Champions: Pitt Greenville SA Stars (PA)
Runners-Up: Arundel SA Azzurri (MD)
Elite Black Division
Champions: SAC Premier Blue (MD)
Runners-Up: Pinecrest Premier Blue (FL)
Superior Orange Division
Champions: Beach FC Red (VA)
Runners-Up: Pipeline SC Black (MD)
Superior Black Division
Champions: Oakwood SC (CT)
Runners-Up: Space Coast United (FL)
Platinum Orange Division
Champions: NEFC Premier North (MA)
Runners-Up: Wilmington Hammerheads (NC)
Platinum Black Division
Champions: PA Classics Academy (PA)
Runners-Up: Ohio Soccer Green (OH)
Classic Orange Division
Champions: Lexington FC White (KY)
Runners-Up: Virginia Rush Elite (VA)
Classic Black Division
Champions: TSF Academy (NJ)
Runners-Up: Fredericksburg FC Black (VA)
U-18
Championship Division
Champions: Maryland United FC ECNL (MD)
Runners-Up: Syracuse Development Academy (NY)
Elite Division
Champions: Bethesda SC ECNL Eclipse (MD)
Runners-Up: Beadling Wolfpack (PA)
Superior Orange Division
Champions: FC Europa Sol (PA)
Runners-Up: FC Revolution Falcons (PA)
Superior Black Division
Champions: Shattuck St. Mary's Sabres (MN)
Runners-Up: Montgomery United SC Black (PA)