South Jersey Elite Barons, New Jersey Rush announce merger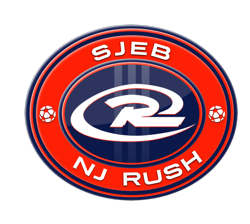 South Jersey, NJ (Via New Jersey Rush and SJEB) – New Jersey Rush and South Jersey Elite Barons (SJEB) have announced a partnership agreement that will see the showcase age groups (U15-U19) of the two largest academy clubs in South Jersey merge to form a new major club. The combined college showcase age groups will operate as SJEB Rush.
The two organizations will immediately begin to transition activities by combining the rising birth year 2002 – 1998 teams, with unified service delivery beginning this April for tryouts of the 2016-17 seasonal year.
The U14 and younger age groups will remain untouched for this upcoming year and stay as the South Jersey Elite Barons and NJ Rush separately. NJ Rush teams out of Hamilton Township, NJ will also be unaffected by the merger.
In addition to providing opportunities for players at the highest levels, SJEB Rush will offer multiple teams at each age group, allowing for a custom fit for all serious players looking to showcase their talents for college coaches.
"This is truly a win-win opportunity for all sides. By combining our player pools and talented coaching staffs, the club is better prepared to become a force on the national level,"said Don D'Ambra, SJEB Executive Director. "Currently, many of the top players in our area are traveling an hour or two to other academies outside of South Jersey. Our goal is to provide an opportunity for local kids to compete at the highest level of competition right in their back yards. Our clubs have been competing against each other for years, and with U.S. Soccer's new age mandates, this is the perfect time for us to become stronger together and provide more opportunity for our players."
"This is a major milestone for youth soccer in South Jersey, collaborations of this magnitude don't happen very often and there is no doubt that the winners here are the players in South Jersey and the surrounding areas," said Sandeep Mehtani, NJ Rush Executive Director. "What really makes this a special opportunity for our players is the strength of our combined coaching staff. Individually both clubs have some of the best coaches in New Jersey, but the combined staff may be the highest profile staff of any club on the East Coast. Our combined staff will have multiple A-licensed coaches, multiple college head coaches and assistant coaches and multiple ex-professional players. The experience is going to provide unparalleled training and opportunity for our players."