U.S. U-19 Women's National Team set for CFA Tournament in China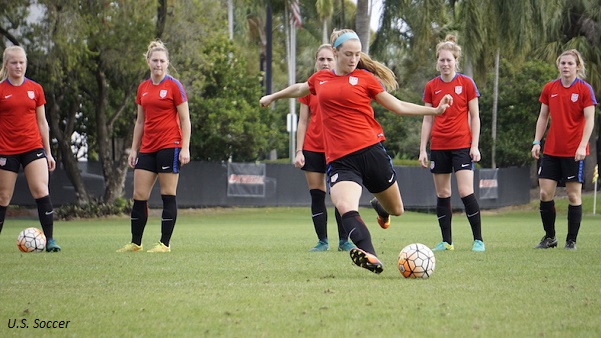 CHICAGO (Via U.S. Soccer) – The U.S. Under-19 Women's National Team will travel to the Duyun, China from Sept. 2-15 to participate in the CFA International Women's Youth Football Tournament that also features the Under-20 Women's National Teams of Iran, Japan and host China PR. All matches will be played at the Qiannan Fitness Center Main Stadium.
Duyan is located inland in the southeast part of China, about 565 miles northwest of Guangzhou, the city in which USA won the 1991 FIFA Women's World Cup.
This tournament will mark just the second meeting between the USA and Iran in women's soccer. The first came in April of 2016 when the countries met at the U-16 level in Italy at the 1st Women's Tournament Delle Nazioni. The USA won that historic match, 6-0.
+READ: U.S. U-17 WNT completes two-game sweep of England with 6-2 rout
The USA opens the tournament on Sunday, September 10 against Japan, faces China PR on Tuesday, September 12 and finishes against Iran on Thursday, September 14 vs Iran.
U.S. U-19 WNT head coach Keri Sarver has called up 22 players for this trip, 16 born in 2000 (which is the birth year for this age group of U-19s), three born in 1999 and three players born in 2001: forward Jordan Canniff, midfielder Astrid Wheeler and defender Kate Wiesner, all of whom have been called up from the U.S. U-17 WNT to get some experience at a higher age level. Wiesner has served as one of the U-17s' captains this year.
The trio will be making their second trip to China in about a month and a half, after playing in a tournament in Weifang with the U-17 WNT in mid-July.
+READ: U.S. U-16 Girls National Team set for training camp in Germany
The roster also features several players who have been key members of the U.S. U-20 Women's National Team pool this year. As there is limited programming for the U-20s during the NCAA college season, midfielders Jaelin Howell and Briana Pinto and forward Sophia Smith, all of whom are still playing youth club, were named to the roster and will get additional valuable international experience against U-20 teams at this tournament.
All the players on this roster are age-eligible for the team that will attempt to qualify for the 2018 FIFA U-20 Women's World Cup to be held in France. The age cut-off for that World Cup is players born on or after January 1, 1998.
U.S. U-19 WNT Roster by Position

GOALKEEPERS (2): Claudia Dickey (Charlotte Soccer Academy; Charlotte, N.C.), Meagan McClelland (Sky Blue – PDA; Kearny, N.J.)
DEFENDERS (7): Maycee Bell (SPORTING Blue Valley; Wichita, Kan.), Sydney Dawson (Internationals SC; Akron, Ohio), Madelyn Desiano (So Cal Blue Soccer Club; San Clemente, Calif.), Naomi Girma (California Thorns FC; San Jose, Calif.), Shae Holmes (Real Colorado; Highland Ranch, Colo.), Brianna Martinez (New Mexico Rush; Albuquerque, N.M.), Kate Wiesner (LAFC Slammers; Monrovia, Calif.)
MIDFIELDERS (7): Cori Dyke (Colorado Rush; Littleton, Colo.), Emily Gray (Penn Fusion; Sewell, N.J.), Jaelin Howell (Real Colorado; Windsor, Colo.), Jenna Nighswonger (LAFC Slammers; Huntington Beach, Calif.), Brianna Pinto (CASL; Durham, N.C.), Astrid Wheeler (Concorde Fire; Atlanta, Ga.), Summer Yates (Pacific NW; Pasco, Wash.)
FORWARDS (6): Jordan Brewster (Internationals SC; North Canton, Ohio), Jordan Canniff (Washington Spirit Academy – Baltimore Armour; California, Md.), Aleigh Gambone (Texas Rush; El Paso, Texas), Rachel Jones (NTH Tophat; Lawrenceville, Ga.), Sophia Smith (Real Colorado; Windsor, Colo.), Alexa Spaanstra (Michigan Hawks; Brighton, Mich.)