U.S. U-18 Men's National Team earns 3-1 wins over Slovakia, Hungary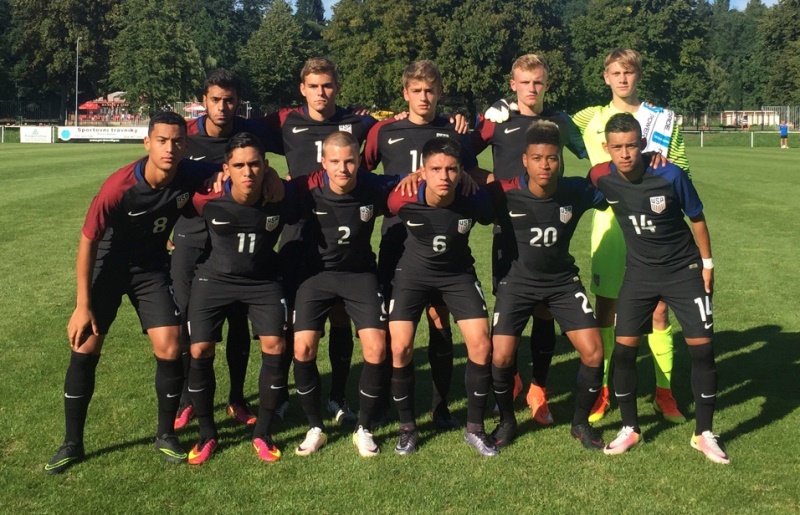 VESELA, Czech Republic (Via U.S. Soccer) – The Under-18 Men's National Team started the 2016 Vaclav Jezek Tournament off on the right foot after defeating Slovakia and Hungary by 3-1 scorelines.
In the USA's first match, midfielder Nick Taitague notched the first goal of the match in the 25th minute, and forward Justin Rennicks doubled the USA's lead just before halftime in the 38th minute.
With ten minutes remaining in the match, Slovakia's Richard Bedats narrowed the scoreline, but the USA's Shaft Brewer sealed the game with a goal in the 90th minute.
+Read: Jefferson Cup expands to four weekends starting in 2017
The next day, the USA faced Hungary and began the game with a rocket of a goal in the eighth minute by Jose Carranza. Hungary equalized in the 38th minute going into halftime.
In the second half, sub Taitague scored twice within eight minutes, beginning at the 72nd minute to give the U.S. the victory.
The U.S. will finish group play against Russia on Aug. 19, needing a win or draw to advance to the tournament final.
+Read: Jeremy Ebobisse signs with MLS, but stuck without a team until January
– U.S. Under-18 Men's National Team Match Report –
Match: U.S. Under-18 Men's National Team vs. Slovakia
Date: August 16, 2016
Competition: 2016 Václav Ježek Tournament
Venue: TJ Sokol Rakova Stadion; Vesela, Czech Republic
Kickoff: 11 a.m. ET (5 p.m. local)
Weather: 70 degrees
Scoring Summary:       1          2          F
SVK                                            0          1          1
USA                                            2          1          3
USA – Nick Taitague                   25th minute
USA – Justin Rennicks              38
SVK – Richard Bedats               80
USA – Shaft Brewer                   90
Lineups:
USA: 1-Brady Scott; 2-Aristotle Zarris, 15-Carson Vom Steeg (capt.), 16-Aedan Stanley (5-Kyle Gruno, 76), 3-Daniel Jones; 6-Jonathan Gonzalez (21-Andrew Paoli, 76), 13-Paxton Pomykal, 14-Ernesto Espinoza; 9-Nick Taitague (20-Shaft Brewer, 65), 10-Justin Rennicks (11-Jose Carranza, 82), 7-Griffin Dorsey
Subs not used: 4-Jack Maher, 8-Brandon Servania, 17-Nebiyou Perry, 22-Cameron Douglas, 23-Matt Real
Head Coach: Omid Namazi
SVK: 1-Frederik Valach; 2-Vladimir Majdan, 4-David Filinsky, 5-Matej Dybala, 19-Kristian Flak (3-Samuel Kozlovsky, 60); 6-Richard Bedats (capt.), 8-Martin Bednar (14-Samuel Livora, 46), 11-Matej Gresak, 7-Michael Tomic; 10-Jozef Spyrka, 18-Ladislav Almasi (17-Daniel Martinka, 46)
Subs not used: 9-Robert Bozenik, 12-Peter Urminsky, 13-Matej Mosko, 15-Stanislav Ducar, 16-Martin Koval, 20-Martin Vician
Head Coach: Milan Malatinsky
Stats Summary: USA / SVK
Shots: 11 / 8
Shots on Goal: 8 / 4
Saves: 3 / 5
Corner Kicks: 5 / 2
Fouls: 6 / 19
Offside: 4 / 0
Misconduct Summary:
USA – Aedan Stanley (caution)                   43rd minute
USA – Jonathan Gonzalez (caution)        58
SVK – Richard Bedats (caution)                 70
SVK – Michael Tomic (caution)                   71
USA – Justin Rennicks (caution)               71
– U.S. Under-18 Men's National Team Match Report –
Match: U.S. Under-18 Men's National Team vs. Hungary
Date: August 17, 2016
Competition: 2016 Václav Ježek Tournament
Venue:  Rokycany Stadion
Kickoff: 11 a.m. ET (5 p.m. local)
Weather: 70 degrees
Scoring Summary:       1          2          F
HUN                                            1          0          1
USA                                            1          2          3
USA – Jose Carranza                             8th minute
HUN – Bendeguz Bolla                          37
USA – Nick Taitague                              72
USA – Nick Taitague                              80
Lineups:
USA: 1-Brady Scott; 2-Aristotle Zarris, 15-Carson Vom Steeg (capt.), 16-Aedan Stanley, 23-Matt Real; 6-Jonathan Gonzalez (21-Andrew Paoli, 46), 11-Jose Carranza, 8-Brandon Servania; 14-Ernesto Espinoza (13-Paxton Pomykal, 64), 10-Justin Rennicks (9-Nick Taitague, 57), 20-Shaft Brewer (17-Nebiyou Perry, 77)
Subs not used: 3-Daniel Jones, 4-Jack Maher, 5-Kyle Gruno, 7-Griffin Dorsey, 22-Cameron Douglas
Head Coach: Omid Namazi
HUN: 12-Adam Varga; 13-Botond Erdelyi, 15-Tamas Geringer, 14-Akos Virag, 3-Marko Gajda; 8-Andras Schafer (6-Levente Lustyik, 46), 18-Gergo Nemeth, 16-Richard Rabatin; 21-Mark Nyeki (17-Bertalan Kun, 46), 11-Daniel Gergye (9-Levente Szabo, 61), 20-Bendeguz Bolla
Subs not used: 1-Balazs Bese, 2-Gergo Adorjan, 4-Balint Falusy, 5-Mate Berdo, 7-Zsombor Bevardi, 10-Martin Palincsar
Head Coach: Antal Nemeth
Stats Summary: USA / HUN
Shots: 14 / 7
Shots on Goal: 9 / 5
Saves: 4 / 6
Corner Kicks: 10 / 3
Fouls: 5 / 7
Offside: 3 / 0
Misconduct Summary:
HUN – Andras Schafer (caution)           29th minute
HUN – Bertalan Kun (caution)                 70
HUN – Bertalan Kun (caution)                 85
HUN – Bertalan Kun (ejection)                 85