U.S. U-15 Girls National Team advances to CONCACAF Championship final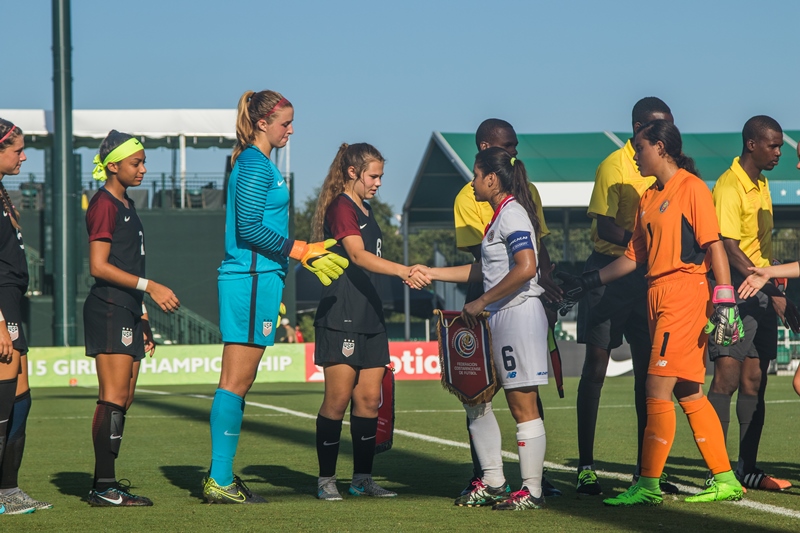 ORLANDO, Fla. (Via U.S. Soccer) – The U.S. Under-15 Girls' National Team advanced to the final of the 2016 CONCACAF U-15 Girls' Championship with a 5-0 semifinal victory against Costa Rica.
The USA will face Canada for the regional title on Sunday, Aug. 21, at 11 a.m. ET. Canada defeated Mexico, 3-1, in the other semifinal.
Gabrielle Robinson got the USA started early with a goal in the first minute and the young Americans did not slow down, scoring five times within the first 44 minutes of the 70-minute match.
+Read: SoccerWire.com Best 11 Players for June-July 2016
The goal was the eighth of the tournament for Robinson. Kalyssa Van Zanten added two scores, her fifth and sixth of the tourney, while Mia Fishel and Payton Linnehan added single scores, their seventh and eighth goals of the competition, respectively. Samantha Meza had three assists, setting up the second, third and fourth goals.
The win was the sixth in a row by shutout at the tournament for the USA, which has out-scored opponents 47-0 so far. The USA is participating in this competition for the first time and thus makes its first final in this tournament. The competition was held for the first time two years ago, when it was won by Canada.
"I'm very proud of our team and players in fulfilling one of our goals of reaching the championship game on Sunday," said U.S. head coach Mark Carr. "Not only is it a positive result but more importantly, I saw an improvement in our individual and collective performances. We have one more game to go and the players are very excited for the challenge. I know it will be the most difficult game we've had to this point and we'll give everything and try to do our very best to be successful in the championship game."
U-15 Girls' National Team Match Report
Match: United States U-15 Girls' National Team vs. Costa Rica U-15 Girls' National Team
Date: August 19, 2016
Competition: CONCACAF Under-15 Girls' Championship – Semifinal
Venue: Field #17 – ESPN Wide World of Sports, Orlando, Fla.
Weather: 86 degrees, sunny
Scoring Summary:    1          2          F
USA                             3          2          5
CRC                            0          0          0
USA – Gabrielle Robinson (Hollyn Torres)                1st minute
USA – Kalyssa Van Zanten (Samantha Meza)          23
USA – Kalyssa Van Zanten (Samantha Meza)          35+1
USA – Mia Fishel (Samantha Meza)                          39
USA – Payton Linnehan (Mia Fishel)                         44
Lineups:
USA: 12-Lindsey Romig; 17-Talia DellaPeruta (3-D'awncey Jones-Black, 36, 18-Sunshine Fontes, 45); 5-Leah Scarpelli (4-Tori Hansen, 51); 6-Natalia Staude; 2-Makenna Morris; 7-Samantha Meza; 16-Croix Bethune; 8-Hollyn Torres; 10-Mia Fishel (14-Madison Mercado, 49); 15-Gabrielle Robinson (13-Payton Linnehan, 42); 9-Kalyssa Van Zanten
Subs not used: 1-Ruth Jones; 11-Eleanor Glenn
Head Coach: Mark Carr
CRC: 1-Fabiana Solano; 4-Andrea Capmany; 5-Camila Capmany; 6-Pamela Gutierrez; 7-Nicole Gomez; 8-Jeimy Umana (3-Adina Badilla, 64); 10-Carmen Marin; 12-Maria Paula Salas Z.; 14-Maria Paula Porras; 16-Stefany Mendoza; 17-Medolyn Guerrero (9-Alexa Aguilar, 64)
Subs not used: 2-Nathlie Rojas; 13-Yariella Lopez; 15-Steysi Arias; 18-Veronica Trigueros
Head Coach: Amelia Valverde
Stats Summary: USA / CRC
Shots: 14 / 1
Shots on Goal: 7 / 0
Saves: 2 / 0
Corner Kicks: 3 / 1
Fouls: 5 / 2
Offside: 4 / 0
Misconduct Summary:
USA – D'awncey Jones-Black (caution)                     39th minute
CRC – Jeimy Umana (caution)                                   58
USA – Sunshine Fontes (caution)                              60
Officials:
Referee: Gladwyn Johnson (GUY)
Assistant Referee 1: Julieann McDougall (TRI)
Assistant Referee 2: Iroots Appleton (ATG)
Fourth Official: Oshane Nation (JAM)