U.S. U-17 Women's Youth National Team kicking off new cycle with 26-player training camp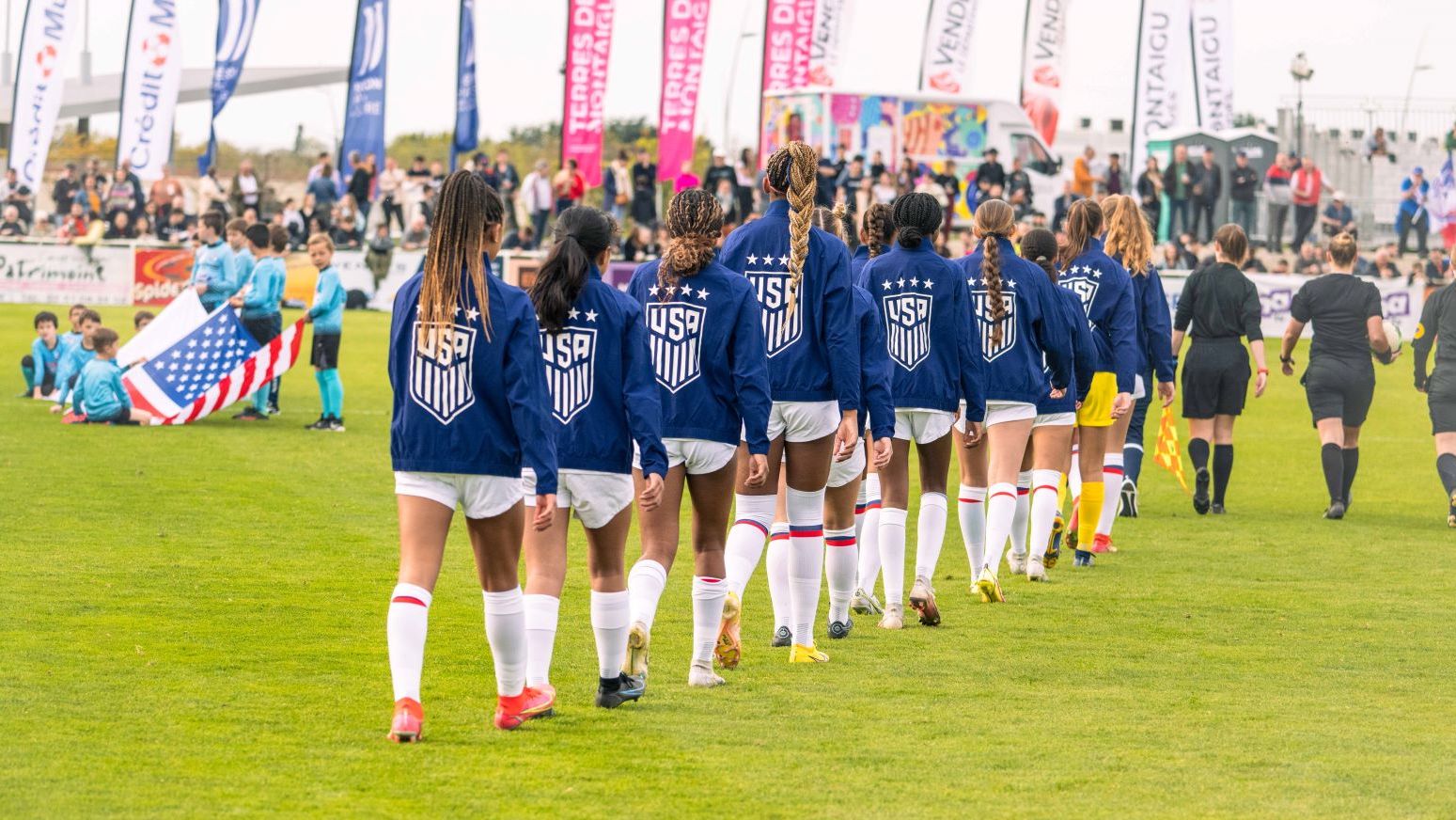 CHICAGO – The U.S. U-17 Women's Youth National Team will begin a new cycle with a training camp being held from Sept. 17-26 as head coach Katie Schoepfer has called up 26 players to the event at the Dignity Health Sports Park in Carson, Calif.
The camp will include two international friendlies against Japan's U-17 WNT, taking place on Friday, Sept. 22 and Sunday, Sept. 24. Both games will kick off at 1 p.m. PT on Field 3 and are open to the public.
Twenty-five on the roster were born in 2007, which is the cutoff birth year for players to play in the 2024 FIFA U-17 Women's World Cup, while midfielder Kimmi Ascanio was born in 2008.
"I'm excited to get started with this U-17 cycle," said Schoepfer, who was named the head coach for the U.S. U-17 WYNT in May after working with the U.S. U-15 WYNT previously. "This is a very deep and talented pool of players and I feel very fortunate to get to work with them. It's a great opportunity, for the players and coaches, to start off the cycle with quality international opponent like Japan. These games will be excellent tests for us and it's a great first step leading into World Cup qualifying early next year."
For the first time, a roster for the U.S. U-17 WYNT includes professional players, those being midfielders Melanie Barcenas of San Diego Wave FC and Chloe Ricketts of the Washington Spirit. Barcenas is the youngest-ever player to sign an NWSL contract, which she did last March at 15 years and 138 days. Ricketts, who also signed her first pro contract last March, is the second youngest player ever to sign with an NWSL team, doing so at 15 years, 283 days old. Bolstered by players being away for the World Cup this summer, Barcenas has seen action in six regular season matches and five Challenge Cup matches for the Wave this season while Ricketts has played in 11 regular season matches six Challenge Cup matches. Ricketts also scored a goal in the Challenge Cup, making her the youngest goal scorer in NWSL history at 16 years, two months and six days old.
Fourteen of the players on the roster played for Schoepfer on the team that won the 2022 Concacaf Girls' U-15 Championship in July of 2022 in Tampa, Fla. That group includes forward Kennedy Fuller, who was awarded the Golden Ball as the top player in the tournament after scoring a team-leading nine goals over the five games. Fuller scored in every match and the USA outscored its opponents by a 34-1 margin.
The 26 players on the roster come from 13 different states and 22 different clubs.
U.S. U-17 WOMEN'S YOUTH NATIONAL TEAM DOMESTIC TRAINING CAMP – CARSON, CALIF. (CLUB; HOMETOWN)
Goalkeepers (3): Olivia Geller (FC Dallas; Southlake, Texas), Molly Vapensky (Chicago FC United; Evanston, Ill.), Kennedy Zorn (SC del Sol; Peoria, Ariz.)
Defenders (9): Trinity Armstrong (IMG Academy; Frisco, Texas), Edra Bello (San Diego Surf SC; San Diego, Calif.), Mya Brandon (Michigan Hawks; Canton, Mich.), Alexis Coughlin (Legends FC; Corona, Calif.), Jordyn Hardeman (Solar SC; Midlothian, Texas), Daya King (Legends FC; Moreno Valley, Calif.), Kai Price (Concorde Fire; Atlanta, Ga.), Katie Scott (Internationals SC; Fairview, Penn.), Jocelyn Travers (FC Bay Area Surf; Santa Cruz, Calif.)
Midfielders (7): Kimmi Ascanio (Florida United SC; Doral, Fla.), Melanie Barcenas (San Diego Wave FC; San Diego, Calif.), Riley Cross (PDA; Chatham, N.J.), Kennedy Fuller (Solar SC; Southlake, Texas), Ainsley McCammon (Solar SC; Bedford, Texas), Chloe Ricketts (Washington Spirit; Dexter, Mich.), Ava Sherrer (San Diego Surf SC; San Diego, Calif.)
Forwards (7): Carrie Helfrich (Virginia Union FC; McLean, Va.), Ayva Jordan (Slammers FC HB Koge; Las Vegas, Nev), Avery Oder (Beach FC; Calabasas, Calif.), Maddie Padelski (Tennessee SC; Nolensville, Tenn.), Alexandra Pfeiffer (St. Louis Scott Gallagher; St. Louis, Mo.), Leena Powell (Tudela FC; Culver City, Calif.), Mya Townes (The St. James FC Virginia; Aldie, Va.)
SoccerWire Featured Players Mentioned