U.S. U-17 Women's Youth National Team closes England trip with 3-1 victory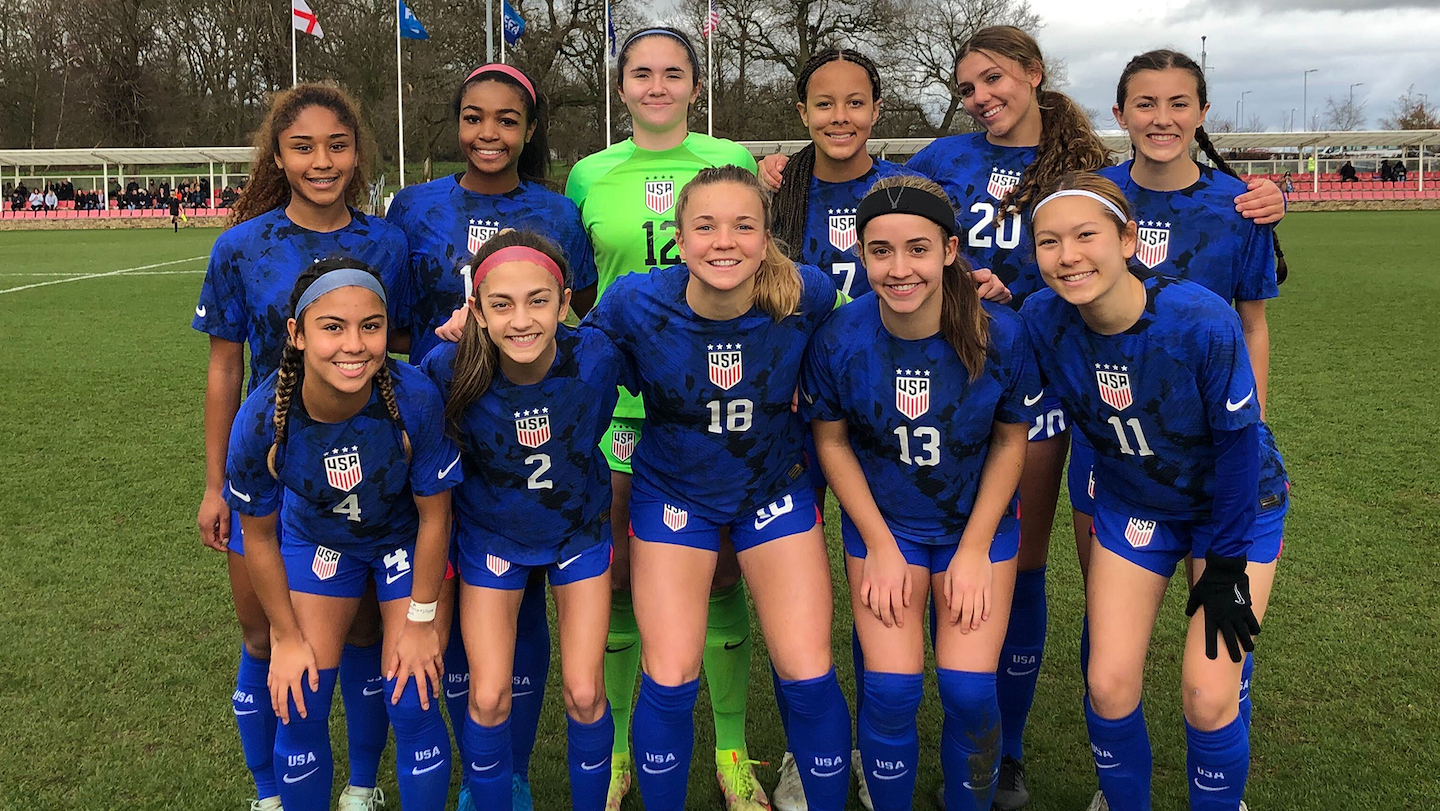 BURTON-ON-TRENT, England – The U.S. Under-17 Women's Youth National Team defeated England, 3-1, at St. George's Park to complete a two-game series as Kendall Bodak, Onyeka Gamero and Emeri Adames scored for the USA.
The victory gives the USA a split in the series after a 5-4 loss to England on Feb. 15. The USA opened the scoring in the 19th minute when Gamero carried the ball down the left side and sent a low cross in front of goal that met Bodak's run at the far post. Bodak shot back across net into the lower left corner to give the USA the lead.
England equalized just before halftime, and the match stayed knotted at 1-1 until the first minute of second half stoppage time. With England playing with 10 women on the field due to an injury that occurred after it had used all its allowed substitutes, Gamero dribbled through several defenders inside the penalty area before slotting home the game-winner.
The USA wasn't done yet, as three minutes later forward Amalia Villarreal brought the ball down the left side and crossed to Adames at the top of the box. Adames beat one defender before shooting past the goalkeeper, who was charging out of her goal. The shot deflected off the 'keeper's outstretched foot and rolled into the net.
Gamero, Villarreal and Adames were all members of the USA's 2022 FIFA U-17 Women's World Cup Team.
This group of players, made up mostly of players born in 2006, is age-eligible for the 2024 FIFA Under-20 Women's World Cup which has an age cutoff of players born on or after January 1, 2004.
— U.S. UNDER-17 WOMEN'S YOUTH NATIONAL TEAM MATCH REPORT–
Match: United States U-17 Women's National Team vs. England U-17 Women's National Team
Date: February 18, 2023
Competition: International Friendly
Venue: Field #4 – St. George's Park, Burton-on-Trent, England
Weather: 50 degrees, cloudy
Attendance: 180
Scoring Summary:   1          2          F
USA                             1          2          3
ENG                             1          0          1
USA – Kendall Bodak (Onyeka Gamero)                   19th minute
ENG – Mia Sorrentino                                                  42
USA – Onyeka Gamero                                                 90+1
USA – Emeri Adames (Amalia Villarreal)                 90+4
Lineups:
USA:12-Sonoma Kasica (1-Kealey Titmuss, 46); 6-Aven Alvarez (3-Abbi Sine, 53), 20-Tanna Schornstein (15-Kami Winger, 46), 7-Jordyn Bugg, 4-Carla Small (17-Nikki Fraser, 46); 18-Claire Hutton (Capt.), (10-Eleanor Klinger, 65), 13-Grace Restovich (19-Avery Robinson, 60); 2-Kendall Bodak (9-Melanie Barcenas, 46), 11-Miri O'Donnell (5-Emeri Adames, 46), 14-Jaden Thomas (16-Amalia Villarreal, 32), 8-Onyeka Gamero
Subs not used: None
Head Coach: Katie Schoepfer
ENG:13-Sophie Poor; 2-Araya Dennis (19-Grace Nascimento, 74), 3-Mari Ward (21-Scarlett Kagalwala, 74), 5-Katie Reid (4-Laila Harbert, 46), 8-Lexi Potter, 11-Ava Baker (Capt.), (24-Isabel Watts, 83), 12, Lucy Newell, 14-Holly Deering (10-Lola Brown, 60), 16-Mia Sorrentino (7-Milly Round, 60), 18-Vivienne Lia (9-Michelle Agyemang, 46), 20-Lola Nesbeth (6-Zara Shaw, 46)
Subs not used:  1-Katie Cox, 14-Holly Deering, 15-Lauryn Thompson, 17-Millie Curnyn, 22-Hope McSheffrey, 23-Tia Mai Young
Head Coach: Natalie Henderson
Stats Summary: USA / ENG
Shots: 15 / 11|
Shots on Goal: 8 / 6
Saves: 5 / 5
Corner Kicks: 3 / 3
Fouls: 9 / 11
Offside: 7 / 1
Misconduct Summary:
None
Officials:
Referee: Grace Lowe (ENG)
Assistant Referee 1: Antonia Smith (ENG)
Assistant Referee 2: Clara Barker (ENG)
Fourth Official: Emma Taylor (ENG)