Jaedyn Shaw voted 2022 U.S. Soccer Young Female Player of the Year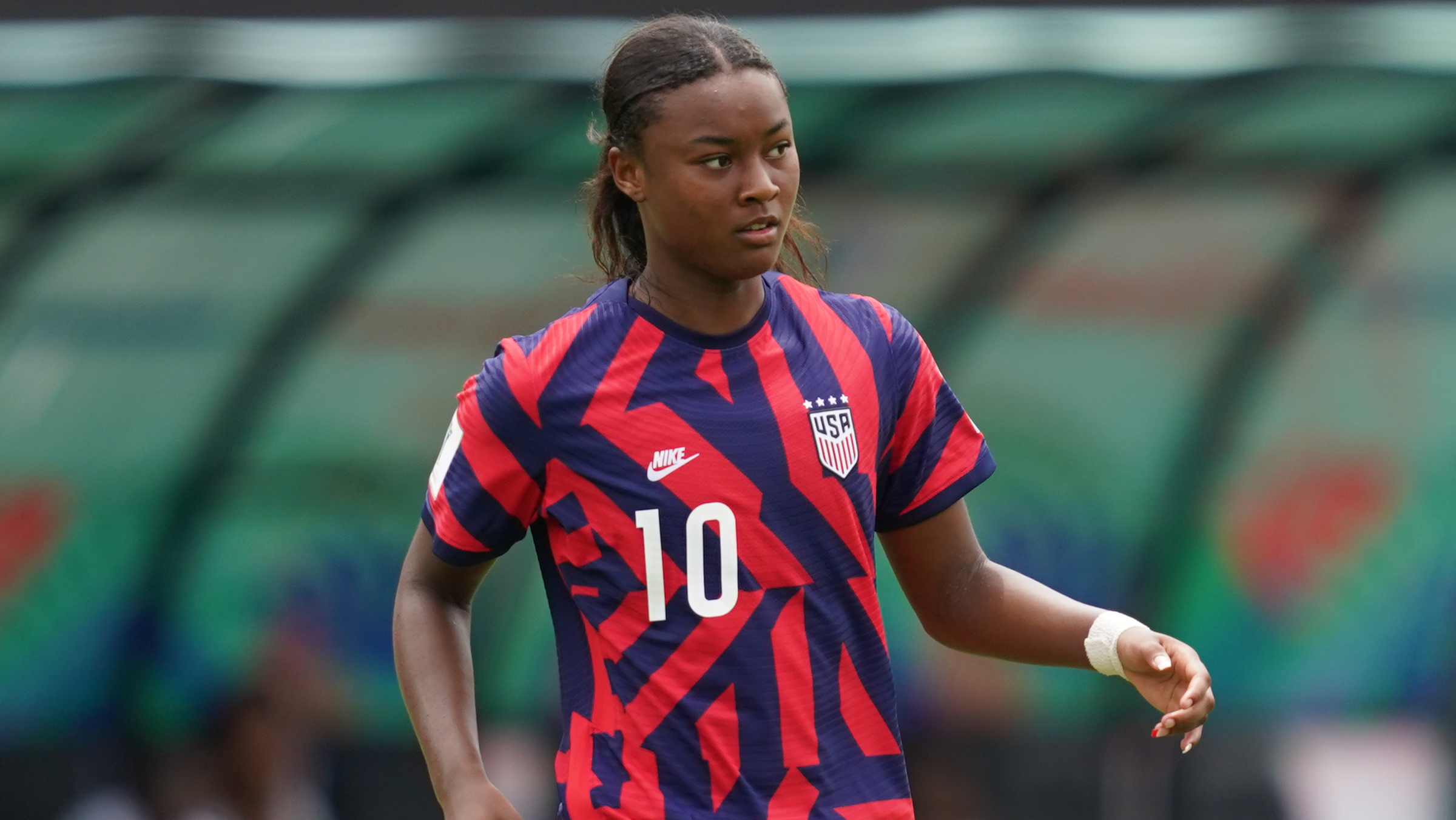 CHICAGO – Midfielder/forward Jaedyn Shaw was voted the U.S. Soccer Young Female Player of the Year after a standout rookie season in the NWSL with San Diego Wave FC and a solid performance at the 2022 FIFA Under-20 Women's World Cup.
She joins a long line of talented players to win the U.S. Soccer Young Female Player of the Year Award, which was first awarded in 1998 to current U.S. Soccer President Cindy Parlow Cone.
"It means everything to me to be a part of the list of players who have won this award, but it also tells me I have so much work to do to keep improving and growing," said Shaw. "I just feel super honored and blessed and it's an amazing way start to the year. I want to say thank you to everyone who voted for me and to all the National Team coaches I've worked with since the U-14 level and to my coaches on the Wave. Thanks also to all my teammates who have pushed me and will continue to push me. All of this makes me even more excited to get going with this NWSL season and to get back into camps with the Youth National Teams. I'm just excited for what's to come and I wouldn't be where I am today without God's grace and favor over my life."
Votes for U.S. Soccer Female Player of the Year and Young Female Player of the Year awards are collected from respective National Team coaches, National Team players who earned a cap in 2022, members of the U.S. Soccer Board of Directors, U.S. Soccer Athletes' Council, National Women's Soccer League head coaches and select media members, administrators and college coaches. For the second time, fans were also able to vote for the U.S. Soccer Player and Young Player of the Year Awards with those votes weighted at 15% of the total.
Shaw earned 35.1 percent of the overall vote for the Young Female Player of the Year, just ahead of forward Alyssa Thompson (34.4%), who debuted for the senior USWNT this year at age 17.
Shaw, who turned 18 last November, entered the NWSL via the Discovery Process and signed her first professional contract with the Wave on July 18 after training for six months with the Washington Spirit. She made her pro debut on July 30, scoring 28 minutes into her first game and first start against the Chicago Red Stars. The goal turned out to be the game-winner in the Wave's 1-0 victory and she got on a plane the next day to join the U.S. U-20 WYNT for its pre-World Cup training camp in Houston, Texas.
Shaw made a late run to earn a spot on the roster in Costa Rica, but then she played in all three matches, starting two, in what was her first FIFA World Cup. She ended the year with seven U-20 caps and three goals, scoring against Costa Rica, Mexico and the Netherlands, the latter two to help the USA win the Sud Ladies Cup in Aubagne, France. Shaw is age-eligible for the 2024 FIFA U-20 Women's World Cup.
The Texas native not only became the youngest player to score in her first National Women's Soccer League match, but remarkably, scored in three of her first four professional matches, finishing the season year with three goals — one with her left foot, one with her right and one with her head — in seven games spanning 378 minutes played, helping the Wave reach the NWSL semifinals.
Twenty-two of the 25 U.S. Soccer Young Female Player of the Year winners have earned caps with the full USWNT and 15 of them have gone on to play in a FIFA Women's World Cup.
PREVIOUS U.S. SOCCER YOUNG FEMALE AWARD WINNERS: 
| | |
| --- | --- |
| Year | Young Female Player of the Year |
| 1998 | Cindy Parlow |
| 1999 | Lorrie Fair |
| 2000 | Aly Wagner |
| 2001 | Aleisha Cramer |
| 2002 | Lindsay Tarpley |
| 2003 | Cat Reddick |
| 2004 | Heather O'Reilly |
| 2005 | Lori Chalupny |
| 2006 | Danesha Adams |
| 2007 | Lauren Cheney |
| 2008 | Kristie Mewis |
| 2009 | Tobin Heath |
| 2010 | Bianca Henninger |
| 2011 | Sydney Leroux |
| 2012 | Julie Johnston |
| 2013 | Lindsey Horan |
| 2014 | Morgan Brian |
| 2015 | Mallory Pugh |
| 2016 | Ashley Sanchez |
| 2017 | Sophia Smith |
| 2018 | Tierna Davidson |
| 2019 | Brianna Pinto |
| 2020 | Naomi Girma |
| 2021 | Trinity Rodman |
| 2022 | Jaedyn Shaw |