Sophia Smith honored as 2022 U.S. Soccer Female Player of the Year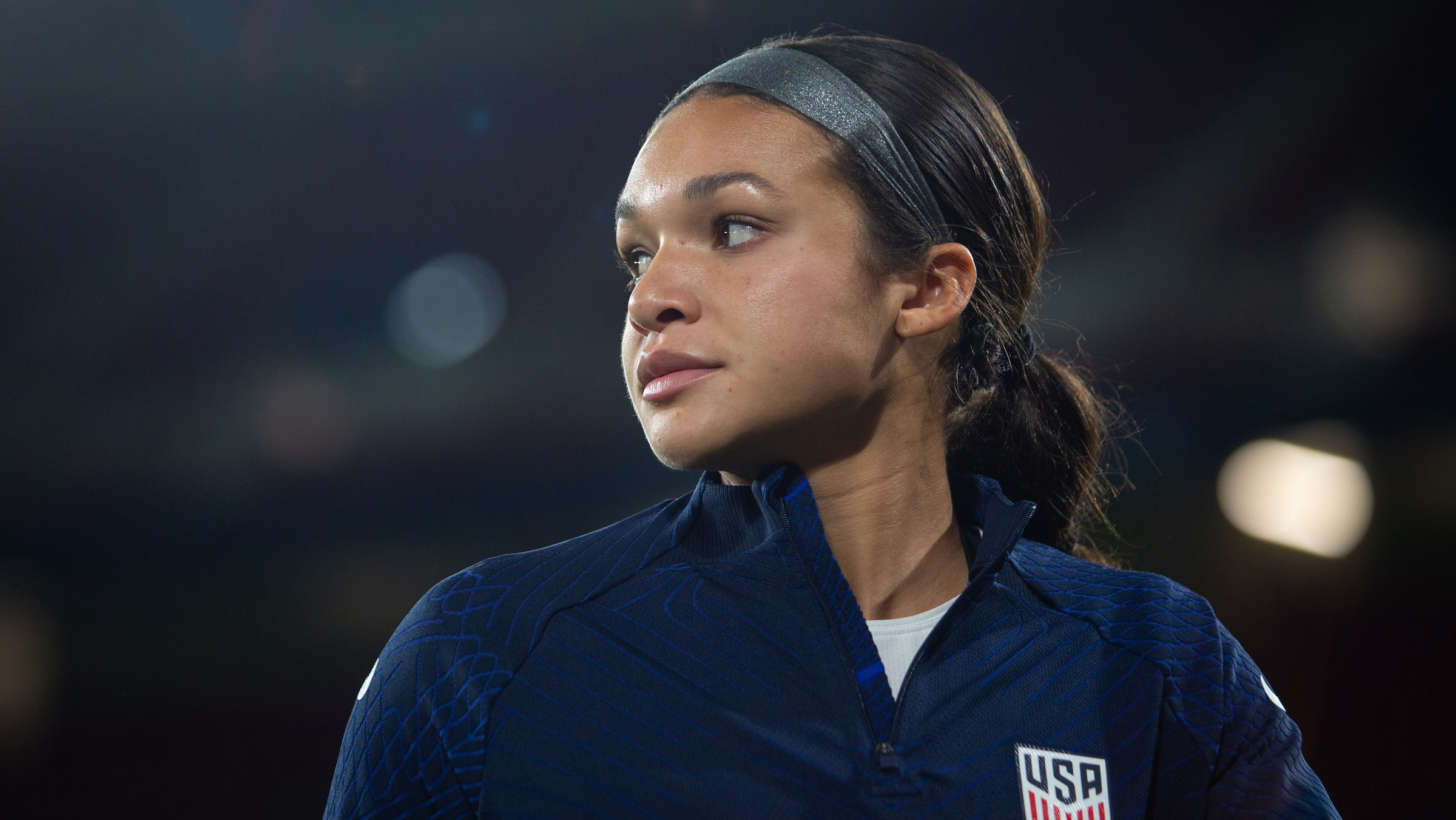 CHICAGO – In a year in which she was the leading scorer for the U.S. Women's National Team and Portland Thorns FC, won the National Women's Soccer League Most Valuable Player and was named MVP of the NWSL Championship Game, forward Sophia Smith has been voted the 2022 U.S. Soccer Female Player of the Year.
This is the first U.S. Soccer Female Player of the Year award for Smith. She becomes the 19th different player to win the award its 38-year history. Smith also becomes just the fourth player to win both U.S. Soccer Young Female Player of the Year (which she won in 2017) and U.S. Soccer Female Player of the Year, joining Tobin Heath, Julie Ertz (who has won the Player of the Year twice), and Lindsey Horan, who was the 2021 U.S. Soccer Female Player of the Year and a finalist in 2022.
The 22-year-old Smith was the youngest player to lead the USA in scoring since 1993 and was the youngest-ever NWSL MVP. Not counting the Covid-19 impacted 2020 season, this was just Smith's second professional season.
"Obviously this is surreal, and I'm super humbled," said Smith. "It's been a very exciting year, and certainly there's been some challenges, but just being able to grow and develop in the environments with the National Team and the Thorns, and being surround by such amazing players, players that I have looked up to for so long, has pushed me to become a better player and person."
"I've said many times, if you embrace these environments, you have no choice but to get better and grow, and that's a testament to the players, coaches and all of the staff. I appreciate everyone holding me to such high standards day in and day out. This award wouldn't be possible without all those people, and the best thing about it, is that it's fun too. The journey is so much better when you are doing something so fun and something you love."
Smith, who is the youngest USWNT player to win Female Player of the Year honors since a 22-year-old Mia Hamm was so honored in 1994, scored 11 goals for the USA in 2022 and started a team-high 17 matches. She was second on the team with 1,192 minutes played and she scored her first career hat trick on April 9 vs. Uzbekistan, becoming the youngest USWNT player since 2000 and the fifth youngest to net a hat trick in USWNT history.
.@sophsssmith had herself a YEAR!

‣ #USWNT leading scorer ⚽️
‣ @NWSL MVP ☝️
‣ @NWSL Championship Game MVP 🏆
‣ @BioSteelSports Female Player of the Year 🇺🇸

— U.S. Women's National Soccer Team (@USWNT) January 6, 2023
Smith also scored against Colombia (2), Jamaica (2), Nigeria (2), England (at a packed Wembley Stadium in front of nearly 77,000 fans) and Germany (in the USA's 2-1 win to end the year).
She scored 14 regular season goals for the Thorns and then scored in the NWSL title game to help lead Portland to its third league title. Her 14 goals came in 18 appearances with 16 starts. She led Portland in scoring while adding a career-best three assists. Smith's 14 goals were second best in the NWSL this season and set a new club single-season record, surpassing Horan's 13 goals during the 2018 season. Smith finished the regular season tied for the most non-penalty goals (11) and the most goals plus assists (17) in the league. During the 2022 campaign, Smith recorded four braces, which is tied for the most braces in a single season in NWSL history, and she was named to the NWSL Best XI First Team.
With 11 goals for the USWNT and 14 goals for the Thorns in 2022, Smith is just the fourth player to score 10 or more goals for the USWNT and her NWSL club in a single year, joining Abby Wambach (2013), Sydney Leroux (2013) and Christen Press (2015).
"This was a big year for Sophia, and she deserves this recognition, but I'm just excited about where she can take her game from here," said U.S. Women's National Team head coach Vlatko Andonovski. "She is a special player with special qualities, but the best thing is that has the humbleness, work ethic and drive to keep developing all aspects of her game. As coaches, she's a joy to work with because she's always looking for that edge to become better and more productive. As a person, she's a wonderful part of our team, a fantastic teammate and we're looking forward to her having another great year in 2023."
For the second time, fans were able to vote for the U.S. Soccer Player and Young Player of the Year Awards with those votes weighted at 15% of the total. Of the five finalists for the Female Player of the Year Award, Smith garnered 50.8 percent of the overall tabulated votes followed by Alex Morgan (18.4%).
Votes for U.S. Soccer Female Player of the Year and Young Female Player of the Year awards are collected from respective National Team coaches, National Team players who earned a cap in 2022, members of the U.S. Soccer Board of Directors, U.S. Soccer Athletes' Council, National Women's Soccer League head coaches and select media members, administrators and college coaches.
The U.S. Soccer Female Player of the Year has been awarded since 1985, when midfielder Sharon Remer earned the first Female Player of the Year honor. Wambach won it six times, the most of any player. Mia Hamm won it five times.
PREVIOUS U.S. SOCCER FEMALE AWARD WINNERS:
| | |
| --- | --- |
| Year | Female Player of the Year |
| 1985 | Sharon Remer |
| 1986 | April Heinrichs |
| 1987 | Carin Jennings |
| 1988 | Joy Biefeld |
| 1989 | April Heinrichs |
| 1990 | Michelle Akers |
| 1991 | Michelle Akers |
| 1992 | Carin Jennings Gabarra |
| 1993 | Kristine Lilly |
| 1994 | Mia Hamm |
| 1995 | Mia Hamm |
| 1996 | Mia Hamm |
| 1997 | Mia Hamm |
| 1998 | Mia Hamm |
| 1999 | Michelle Akers |
| 2000 | Tiffeny Milbrett |
| 2001 | Tiffeny Milbrett |
| 2002 | Shannon MacMillan |
| 2003 | Abby Wambach |
| 2004 | Abby Wambach |
| 2005 | Kristine Lilly |
| 2006 | Kristine Lilly |
| 2007 | Abby Wambach |
| 2008 | Carli Lloyd |
| 2009 | Hope Solo |
| 2010 | Abby Wambach |
| 2011 | Abby Wambach |
| 2012 | Alex Morgan |
| 2013 | Abby Wambach |
| 2014 | Lauren Holiday |
| 2015 | Carli Lloyd |
| 2016 | Tobin Heath |
| 2017 | Julie Ertz |
| 2018 | Alex Morgan |
| 2019 | Julie Ertz |
| 2020 | Samantha Mewis |
| 2021 | Lindsey Horan |
| 2022 | Sophia Smith |