U.S. U-17 Men's National Team drops 2-1 result vs. Spain in UEFA Tournament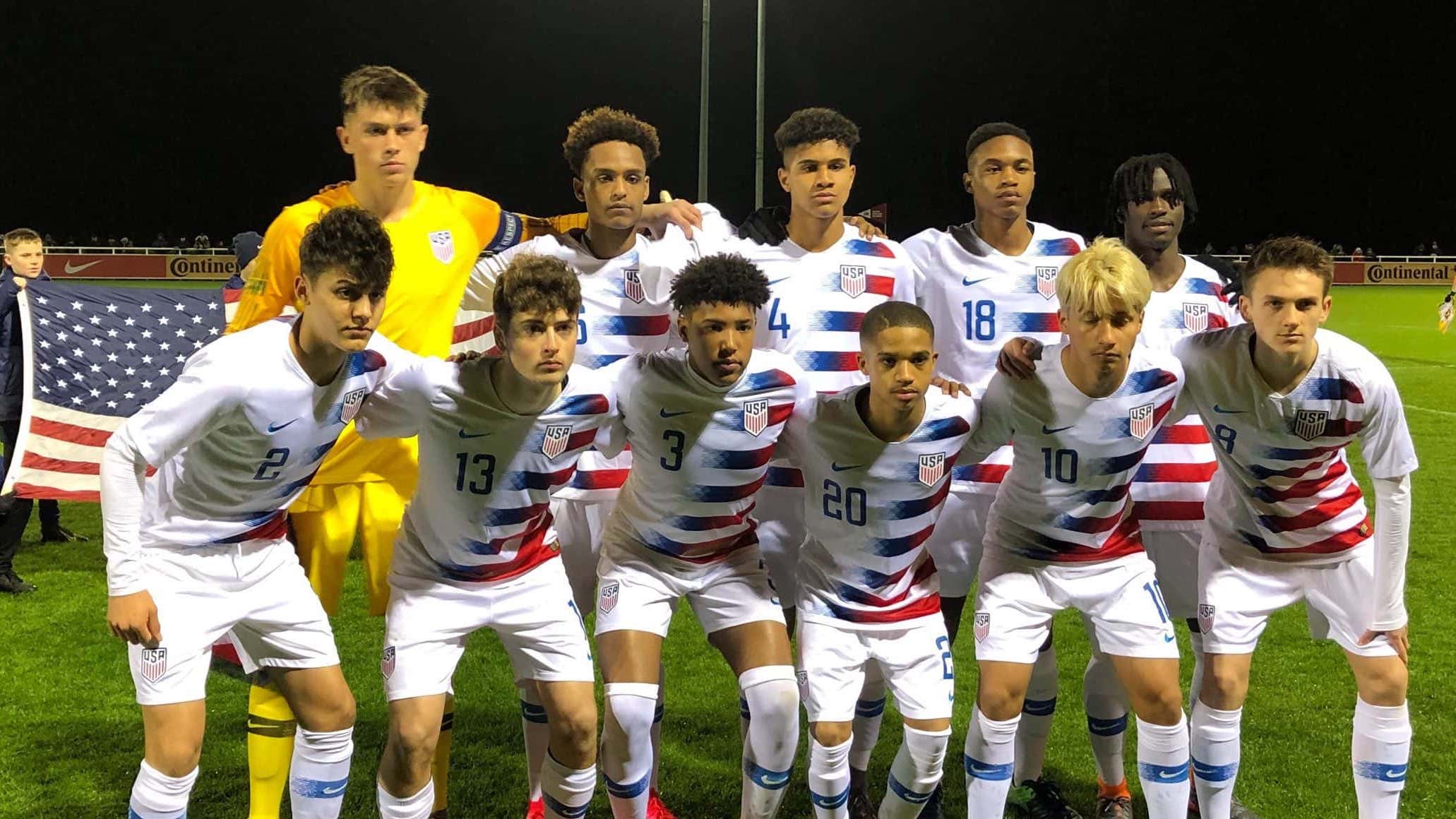 BURTON-UPON-TRENT, England – The U.S. Under-17 Men's National Team dropped a 2-1 result to Spain in its UEFA Development Tournament opener at St. George's Park. While defender Samuel Jones put the U.S. ahead midway through the first half, Spain scored two second half goals to secure the victory.
The USA will be back in action against England on Feb. 21 and wrap up the tournament vs. Denmark on Feb. 24. These matches are the first of the new 2020-21 cycle for the U-17 MNT. Rules for the tournament dictate that each player on the roster is required to play at least 90 minutes over the three matches.
The U.S. got on the board first in the 23rd minute from of a free kick near the far touch line. Midfielder Victor Valdez swung the ball into the box near the penalty spot, and Jones beat his marker to head it home past Spanish goalkeeper Cesar Fernandez Gonzalez.
Spain struck back with two quick goals near the hour mark. Angel Alarcon Galiot equalized for Spain in the 60th minute with a well-taken free kick from 35 yards out that hit the bar but still found the back of the net. Just two minutes later, Spain scored on another set piece, this time from a corner kick. The ball was sent to the near post, and Aitor Gismera Monge emerged from the crowd in the box to knock it in and give Spain what would stand as the final 2-1 margin of victory. 
-U.S. U-17 MEN'S NATIONAL TEAM MATCH REPORT-

Match: U.S. Under-17 Men's National Team vs. Spain
Date: Feb. 19, 2020
Competition: UEFA Development Tournament
Venue: St. Georges Park; Burton-upon-Trent, England
Attendance: 200
Weather: 40 degrees
Scoring Summary:        1   2   F
USA                              1   0   1
ESP                               0   2   2
USA – Samuel Jones (Victor Valdez)        23rd minute
ESP – Angel Alarcon Galiot                     60
ESP – Aitor Gismera Monge                    62
LINEUPS:
USA: 1-Gabriel Slonina (Capt.), 2-Devan Tanton, 4-Antonio Leone, 18-Samuel Jones (5-Thomas Williams, 58), 3-Caleb Wiley, 16-Aethan Yohannes (6-Eric Ayala, 45), 8-Zach Booth, 10-Victor Valdez (11-Evan Rotundo, 75), 13-Federico Oliva (15-Juan Alvarez, 84), 9-Dantouma Toure, 20-Kaile Auvray (7-Darren Yapi, 45).
Unused Subs: 12-Jeffrey Dewsnup, 14-Kobi Henry, 17-Logan Batiste, 18-Jordan Jones
Head Coach: Larry Sunderland
ESP: 1-Cesar Fernandez Gonzalez, 2-Carlos Aleman Castillo, 4-Edgar Pujol, 5-Diego Almeida Crespo, 8-Manuel Angel Moran (16-Marcos Denia Diaz, 80), 9-Fabian Luzzi Rangel (18-Aitor Gismera Monge, 62), 10-Julen Jon Guerrero Landabaso, 11-Fabio Blanco Gomez (6-Roger Martinez Santamaria, 45), 14-Sergio Bernardez Perez (20-Pablo Paez Gaviria, 45), 15-Rafel Obrador Burguera (3-Gerard Gonzalez, 75), 17-Ilias Akhomsch Chakkour (7-Angel Alarcon Galiot, 45).
Unused Subs: 12-Manuel Beneite Villanueva, 13-Bruno Irbarne Aleman, 19-Arnau Casas Arcas
Head Coach: Julen Guerrero Lopez
Stats Summary: USA / ESP
Shots: 6 / 8
Shots on Goal: 3 / 7
Saves: 5 / 1
Corner Kicks: 2 / 5
Fouls: 7 / 8
Offsides: 2 / 5
Officials: 
Referee: Callum Parke
Assistant Referee: Edgar Brown
Assistant Referee: Brandon Mersh
Fourth Official: Sam Wesson
Misconduct Summary:
USA – Eric Ayala (caution)          61