U.S. U-15 Girls National Team Talent ID Camp in Kansas City features 59 players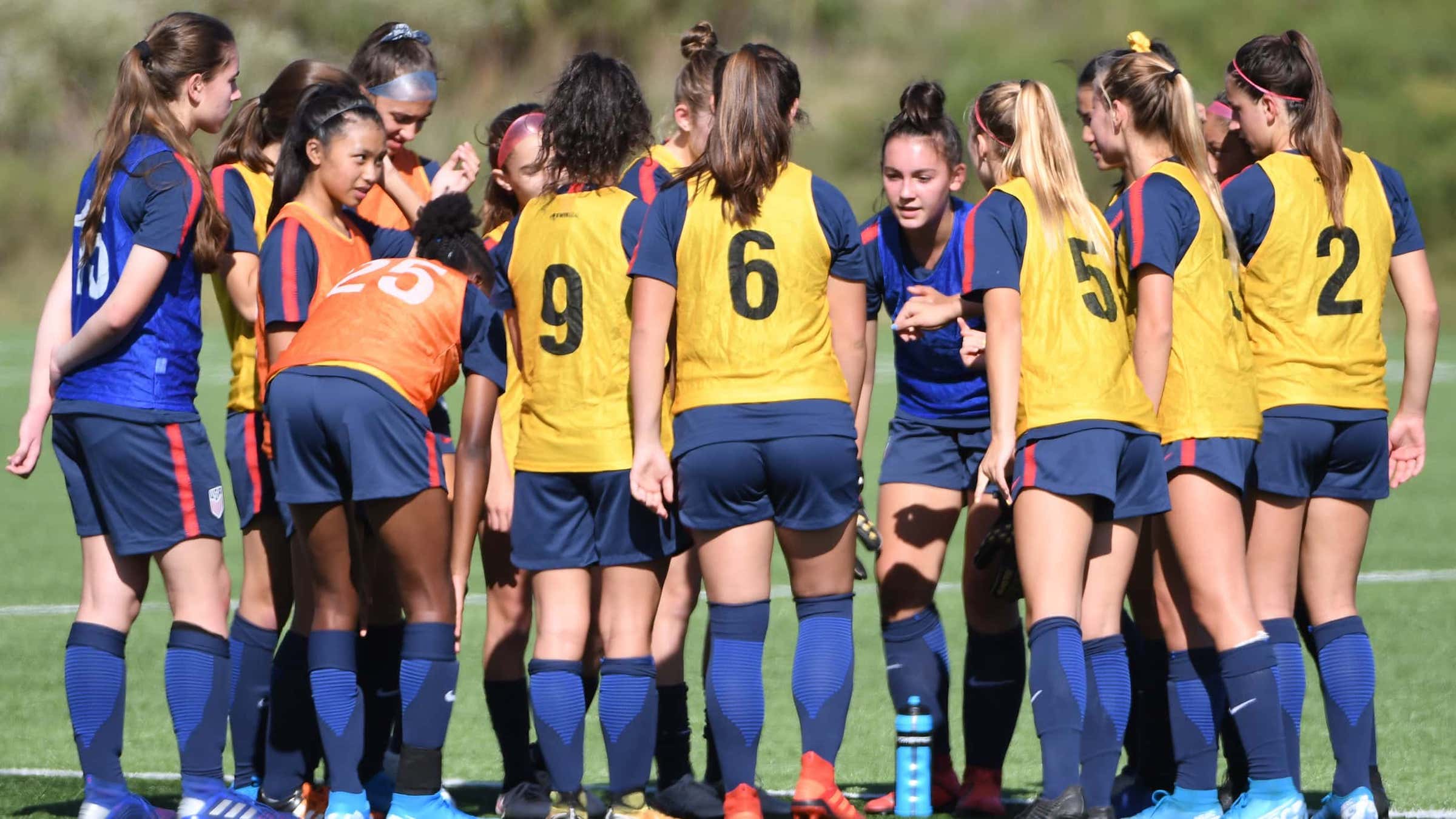 CHICAGO — Fifty-nine players, all born in 2005, have gathered at the National Development Center in Kansas City, Kan. for an Under-15 Girls' Youth National Team Talent Identification Camp.
U.S. Soccer Director of Talent Identification – Girls' Mirelle van Rijbroek is leading the training camp, assisted by U-17 WNT head coach Tracey Kevins and the three Girls' Talent Identification Managers: Katie Cole (Central Region), Diane Drake (East) and Marieke Laurens (West).
The training camp aims to introduce the players to YNT principles as well as expand the pool of 2005-birth year players before the U-15 Girls' National Team undertakes international competition next year and moves up to the U-17 age group in 2021.
Twenty-three states are represented on the roster with the most players, 19, coming from California.
U-15 GIRLS' YNT TALENT ID CAMP ROSTER BY POSITION (CLUB; HOMETOWN)
GOALKEEPERS (6): Valentina Amaral (Florida Kraze Krush; Oviedo, Fla.), Jamie Campbell (Real So Cal; Newbury Park, Calif.), Amaris Franco (So Cal Blues; Pasadena, Calif.), Kyla Holmes (STA Development Academy; Newton, N.J.), Tanner Ijams (Beach FC; El Segundo, Calif.), Adelyn Todd (Real Colorado; Littleton, Colo.)
DEFENDERS (10): Hailey Baumann (Michigan Hawks; South Lyon, Mich.), Savannah King (Real So Cal; West Hills, Calif.), Cameron Roller (FC Dallas; Frisco, Texas), Kiera Staude (Tophat; Atlanta, Ga.), Sierra Sythe (Beach FC; Long Beach, Calif.), Gisele Thompson (Real So Cal; Studio City, Calif.), Abigail Unkraut (Cincinnati Development Academy; Burlington, Ky.), Amelia Van Zanten (Eclipse Select; Buffalo Grove, Ill.), Emma Wang (San Jose Earthquakes; San Carlos, Calif.), Samantha Weiss (Reign Academy; Mercer Island, Wash.)
MIDFIELDERS (28): Jasmine Aikey (Mountain View Los Altos; Palo Alto, Calif.), Ella Carter (The St. James FC Virginia; Leesburg, Va.), Anna Castenfelt (Phoenix Rising FC; Phoenix, Ariz.), Gabrielle Ceballos (Classics Elite Soccer Club; San Antonio, Texas), Halle Dixon (Houston Dash; New Orleans, La.), Emily Ennis (San Jose Earthquakes; Burlingame, Calif.), Shae Harvey (LAFC Slammers; Hermosa Beach, Calif.), Riley Jackson (Concorde Fire; Roswell, Ga.), Grace Jackson (Internationals; Hudson, Ohio), Joelle Jung (Mountain View Los Altos; San Jose, Calif.), Madison Krakower (Cedar Stars Academy-Monmouth; Wayne, N.J.), Audrey Lam (Lamorinda SC; Piedmont, Calif.), Andrea Leyva (Heat FC; Las Vegas, Nev.), Kate Mallory (Concorde Fire; Avondale Estates, Ga.), Olivia Marrone (Players Development Academy; Marlton, N.J.), Lauren Martinho (NC Courage; Cary, N.C.), Olivia Moultrie (Portland Thorns FC; Portland, Ore.), Ashley Pennie (Weston FC; Miami, Fla.), Thai Quallich (United Soccer Alliance), Melina Rebimbas (Players Development Academy; Warren, N.J.), Morgan Roy (Nationals; Commerce Township, Mich.), Megan Santa Cruz (LA Surf; Burbank, Calif.), Maggie Taitano (San Diego Surf; Carlsbad, Calif.), Viet-Thy Tran (San Jose Earthquakes; Santa Clara, Calif.), Francesca Valverde (FC Stars; Grafton, Mass.), Anya Van Den Einde (San Diego Surf; San Diego, Calif.), Elizabet Velkova (Reign Academy; Lynnwood, Wash.), Ava Verplancke (So Cal Blues; Irvine, Calif.), Kayla Wong (Players Development Academy; Manalapan, N.J.)
FORWARDS (15): Kennedy Bell (Charlotte Soccer Academy; Cornelius, N.C.), Treasure Byars (Solar Soccer Club; Richardson, Texas), Taylor Cheatham (FC Dallas; Plano, Texas), Lillian Danner (Cincinnati Development Academy; Cincinnati, Ohio), Mila Erceg (IMG Academy; East Meadow, N.Y.), Brooke Fabri (Phoenix Rising FC; Phoenix, AZ), Erica Grilione (Placer United; Roseville, Calif.), Nicollette Kiorpes (NEFC; Worcester, Mass.), Julia Motuzick (Oakwood Soccer Academy; Glastonbury, Conn.), Cameron Patton (Lonestar SC; Austin, Texas), Samantha Smith (Boise Thorns; Boise, Id.), Madison Stormberg (FC Dallas; Nashville, Tenn.), Valerie Vargas Arceo (LA Galaxy; Pico Rivera, Calif.), Sydney Watts (Sporting Blue Valley; Lenexa, Kan.), Addison Whitehouse (Colorado Rush; Littleton, Colo.)