U.S. Soccer Girls Development Academy East Conference Recap: Sept. 7-8, 2019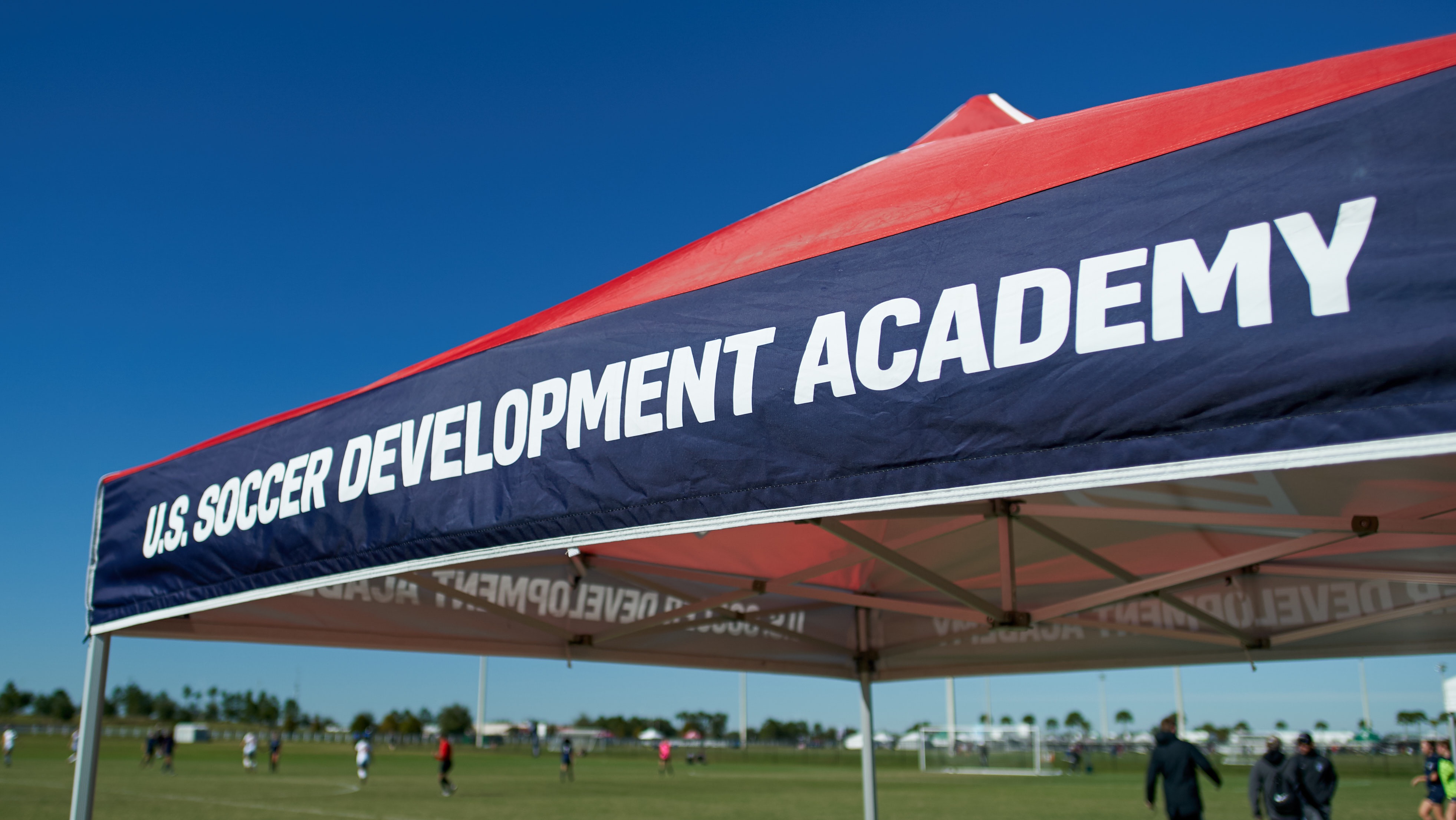 A brand new U.S. Soccer Girls Development Academy season kicked off over the weekend for East Conference clubs. 
Continue reading for a look back on a few of the top performances by teams across the U-15, U-16, U-17 and U-18/19 age groups.
U-15
Arlington Soccer Association opened the season in triumphant fashion, winning a pair of games at home in Northern Virginia against Pennsylvania clubs.
In their season opener, Arlington stunned Penn Fusion Soccer Academy with a 2-1 victory, thanks to a game-winner by Samantha Stevens in the final minute of play. Talia Omer also found the net for Arlington during a back-and-forth second half.
South Shore Select highlighted the Northeast Division with back-to-back wins, 3-0 over FC Fury NY and 2-0 over Sky Blue – NYSC. 
Three different players found the net for South Shore on Saturday against FC Fury NY: Emma Cranston (40'), Sophie White (53') and Kayla Cassidy (60'). On Sunday, Lindsay Wilson scored a pair of second half goals to lead the South Shore offense against Sky Blue – NYSC. 
Meanwhile, goalkeepers Belle Pettit and Adriana Ruiz split time between the posts for South Shore, as they combined with the back line for two straight clean sheets.
Down in the Southeast Division, Tophat Soccer highlighted the U-15 age group with a dominant 5-1 win over United Futbol Academy. Archer Streelman (9', 58') led the offense with a brace in a game which saw four Tophat players score goals.
U-16
The St. James FC Virginia piled up 6 goals in a dominant season debut against Long Island SC, as Ella Carter (38', 86') and Dru Drake (55', 65') led the attack with two goals each.
Arlington played 180 minutes of shutout soccer as they kicked off the season with a 2-0 win over Penn Fusion, and a 0-0 draw against PA Classics.
Elsewhere in the Atlantic Division, Baltimore Armour defeated PA Classics 3-2, and Long Island SC down Metro United 3-1. 
The Northeast Division saw South Shore Select dominate the weekend, routing FC Fury NY and Sky Blue – NYSC by 4-0 and 4-1 scorelines, respectively. Sophie Reale led the offense with 3 goals on the weekend, along with Molly McGlame who recorded a brace against Sky Blue – NYSC. 
Four Southeast Division teams – NC Courage, IMG Academy, Tophat and Charlotte Soccer Academy – all earned lopsided wins by at least 3 goals in their season openers. 
Lauren Martinho (NC Courage), Alexis Washington (IMG Academy), Summer Bowman (Charlotte SA) and Caroline Palmer (Charlotte SA) all began their seasons with a brace.
U-17
Baltimore Armour stole the show in the Atlantic Division with an inspired 7-1 blowout against PA Classics on Saturday in Maryland. Cate Shepherd led the way with a 4-goal performance, and Ellie Stokes (23', 66') turned in a multiple-goal effort as well.
STA Development Academy also turned heads on Saturday, shutting out Cedar Stars Academy – Monmouth 4-0. Kelly Monaco spearheaded the offense with a hat trick, while goalkeeper Mackenzie Gress and the STA back line earned the clean sheet.
On Sunday, STA notched their second shutout win in a row, edging past Seacoast United 1-0. Monaco tallied the game-winner with time running out in the 87th minute, as Gress and the defense pushed their season-opening shutout streak to 180 total minutes. 
New England FC had an impressive debut weekend with a pair of wins, 2-1 over Sky Blue – NYSC and 4-1 against FC Fury NY. Brooke Haarala (3 goals) and Charlotte Majer (2 goals) sparked the offense over the two victories.
In the Southeast Division, Weston FC cruised to 3-1 and 5-1 wins over NC Courage and Charlotte Soccer Academy, respectively. Katherine Rader lit up the scoresheet with 4 goals on the weekend for Weston.
Tophat overpowered United Futbol Academy 7-0 with a full team effort. Defenders Carolyn Calzada and Payton Bonney both joined in on the scoring while also helping the team notch their first shutout of the 2019-2020 campaign.
U-18/19
PA Classics had a highly successful opening weekend in the eldest age group, earning a pair of road wins over Baltimore Armour and Arlington. Abigail Doyle (3 goals) led the Classics attack as they won both games by identical 3-1 scorelines. 
Catherine DeRosa's hat trick and Anna Garcia's first half brace highlighted an overwhelming effort by the Penn Fusion Soccer Academy offense in their 6-0 blowout of Arlington on Saturday afternoon. Defenders Lauren Elwell, Emma Misal and Natalia Santangelo each played the full 90 minutes in front of goalkeeper Anna Maria Thomas, as Penn Fusion began the season with a shutout.
The Northeast Division saw NEFC outscore their first 2 opponents by a combined margin of 13-1. With goals coming in bunches, Claire Grover was the busiest of NEFC's scorers, finding the net 5 times during Saturday's 10-1 rout of Sky Blue – NYSC. 
Four Southeast Division sides – NC Courage, IMG Academy, Tophat and Charlotte SA – brought their 'A-Games' on the defensive side, all posting clean sheet wins in their season debuts. 
IMG Academy stood out on the attacking side as well, piling up 6 goals against West Florida Flames. Riley Thompson netted 4 goals and Alexis Vanderlinden scored twice in the 6-0 blowout.