U.S. Soccer Boys Development Academy East Conference Recap: Oct. 19-20, 2019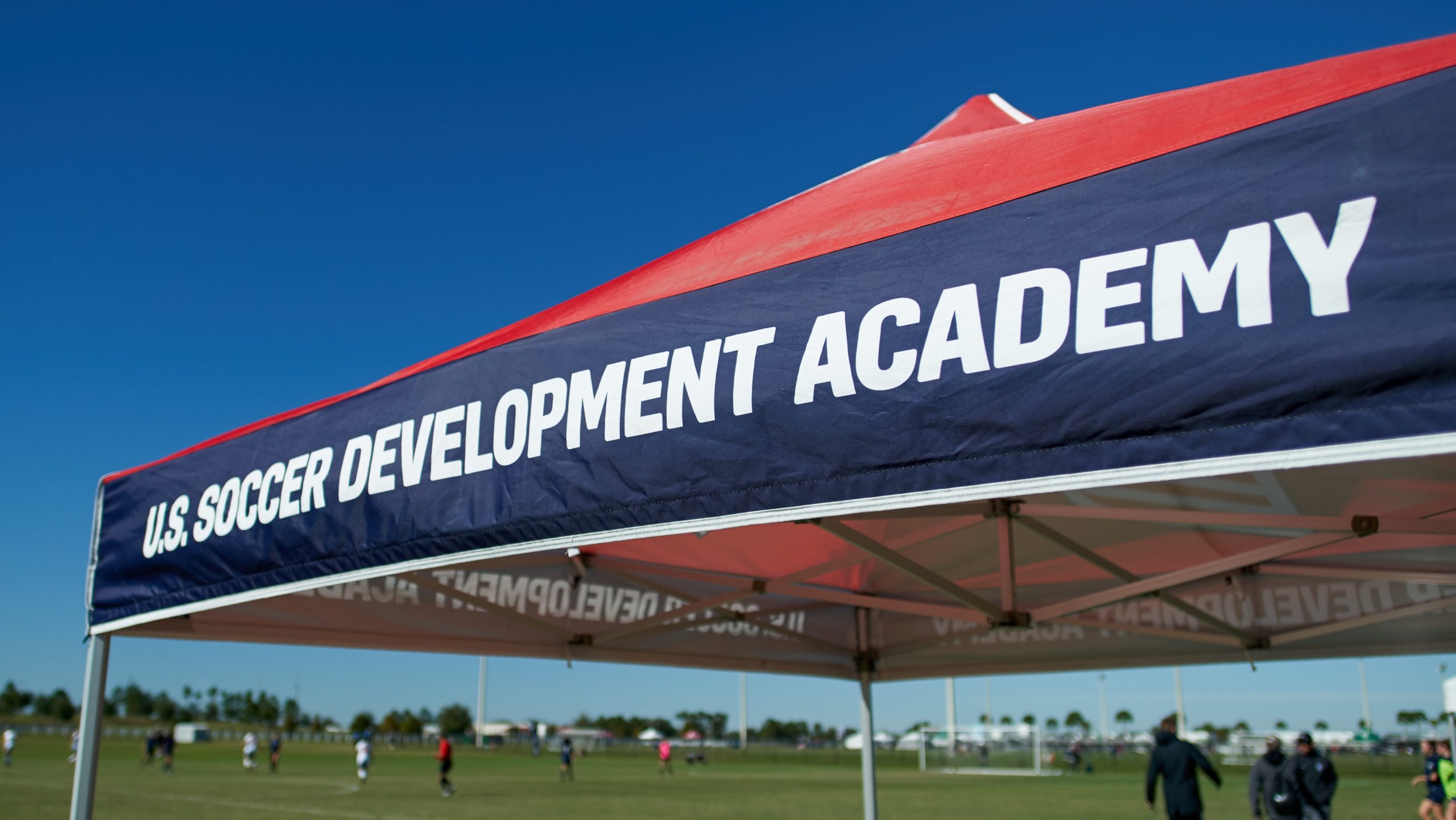 This past weekend featured a mix of Boys DA Cup play and regular season competition for East Conference clubs.
Continue reading for a look back on some of the top performances on the regular season side, in the U-15, U-16/17 and U-18/19 age groups.
U-15
D.C. United Academy began the regular season with a dominant 4-1 win over Virginia Development Academy. The Black-and-Red piled up all 4 goals in the first half, including a brace from Adrian Buri.
Arlington Soccer Association came out on top of a thrilling 3-2 contest against Richmond United, with Arnold Reyes Aguilar breaking a 2-2 tie by scoring the game-winner in the 76h minute. Arlington also received a first half brace from Michael Rodriguez – Ibanez, who scored twice in a 5-minute span.
PDA downed FC DELCO by a 3-1 scoreline, behind goals from Grayson Parks (7'), Javon Daniels (26') and Angel Cortes (48').
Cedar Stars Academy – Monmouth notched their first win of the regular season, emerging on top of a 1-0 defensive battle against PA Classics. Juan Pablo Candela's 20th minute goal was all Cedar Stars needed, as their defense earned their first clean sheet of the season.
In an all-Maryland matchup, Bethesda SC played Baltimore Armour to a 2-2 draw on Saturday morning. Winston Oziri (13') and Diego Ventura (29') found the net for Bethesda, helping them take a 2-0 lead into halftime. Baltimore's Cristian Correa (65') cut the deficit to one, before Armour benefitted from a Bethesda own goal in the 79th minute, drawing level at 2-2.
The New York Cosmos rode first half goals from Ariel Benitez (3') and Ryan McNicholas (40') to a 2-1 victory against in-state foe New York SC on Saturday afternoon.
North Carolina FC highlighted the Southeast Division with a fast-paced 4-3 win against NC Fusion. Four different players scored for NCFC, as they withstood a 3-goal rally in the second half by NC Fusion.
Tampa Bay Rowdies picked up a 1-0 shutout win over Charlotte Soccer Academy, as goalkeeper Nicholas Mejia combined with the back line to secure the clean sheet. Chance Campbell's 24th minute goal was all the offense Tampa Bay needed.
U-16/17
D.C. United earned a resounding 4-0 victory at home against Virginia Development Academy. Josue Guzman's brace highlighted a strong day on the attacking side for United, which saw them rack up 3 goals during a 9-minute span early in the second half. Defenders Troy Matingou and Alexander Wall each went the full 90 minutes, helping goalkeeper Jonathan Mennell tally the clean sheet.
Baltimore Armour emerged 2-1 over in-state foe Bethesda SC. Armour built a 2-0 lead behind goals from Toshi Davis (25') and Griffin Polinsky (60'). Bethesda's Dilane Zouantcha netted an 80th minute goal to pull within one, but Baltimore's defense held strong the rest of the way.
Cedar Stars Academy – Monmouth notched their first win of the regular season, shutting out PA Classics 1-0. After 80 minutes of scoreless soccer, Ibrahim Voglic netted the game-winner for Cedar Stars.
Fernando Valenzuela (25', 32') netted a brace in the first half to help propel Weston FC to a 4-0 blowout win over Miami Rush Kendall SC on Saturday afternoon. Defenders Paul Boos-Patton, Dominic Pinter and Bryce Warhaft played the full 90 in front of goalkeeper Isaac Delgado during the shutout.
North Carolina FC picked up their second straight regular season win, edging NC Fusion 3-2. Rohit Thakur notched a brace in the first half, and Curtis De Leon put the game out of reach by the 53rd minute for NCFC. Fusion made the game interesting late, as Colton Sessoms tallied a brace.
James Denham scored twice in the opening 16 minutes to lead Charlotte Independence to a 2-1 win over Tampa Bay Rowdies, in their opening match of the regular season.
Atlanta United cruised to a 4-0 defeat of Concorde Fire on Sunday afternoon, as 4 different players found the net. Defenders David Garcia and Nigel Prince went the full 90, in front of goalkeeper Dagoberto Romero.
U-18/19
PA Classics got in the win column thanks to a strong defensive effort on Saturday afternoon against Cedar Stars Academy – Monmouth. William Carnevale scored the lone goal of the game in the 22nd minute, while Classics secured their first clean sheet of the regular season.
A trio of first half goals, all in the opening 24 minutes, pushed FC DELCO a 3-0 win over New York SC. Justin Ruth led the way with a brace, as defenders Liam Fuller, Harrison Lorenc and Jack Bonas each went the full 90 in the shutout.
Charlotte Soccer Academy began the regular season with back-to-back 2-0 wins over Richmond United and Virginia Development Academy. Defenders Emiliano Sanchez Guerra, Cole Weinhardt and Titus Sandy Jr. played all 180 minutes of shutout soccer. Goalkeepers Matthew Semcesen and Alexander Wyatt-Ingram each notched one clean sheet on the weekend. Luis Romero provided the game-winner in both victories for Charlotte.
Weston FC claimed their opening win of the regular season, downing Miami Rush Kendall SC by a 1-0 margin. Marco Schiano's 65th minute goal proved to be the difference in a game mostly dominated by both teams' defenses.
Charlotte Independence also emerged from the weekend with a full 6 points, defeating the same two Virginia clubs on the road. On Saturday against VDA, the Independence grinded out a 1-0 win, with Dylan Mitchiner netting the game-winner in the 61st minute. On Sunday, the Independence won a thrilling 3-2 battle over Richmond United, in a game that saw both teams score a goals in the 90th minute.
The Red Division saw New England Revolution win 7-2 over D.C. United, in a game where Damian Rivera piled up 4 goals.
D.C. United rebounded from Saturday's loss to New England with a strong 3-1 win over New York City FC, as 3 different players – Ronald Fuentes (8'), Jesus Salazar (29') and Kevin Paredes (78') – found the net.
Bethesda SC blanked Baltimore Armour 2-0 on Saturday afternoon, behind a clean sheet effort on the defensive side, along with goals from Marlon Tabora Ponce (35') and Carter Humm (57').