U-23 USWNT to face three NWSL teams in Thorns Preseason Tournament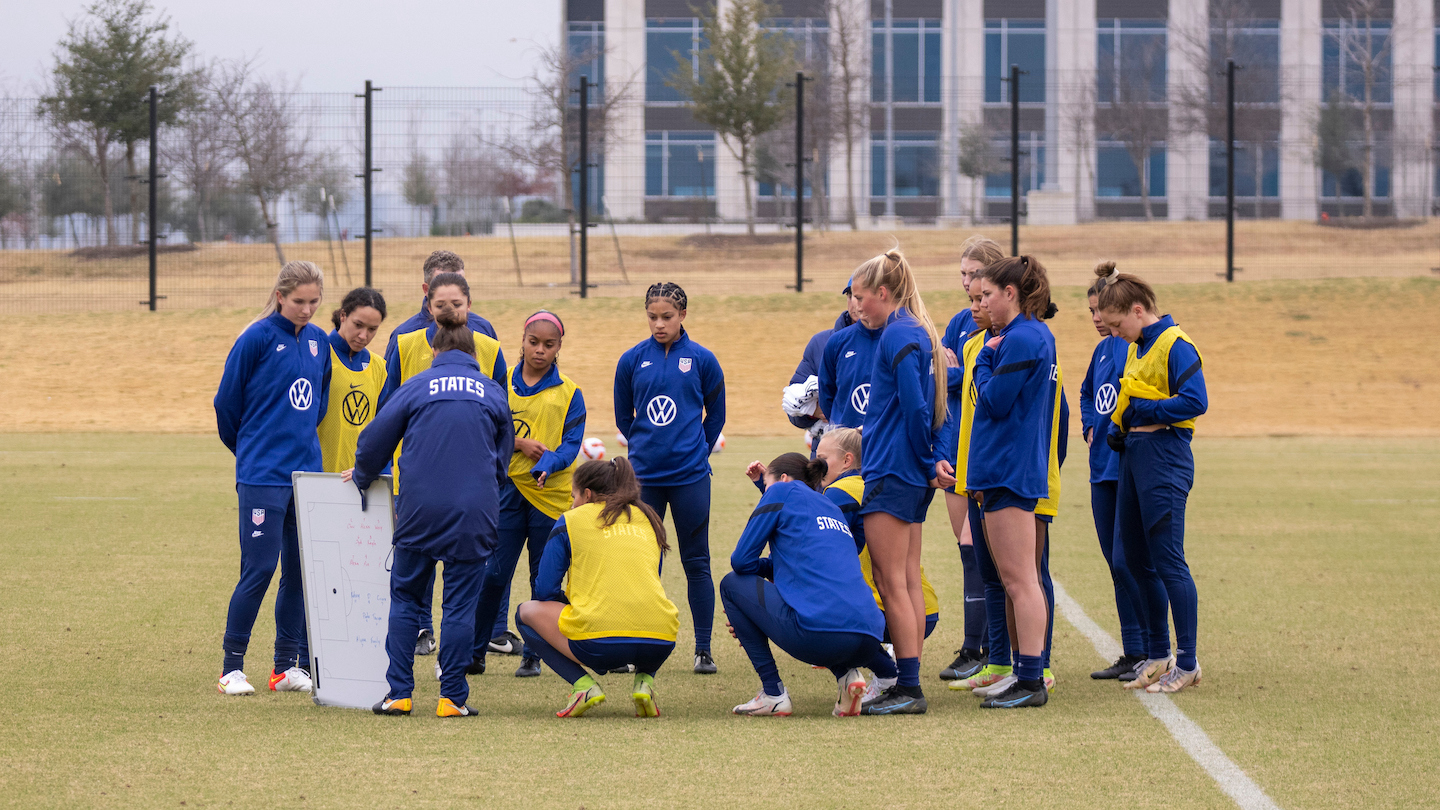 CHICAGO – After a two-year hiatus due to the global COVID-19 pandemic, the U.S. Under-23 Women's Youth National Team will return to the Thorns Preseason Tournament at which it will play three NWSL teams over seven days.
The U.S. roster will consist of 22 collegiate players and the squad will be coached by newly-appointed USWNT assistant coach Twila Kilgore, who also ran the U.S. U-23 WYNT's January training camp in Austin, Texas. USWNT goalkeeper coach Philip Poole will handle the goalkeeper coaching duties for this camp.
"One of the best ways for players to grow is to play real games against talented teams and that's what we'll get in these three matches," said Kilgore. "For the players on this roster, all of whom have professional aspirations, it will give them a close up look at the level it takes to be a pro. I'm excited to work with this group of young and talented players as we continue to integrate them into the principles of play of our National Team program."
U.S. U-23 WYNT ROSTER – 2022 THORNS SPRING INVITATIONAL:
GOALKEEPERS (2): Ruthie Jones (Charlotte, N.C.; Duke), Meagan McClelland (Kearny, N.J.; Rutgers)            
DEFENDERS (7): Michela Agresti (Swampscott, Mass.; Boston College), Megan Bornkamp (Mooresville, N.C.; Clemson), Sydney Collins (Beaverton, Ore; California), Emily Madril (Navarre, Fla.; Florida State), Brianna Martinez (Albuquerque, N.M.; Notre Dame), Talia Staude (Atlanta, Ga.; Virginia), Kate Wiesner (Monrovia, Calif.; Penn State)
MIDFIELDERS (6): Hannah Bebar (Naperville, Ill.; Harvard), Croix Bethune (Alpharetta, Ga.; USC), Maya Doms (Davis, Calif.; Stanford), Sierra Enge (Cardiff, Calif.; Stanford), Sophie Jones (Menlo Park, Calif.; Duke), Jenna Nighswonger (Huntington Beach, Calif.; Florida State)
FORWARDS (7): Messiah Bright (Dallas, Texas.; TCU), Lia Godfrey (Fleming Island, Fla.; Virginia); Penelope Hocking (Anaheim, Calif.; USC), Payton Linnehan (Douglas, Mass.; Penn State), Ally Schlegel (Parker, Colo.; Penn State), Alexa Spaanstra (Brighton, Mich.; Virginia), Summer Yates (Pasco, Wash.; Washington)
The January camp included 11 professional players and while this roster is made up of all amateurs, five players return from that event in Austin: defenders Emily Madril, who helped lead Florida State to the 2021 NCAA title, and Kate Wiesner, midfielder Croix Bethune and forwards Penelope Hocking and Alexa Spaanstra.
The U.S. Under-23s are taking part in Thorns Preseason Tournament for the fourth time and first since 2019. All the matches will take place at Providence Park, home of Portland Thorns FC.
Due to the global pandemic, these will be the first matches for the U.S. U-23s since early September of 2019.
The USA opens against the Chicago Red Stars on Saturday, March 5 at 2:30 p.m. PT followed by the Portland Thorns taking on OL Reign at 5 p.m. PT. The tournament continues on Tuesday, March 8 with the Red Stars facing OL Reign at 5 p.m. PT and the USA will play the Thorns at 7:30 p.m. PT. The friendly competition will finish on Friday, March 11 as the USA faces OL Reign at 5 p.m. PT and the Thorns take on the Red Stars at 7:30 p.m. PT.
The roster includes players from 12 different colleges. Ten of those players come from the ACC, six are from the Pac-12 and four are from the Big Ten. There are three players on the roster from Penn State and Virginia, and two each from Duke, Florida State, Stanford and USC.
There are no players with full USWNT experience, but nine players on the roster have played for the USA in a FIFA Youth World Cup. Hocking and Spaanstra were a part of the U.S. team at the 2018 FIFA Under-20 Women's World Cup while defenders Talia Staude and Michela Agresti, midfielders Maya Doms, Hannah Bebar and Sophie Jones as well as forward Payton Linnehan played for the USA at the 2018 FIFA Under-17 Women's World Cup.
The 2020 U-20 and U-17 Women's World Cups were cancelled due to the COVID-19 pandemic. Forward Lia Godfrey set the record for the youngest player ever to represent the USA in a Women's World Cup when she appeared at the 2016 FIFA U-17 Women's World Cup at the age of 14.
At the 2019 Thorns Preseason Tournament the USA brought a roster that featured 18 players who were in college at that time and are now professionals. Three players on the USA's 2022 SheBelieves Cup roster scored in that tournament – Ashley Sanchez, Catarina Macario and Emily Fox – as the USA fell to the Reign 2-1, beat the Thorns 1-0 and beat the Red Stars 2-1.

2022 THORNS SPRING INVITATIONAL SCHEDULE
Providence Park, Portland, Ore. 
Saturday, March 5
Chicago Red Stars vs. U.S. U-23 WYNT       2:30 p.m. PT
Portland Thorns FC vs. OL Reign                  5 p.m. PT
Tuesday, March 8
Chicago Red Stars vs. OL Reign                   5 p.m. PT
Portland Thorns FC vs. U.S. U-23 WYNT     7:30 p.m. PT
Friday, March 11
U.S. U-23 WYNT vs. OL Reign                      5 p.m. PT
Portland Thorns FC vs. Chicago Red Stars   7:30 p.m. PT