Trio of VCU women's soccer 2020 graduates sign professional contracts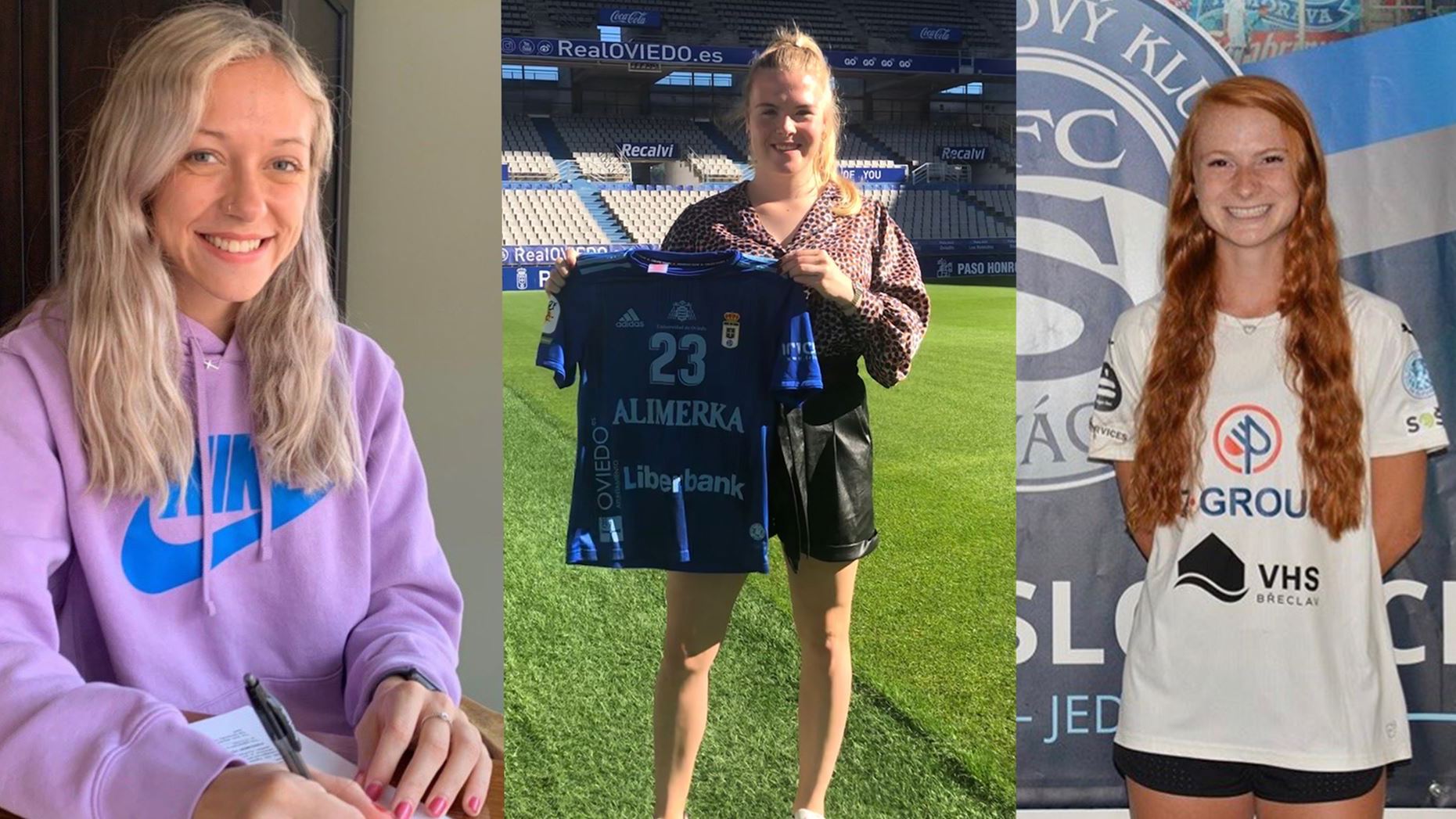 In the fall of 2016 Alyssa Tallent, Susanna Friedrichs, and Ingrid Brouwer all became Rams together when they joined the VCU Women's Soccer Team as freshmen. The trio quickly became a staple of the team, leading the Rams to second place Atlantic 10 finishes in back-to-back campaigns.
Upon graduating in 2020, all three have decided to continue their careers professionally overseas. This marks the first time in VCU Women's Soccer history that three female athletes from a graduating class have signed a professional contract.
Alyssa Tallent worked her way into the team on 18 occasions as a freshman and routinely managed shots towards goal. In her sophomore season, she appeared in all 20 games and managed to score three goals on the season, each of which was the deciding factor in a Rams win. The following year, Tallent was featured in all 12 games she played in. She tallied 4 goals and 5 assists while being selected to the Atlantic 10 Second Team and the United Soccer Coaches Third Team All-Region. In her final campaign as a Ram, the Preseason All-Atlantic 10 selection started all 18 games, scoring two goals and dished two assists. She will now continue her career with Finnish club, IK Myran FC. Myran currently competes in Naisten Ykkönen, the second tier of Finnish soccer.
"Being able to still play the game I love at this next level, while also seeing parts of the world I've never been to, is truly a dream come true," Said Tallent.
Friedrichs burst onto the scene her freshman year playing in all 18 games and was named team defensive player of the year as well as rookie of the year. In her junior season, she netted 3 total goals, two of which counted as game winners. She also added 4 assists giving her a point total of 10 on the year. In her final season as a Ram, Friedrichs did not cease to impress. She led the team in scoring with six goals in 18 matches, and received First Team All-Atlantic 10 honors. Friedrichs will begin her professional career as a member of FC Slovácko, a club that competes in the first division in the Czech Republic.
"I am so incredibly excited to have the opportunity to continue my soccer career," Said Friedrichs. "It has always been a dream of mind and I couldn't have done it without the help and support of my coaches and teammates at VCU as well as my family and friends. I cannot say thank you enough to everyone who has helped me get to this point. I'm thrilled to start this new journey in Czech Republic and can't wait to step on the field again. All glory to God!"
Dutch midfielder, Ingrid Brouwer, has been a steady presence on the field throughout her time as a Ram. She appeared in 69 games while starting 66 of them. She tallied 2 goals and 3 assists in her career. Brouwer's next challenge will take her to Spain where she will play for Real Oviedo Femenino, and compete in the second tier of Spanish soccer.
Upon signing her first professional contract Brouwer said "I'm glad to have signed my first professional contract with Real Oviedo Femenino. My feeling with Real Oviedo was right from the start and felt like a good next step into my soccer career".