Fordham women's soccer announces 8-player signing class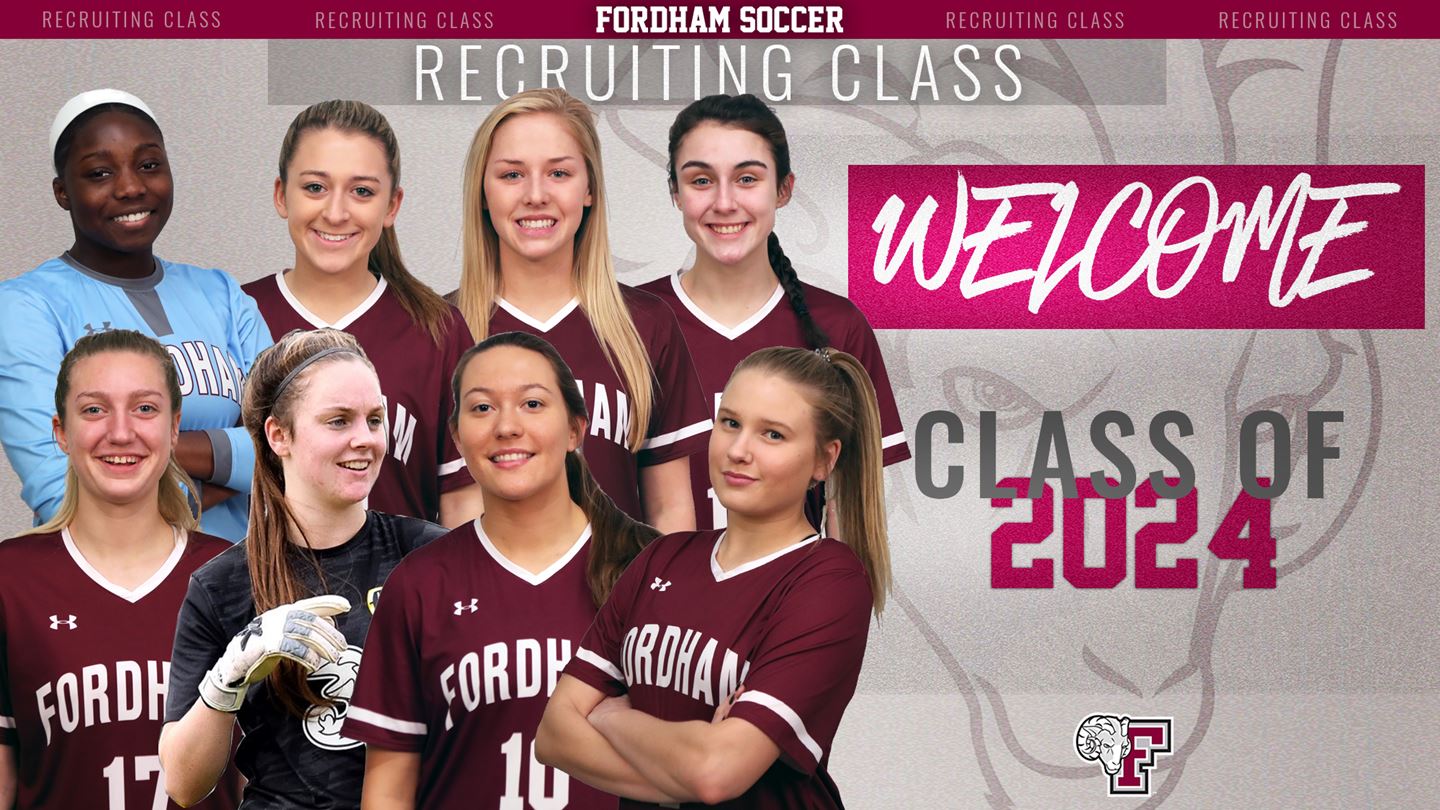 Bronx, N.Y. – As the new year begins on the Rose Hill campus, the Fordham women's soccer team welcomes eight new student-athletes to the team.
Fordham's class of 2024 includes goalkeepers Serena Mensah and Maria O'Sullivan, defenders Olivia Redden, Marissa Krenn, and Schae Groton, midfielders Julia Ward and Alexandra Taylor, and forward Cambrie Arboreen
"We've been waiting for this group to join us for some time now as over the course of last winter and early spring when we watched them play with their club teams, they seemed ready for college soccer. They mentally were ready then for this next step and next challenge," said head coach Jessica Clinton. "This 2020 class brings such great energy to an already positive vibe group, we can't wait to get the team on the field together. This class will really add to our style and their impact will be immediate. Our returning group has really done a wonderful job of connecting this new first year class with the program and getting them to feel as comfortable as they could with the preparation of college soccer.  I'm really proud of where they are as a team and we are just getting started."
Each of Fordham's signees will be featured in-depth on the team's social media account by following @FordhamWoSocon Twitter and @FordhamWoSoc on Instagram.
Serena Mensah | Goalkeeper | Bowie, Md. (Our Lady of Good Counsel)
Among the class of 2020 is goalkeeper Serena Mensah from Bowie, Maryland. A graduate of Our Lady of Good Counsel in Olney, Maryland, she was a member of the National Honor Society and the National Society of High School Scholars.  She was also named to the Principal's Honor Roll (2017-18). As a member of the varsity soccer team, Mensah helped her team win the 2018 and 2019 WCAC Championships.  She was selected Second Team All-WCAC in 2019 and earned the GC 2019 Coaches' Award. She also garnered spots on the 2019 All-Washington Post Second Team and the MACSAll-State team.
For club play, Mensah played for Maryland United FC ECNL 2002, taking part in the 2019 ECNL North American Cup U17 and the Champions League U16 in 2018. She also was a member of the Washington Spirit, which was Super Y ODP U18 Finalist.
Mensah plans to major in Biological Sciences.
Maria O'Sullivan | Goalkeeper | Kilnaglory, Ireland (Ballincollig)
Goalkeeper Maria O'Sullivan from Kilnaglory, Ireland is the next member of this recruiting class.  She is a member of the Ireland National Team, competing at the U19 European Championship to the U19 UEFA Championship and was also a part of the U15 and U16 National teams.  She played club for the Cork City Senior Women's FC of the National League from 2017-20, serving as senior team captain in 2020.  O'Sullivan was nominated for the National League Player of the Year in 2019 after earning Player of the Month status once during the season.  Prior to Cork City, she competed for her local club Lakewood Athletic, earning two Goalkeeper of the Year awards and one Player of the Year honor.
O'Sullivan attended Ballincollig Community School for high school and was a part of their soccer club as well, serving as team captain. She received the Overall School Sportsperson Award in 2019 as well as the Award for Outstanding Achievement in Leaving Certificate Exams.
O'Sullivan plans to major in Psychology.
Olivia Redden | Defender | Newton, N.J. (Kittatinny Regional)
Among the newest trio of defenders is Olivia Redden from Newton, New Jersey.  She attended Kittatinny Regional High School in Hampton, New Jersey, where she was a member of the National Honor Society and the Honor Roll. She also received the Student Council Presidents Award, Physical Education Award, Interact Service Award, and Principals Award in 2020 from Kittatinny Regional.
At Kittatinny, Redden was a multi-sport athlete as a part of the varsity soccer, basketball, and track teams. She was named to the All-American Watch List for soccer in 2018 and 2019 and earned Second Team All-State accolades in each of those seasons. She ranked among the Top 80 Girls Soccer Seniors and twice was listed among Top Drawer Soccer's Top 150. A Four-time NJAC All-Conference selection, Redden earned First Team honors three times and was named All-NJ Herald four times including two First Team selections in 2018 and 2019. She also garnered three selections to NJAC All-Academic Conference Team and helped Kittatinny to three NJAC Conference Championship (2016, 2017, & 2019).
Redden played club soccer for World Class FC, which competed in the ECNL Top 32 Team Nationals three times and made it to the semifinals of the ECNL National Championship in 2019.
Redden will be studying in Fordham College.
Marissa Krenn | Defender | Pittsburgh, Pa. (Upper St. Clair)
Next up as a new defender is Marissa Krenn from Pittsburgh, Pennsylvania. A Dean's List and High Honor Roll member, she played four seasons of varsity soccer at Upper St. Clair High School in Pittsburgh. She served as team captain and was a 2019 All-WPIAL selection and a three-time All-Section pick (2017-19). She was named to the 2019 Western Pennsylvania Big 56 First Team after earning Second Team honors in 2018 and received the Rookie of the Year Award in 2016
Krenn played club soccer for Beadling 01 South Red, helping the team to the 2019 PA West State Cup Championships and four appearances in the finals. The team was also a 2019 Region I finalist.
Krenn will be studying in Fordham College.
Schae Groton | Defender | Ashburn, Va. (Stone Bridge)
 
The final addition to the defender corps is Schae Groton from Ashburn, Virginia. A member of the National Honor Society, Groton was a four-year varsity soccer player at Stone Bridge High School in Ashburn, Virginia, serving as a two-year captain and was a Coach's Award recipient in 2017. She was a 2019 First Team All-District and All-Region selection and earned Honorable Mention All-MET and All-LoCo honors as well.
Groton played club soccer for FC Virginia United 01/02, where she was team captain from 2017-20 and helped the team to Virginia NPL Championships in 2015, 2016, 2018, and 2019.
Groton is studying in the Gabelli School of Business.
Julia Ward | Midfielder | Kingston, Mass. (Sacred Heart)
The first of two midfielder additions to the team is Julia Ward from Kingston, Massachusetts. She attended Sacred Heart High School in Kingston, where she was a part of the National Honor Society, serving as Vice President of her chapter, and the National French Honor Society, serving as President of the chapter. She was also an AP Scholar with Honors Award from the College Board in 2019.
Ward was a part of the varsity soccer and track squads at Sacred Heart High School in Kingston, Massachusetts. She played club soccer for a number of teams with the most recent being South Shore Select (2019-20). She played previously for GPS MA Elite 01 Red, winning the 2019 State Cup Championship and the 2018 GPS Memorial Day Tournament  U17 Super Group (2018-19), while also spending time with the Mass State District Select District 2 team (2015-18), which won the 2015 and 2016 State Championship and was a finalist in 2017. In addition to club play, Ward was a pool player for Massachusetts G2001 ODP from 2017-18 and was selected for the 2018 Region 1 Tournament and won the Eastern US Region 1 Championship in Spring 2018.
Ward is studying in the Gabelli School of Business.
Alexandra Taylor | Midfielder | Vienna, Va. (George C. Marshall)
The second midfielder addition for this year is Alexandra Taylor from Vienna, Virginia. She graduated from George C. Marshall Academy in Falls Church, Virginia, where she was a member of the National and Social Studies Honor Societies, while being the Marshall Academy Criminal Justice Student of the Year.
On the pitch, Taylor played two seasons of varsity soccer at George C. Marshall, where she was a team captain and a Second Team All-District selection in 2018. She played club soccer for BRYC 01 ECNL, which won the 2016 and 2017 Virginia State Championship, as well as the 2016 Region Championship. She was also a part of the U14 National Champion runner-up squad in 2016.
Taylor will be studying in Fordham College.
Cambrie Arboreen | Forward | Henderson, Nev. (Bishop Gorman)
The final addition to this year's class is Cambrie Arboreen from Henderson, Nevada. The Co-Valedictorian at Bishop Gorman High School in Las Vegas, she served as Vice President of the Associated Student Government and was a recipient of the Scholastic Art & Writing Award. She was also a member of the National Honor Society and the National French Honor Society.
On the pitch, Arboreen helped Bishop Gorman to the 2018 NIAA 4A Desert Region Championship as well as the NIAA 4A Nevada State Championship. The team finished 7th in USA Today's National Rankings for women's high school soccer and 6th in Top Drawer Soccer's Fall Fab 50. Arboreen was a 2019 Las Vegas Sun Standout Award Winner and earned the team's Defensive MVP honor as a senior. She was also a two-time NIAA Nevada All-State Academic Team selection and was a Women's Soccer Scholar Athlete twice
For club soccer, Arboreen was a member of Heat FC ECNL, which won the 2020 Las Vegas Mayor's Cup International Soccer Showcase, while making the ECNL Champions League playoffs.
Abroreen will be studying in Fordham College.