Tim Verschuren and Kevin Schenk join Indiana women's soccer staff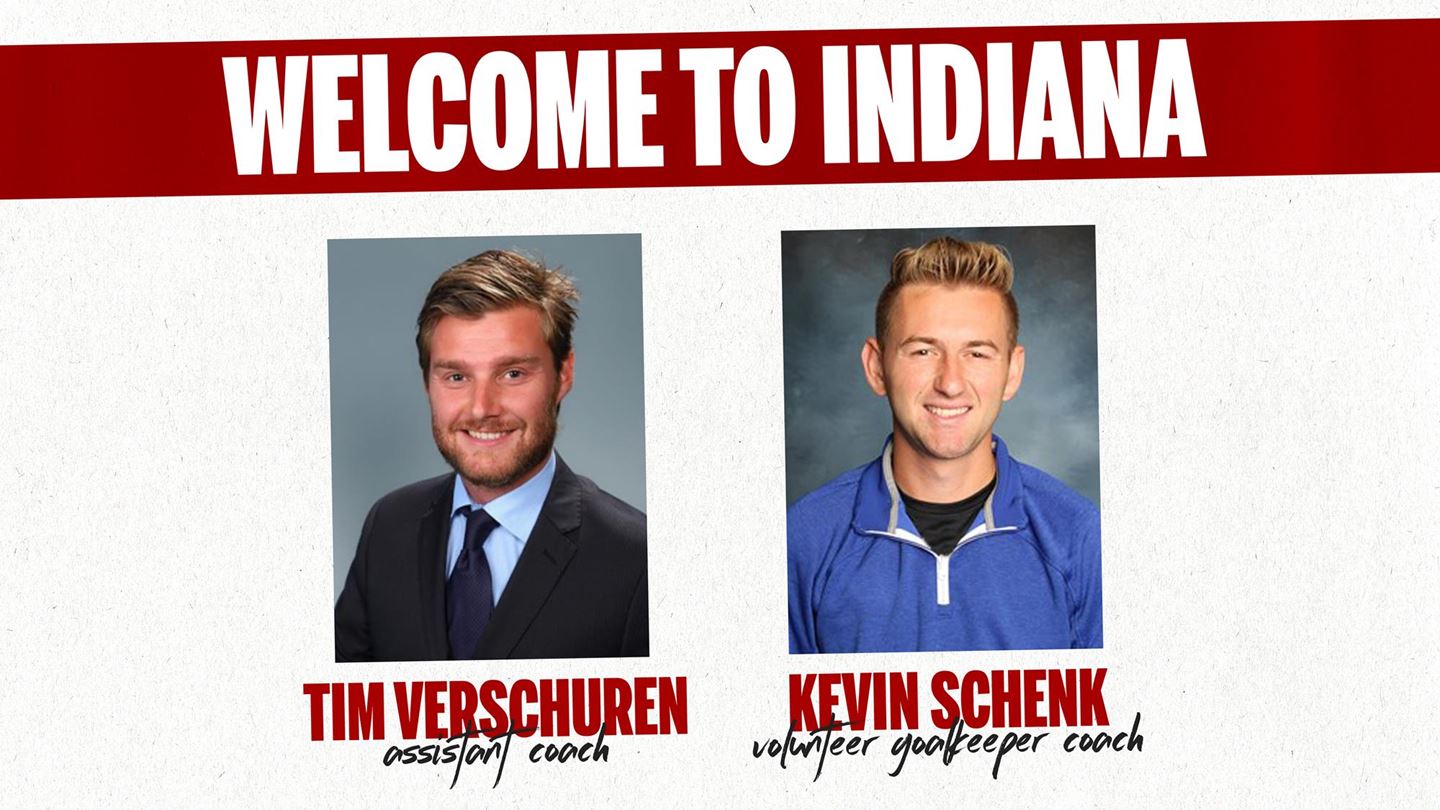 BLOOMINGTON, Ind. – Indiana women's soccer head coach Erwin van Bennekom announced two new additions, Tim Verschuren and Kevin Schenk, to his staff. Verschuren comes to Indiana as a full-time assistant coach with over a decade of experience. Schenk, who will serve as a volunteer assistant goalkeeper coach, hails from the University of Dubuque.
Verschuren served as an assistant coach for Farleigh Dickinson for the last two seasons. He helped lead the Knights to an overall record of 14-9-6 and posted a 12-2-3 record in conference play. In 2019, FDU reached the Northeast Conference Championship game for the third time in program history after defeating Bryant in the NEC Semifinal 2-0.
"I am very excited to be here at Indiana University and to work alongside Erwin," said Verschuren. "It is an honor and privilege to be a part of this team, staff and Bloomington community. The program has made some incredible steps in the last two years, and I am looking forward to aiding in the continued development of this program and our student athletes on and off the field!"
Additionally, Verschuren serves as the Academy Director for the STA Girls Development Academy, based in Morris County, N.J., for US soccer. In his seven years at STA, he aided in the development and growth of hundreds of players and more than 25 staff members. During his time four players were called in to US Youth National teams, more than 15 players called to regional US National Team Centers, and over 10 players that committed to Division one programs since he became the Academy Director in 2019.
"I am very excited for Tim to begin with our program," said van Bennekom. "Extremely hard working, intelligent and a great communicator, Tim will be a huge asset on and off the field. We are looking forward to getting started and welcoming Tim and his wife Kelly to Bloomington."
Verschuren is currently working towards his master's degree in soccer coaching from Ohio University. In addition, he is finishing an academy director course with US Soccer in July 2021. He also has achieved a USSF "A" Youth License as well as a NSCAA Advanced National Diploma. Verschuren graduated from University of the Hague in the Netherlands in 2009 with a degree in sports management.
Prior to Indiana, Schenk spent the last two seasons as a Graduate Assistant Goalkeeper coach for the University of Dubuque women's soccer team where he was responsible for goalkeeper training, scouting opponents, and video breakdown. Other duties included organizing recruiting events, highlight videos, team travel and other administrative tasks.
"I'm so excited to be joining the coaching staff at Indiana University," said Schenk. "I want to thank head coach Erwin and assistant coach Emily Basten for the opportunity to lead our goalkeepers. I'm looking forward to this new challenge and contributing to a program that's trending upwards. Go Hoosiers!"
During his time with the Cougars, Schenk helped lead them to a 6-3-1 record with four shutouts. In 2019, the Spartans went 12-5-6 shutting out eight opponents and advanced to the semifinals.
"It is great to have Kevin on board with us." said van Bennekom. "He is a young, up and coming goalkeeper coach with the knowledge, ability and drive, that is going to get the best out of our goalkeepers. We are looking forward to getting him started!"
A native of Cary, IL, Schenk holds a Federation D License from the USSF along with a Level 3 Diploma United Soccer Coaches Goalkeeping License. He was also a goalkeeper at the University of Wisconsin-Oshkosh from 2013-2015 where he was a part of two teams that qualified for the NCAA Tournament.
Schenk earned his bachelor's degree in business education from Illinois State after he transferred in 2016.  In May of 2021, he completed his master's degree in sports management from the University of Dubuque.