Texas Tech defender Margaret Begley to return for sixth NCAA season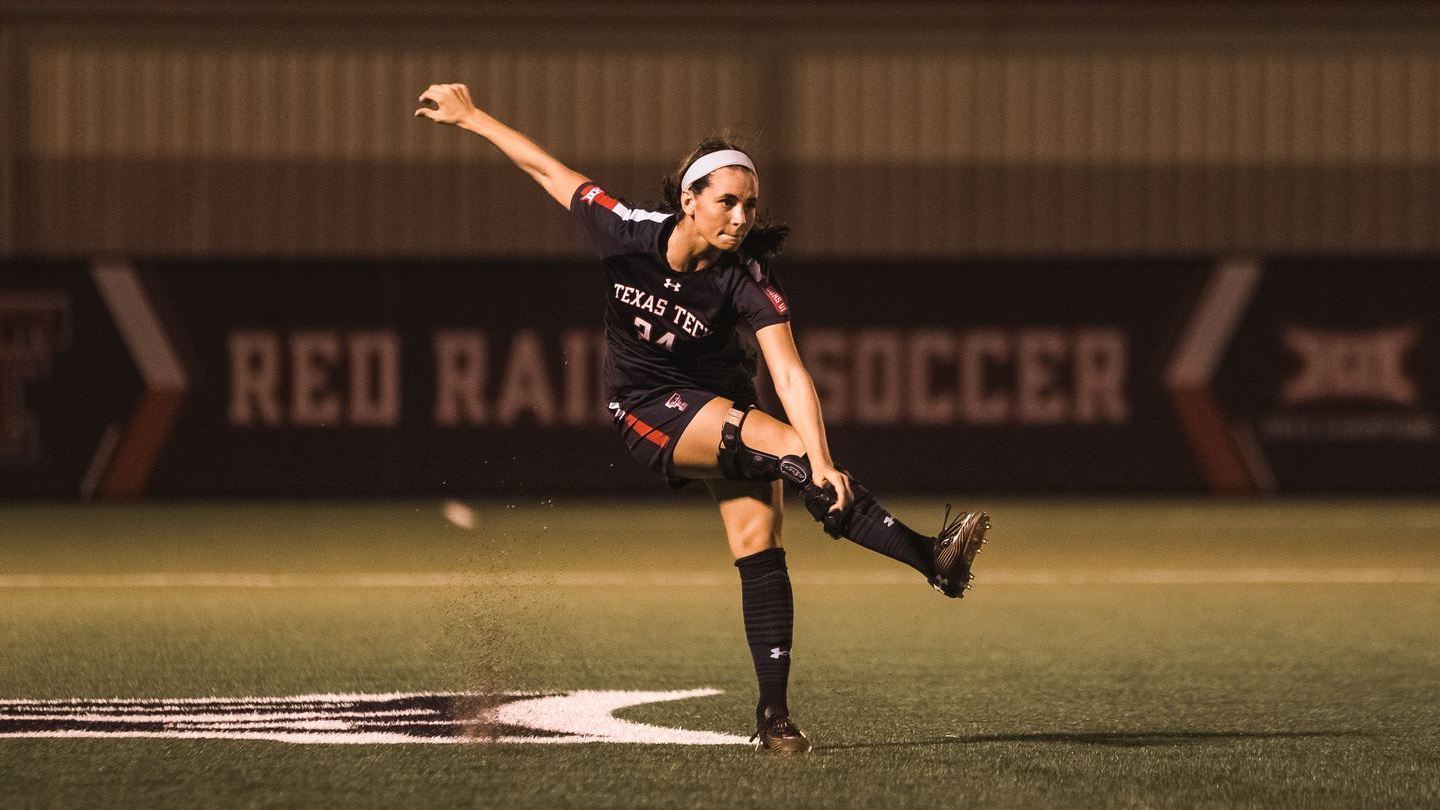 LUBBOCK, Texas – Texas Tech defender Margaret Begley will return for a sixth season, the team announced Thursday. She will be the program's first-ever sixth-year senior after receiving a clock extension waiver from the NCAA.
"I am thrilled to be coming back to the greatest soccer team in the country," Begley said. "I have talked to so many girls who have graduated, and every player tells me they wish they could play just one more game as a Red Raider. I decided I couldn't pass up the opportunity to wear the Texas Tech uniform for one more season alongside the best teammates and coaching staff there is."
Begley, who missed the 2017 and 2018 seasons after back-to-back ACL tears, returned to the field last year as a captain and played in 19 games. With her presence on the back line, the Red Raiders tied a program record for Big 12 wins with six and finished just two points shy of their first regular season conference title in school history.
To head coach Tom Stone, being able to keep a player of Begley's caliber on that team for another year is big.
"When Margo called to ask if she could return for a sixth year, we didn't hesitate," said Stone. "To be able to add a player of her ability, experience and leadership to our 2020 squad gives us a huge boost towards reaching our goals for a great season."
Year 6️⃣? Margo's down.

Our captain's coming 🔙 for one last ride.

🔴#WreckEm⚫️ pic.twitter.com/oYFOmqZAyh

— Texas Tech Soccer (@TexasTechSoccer) July 2, 2020
Begley's career at Tech has been turbulent yet rewarding. After strong freshman and sophomore campaigns, the Omaha, Neb., native tore her ACL while preparing for her junior season. A year of rehab later, she tore it again. Never one to feel sorry for herself, Begley spent the 2018 season traveling with the team and helping in any way possible – from setting up drills on the field to filming games from the press box.
But 2019 would be different. While preparing to enter a season healthy for the first time in two years, Begley was informed she would serve as a captain for her redshirt senior season. Her captain's band would not be worn in the press box, either, but on the field. And when the season began, Begley was quick to remind everyone that her captainship was not earned solely by her leadership during her two years off the field, but her ability on it.
On Aug. 22 at San Diego State, just two minutes into her first appearance in two years, Begley delivered a perfect corner to fellow senior Demi Koulizakis, who headed it in for the goal. Three days later at New Mexico, Begley delivered what would be the first of many game-changing tackles that electrified the Tech sidelines, proving she was in no way afraid to return to the physical player she was known to be. By season's end, Begley would be called upon 19 times to strengthen the dominant Red Raider back line, including three times as a starter.
Her desire to return to the field – and leadership during the long process – compelled Stone to award her with the Adam Zuniga Award for Courage at the team's annual end-of-season banquet. Dedicated to its namesake, Adam Zuniga, a passionate Tech soccer fan and local youth coach who passed away from cancer in 2011, the award is reserved for a Red Raider who has demonstrated extraordinary spirit and courage in the face of significant adversity.
This award brings tears to my eyes. Words can't describe how much this team has changed my life. Truly blessed https://t.co/26ngISbFJX

— marge and in charge (@margaret_begley) February 23, 2020
In three full seasons on the pitch at Tech, Begley has played in 56 games. She has tallied two assists and attempted 22 total shot attempts. This fall, she will return to a back line which already boasts a returning All-American (Cassie Hiatt) and unanimous All-Big 12 freshman (Hannah Anderson) playing in front of Big 12 Freshman of the Year Madison White in net. The offense ahead of Begley's back line will include the likes of First Team All-American Kirsten Davis, All-Midwest midfielder Jordie Harr and TopDrawerSoccer.com Top-100 freshman forward Macy Schultz. The Red Raiders' leading scorers from 2016 (Jade King) and 2017 (Ally Griffin) will also be returning from injuries that kept them from contributing to Tech's seventh NCAA Tournament appearance last season, paving the way for a powerful and dynamic offense to take the field this fall.