Temple women's soccer adds six new Owls ahead of 2022 NCAA season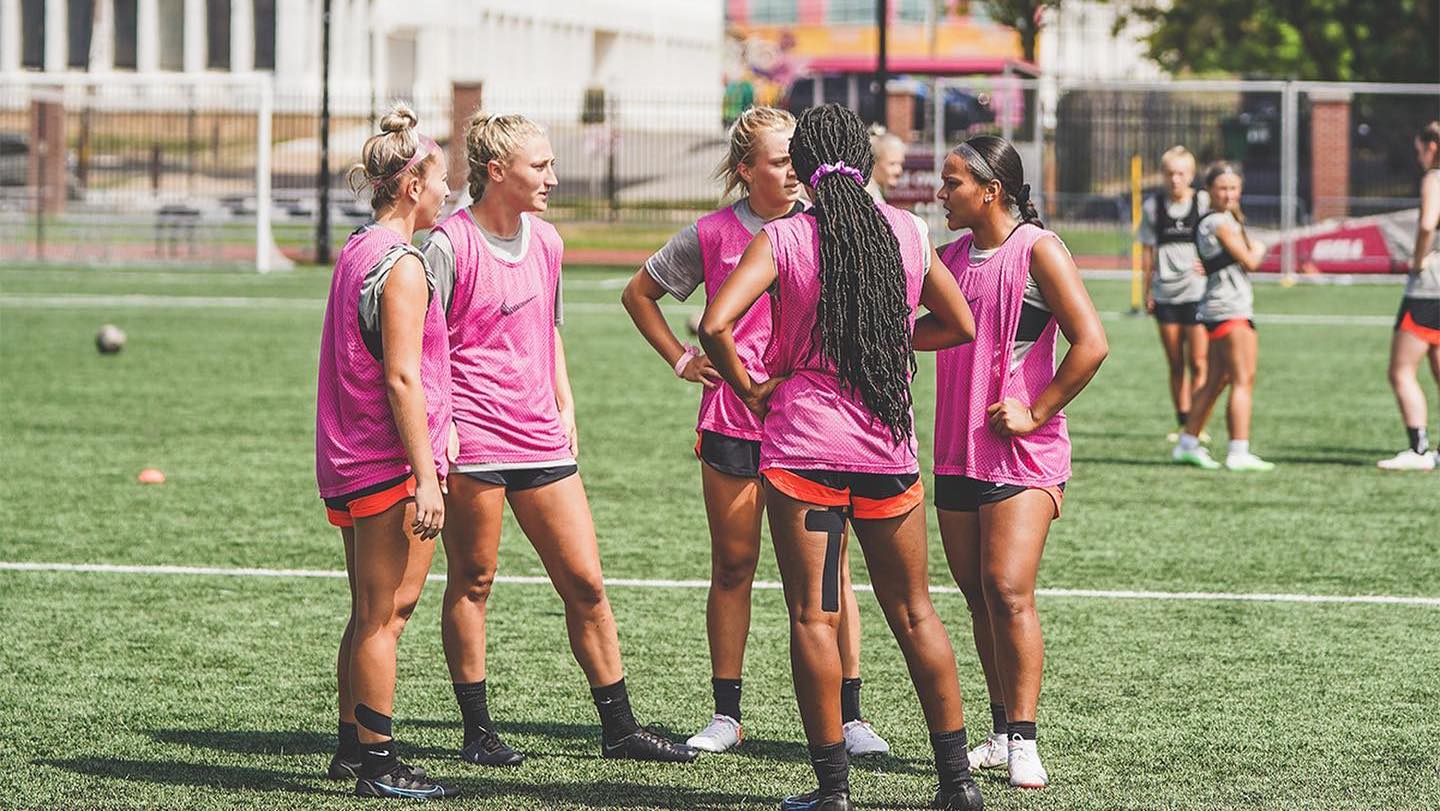 PHILADELPHIA – Temple women's soccer is set to kick off its 2022 campaign, fielding a 27-person roster, with six of those student-athletes joining the Owl family for the first time.
Of the six newcomers, Cecilia Schleinitz, Brianna Parker, Aurrianna Parker, Hailey Morris, and Lauren SanFelice will make their official collegiate debut as first-years while Katie Coritz will take to the pitch as a seasoned veteran, joining as a graduate transfer.
Cecilia Schleinitz, a two-time captain and four-year letter winner at Uxbridge High School of Uxbridge, Mass., joins the squad as a midfielder. Schleinitz helped lead her team to four consecutive district championships and two state final appearances. As a senior, she was named First Team Soccer All-Division and All-State. In addition to her success on the pitch, Schleinitz was a two-time captain of the indoor and outdoor track teams as well as four-time district champion and a state qualifier. Schleinitz played club soccer for NEFC, helping the team to a state championship and national championship in 2019.
"CC is a fantastic and well-rounded student-athlete who will be an important player on and off the field for our program," head coach Nick Bochette said. "She is an outstanding addition to our midfield group and brings a unique perspective to everything she does which will undoubtedly have a great impact on her teammates."

Brianna Parker, a 5'5″ defender from Las Vegas, Nev., was recruited to the Temple women's soccer family alongside a familiar face, her twin sister, Aurrianna. Prior to her arrival, Brianna had a successful high school and club campaign, attending Faith Lutheran High School as a junior and senior, where the squad ranked second in the state of Nevada. The standout defender racked up multiple accolades as a senior including Second Team Nevada Prep All-Southern recognition, First Team 5A Division honors and First Team Mountain League honors. A member of Heat FC ECNL, Brianna helped her team qualify for the 2021 ECNL National Playoffs and a 2021 Surf College Cup final appearance.
"Brianna is a versatile, intelligent, and athletic player who we are very excited to welcome to North Broad," Bochette said. "She's had a lot of success at the youth levels, and we know can be an impactful player in our team."
Much like her sister, Aurrianna Parker was instrumental in her team's success at Faith Lutheran High School, helping lead the team to a 17-3-4 overall record to rank second in the state. Her performance did not go unnoticed, as she earned Nevada Preps All-Southern Honorable Mention and First Team All-Mountain League honors. As a member of Heat FC ECNL, Aurrianna helped her team qualify for the 2021 ECNL National Playoffs as well as a finalist appearance at the 2021 Surf College Cup.
"Aurri is an exciting addition to our team and will bolster our attack in many ways," Bochette said. "She's another intelligent and driven player who we know will make the transition to the college game quickly and successfully once on campus."
Hailey Morris, a native of Doylestown, Pa., joined the Temple defense in the spring of 2022 after a successful high school career at Gwynedd Mercy Academy. The four-year letter winner and two-time captain earned various accolades throughout her career, including first team all-conference recognition both junior and senior year in addition to a second team all-county performance as a junior. In her final go-around, she was a first team all-county performer. Morris played club for FC Bucks ECNL, alongside current teammate Brooke Kane, where she helped lead the team to the ECNL playoffs in 2021.
"Hailey is a hardworking and energetic local student-athlete who joined us last spring," Bochette said. "She brings a great energy and honesty in the way she goes about her work and she inspires her teammates to do the same. She's already proved to be a great addition to our team."
Woolwhich County, NJ native, Lauren SanFelice, joins the Cherry and White as a midfielder, showing extreme versatility. As a four-year letter winner at Kingsway Regional High School, SanFelice was named all-conference as a junior and senior, in addition to receiving all-state honors as a senior. SanFelice played club for RUSA FC Gold, being named Best XI at USYS Nationals and the 2020 EDP Fall Showcase.
"Lauren is an electric and intuitive young player with a fantastic mentality and ambition," Bochette said. "She's another local product who has already shown her ability to be dangerous and score goals at the next level."
Katie Cortiz, a 5'5″ defender from Clifton, Va., joins the Cherry and White after a four-year stint at Columbia University. Despite the cancellation of the 2021 and 2022 season due to the COVID-19 pandemic, Coritz made her mark early in her career. In her rookie debut, Coritz played in all 16 games, helping the Lions produce five shut outs, adding an assist in her first start against Brown on Sept. 21. As a sophomore, Coritz saw action in two games after battling injury. Prior to Columbia, Coritz was a decorated defender at Paul VI Catholic High School, leading the Panthers to a pair of conference championship appearances and a 2016 title. She was named two-time defender of the year, four-time All-WCAC honoree and a two-time All-Met selection.
"Katie is an experienced and mature player who can play in multiple positions in and around the back," Bochette said. "She's someone we know will fit in immediately and add depth to our defensive personalities."