SoccerWire Top 100 Club Rankings Schedule Update: July 2020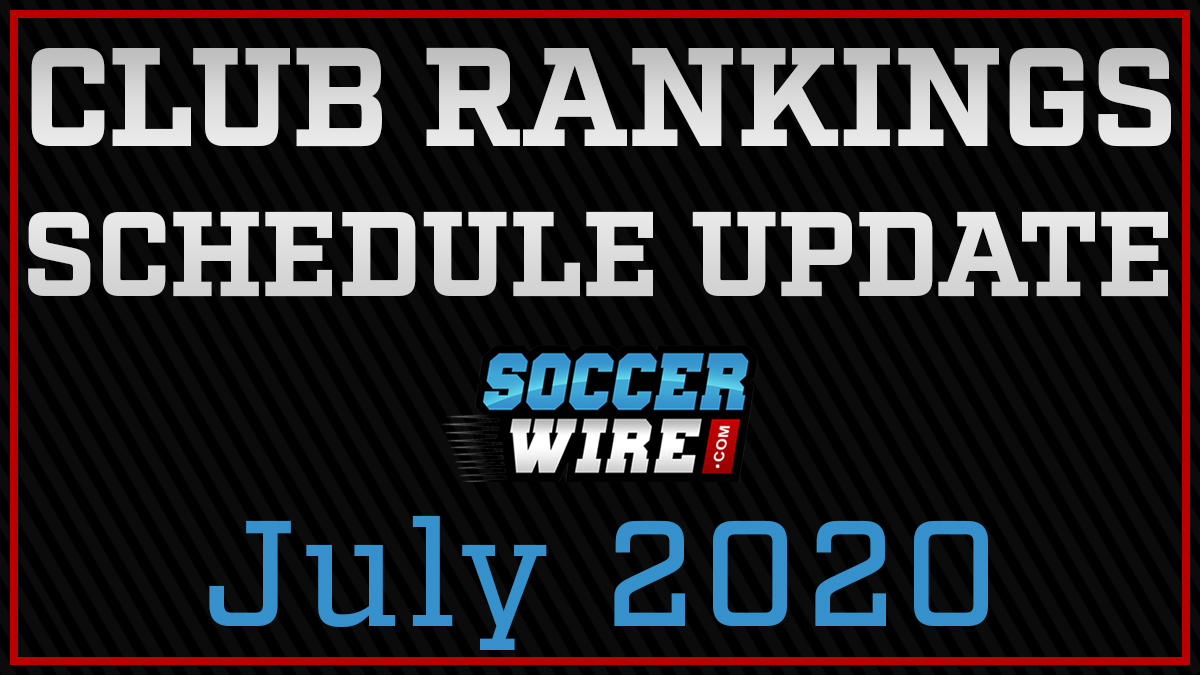 SoccerWire had not originally scheduled publishing our monthly Top 100 Clubs feature this month. It was our original plan when launching the monthly Top 100 Clubs feature this year to use the typical summer break in play to provide an aggregated ranking of clubs combining the first several months of the year.
However, due to three factors, we have decided to skip this plan and will continue with our monthly Top 100 Clubs only once the top national youth leagues and showcase tournaments begin their competitive seasons.
The factors in pausing the popular feature are as follows:
1- Covid-19
With the Coronavirus pandemic keeping kids off the fields and Youth National Teams out of camps for several months (and counting), we don't want to continue ranking clubs with the only changes occurring due to older game results dropping out of the mathematical formulas in the individual team rankings system.
We ran the feature in June (using game data for the 18 months leading up to May 31, 2020), and several clubs had big swings in their position despite not playing any games in several months. While mathematically sound, until new game results start coming in, we didn't want to keep rankings running with the only changes being related to games played over a year ago.
2- Major Landscape and Competition Platform Changes
The closure of the U.S. Soccer Development Academy and subsequent launch of new leagues has generated an unprecedented amount of uncertainty and confusion in the structure of clubs and teams that dominate the upper echelons of play in the United States. Several clubs that regularly appeared in our Top 100 literally do not exist anymore, or have fully merged with other clubs.
No doubt all of this is also causing great change within specific team rosters. As with #1 above, until the games start getting played in MLS Academy, ECNL, The Girls Academy and the many strong regional NPL and USYS leagues, we cannot even be sure which club is actually overseeing which teams and players.
3- Formula Updates
After running the Top 100 Club Rankings for several months, we've had many great conversations with highly-respected and experienced club soccer leaders who have patiently dug deep with us on how our 3-part formula works (⅓ Team Rankings from U13-U19, ⅓ Youth National Team Call-ups, ⅓ Top Competition Platform Standings and National Championship results), we receive strong support of the components used, but many consistent recommendations on how to better weight true player development value.
It is absolutely our primary goal with these rankings to shine the lights on the clubs that are doing the best job of consistently preparing the most players for success at higher levels of play. We've taken those conversations and email exchanges to heart, reviewed the dozens of club submissions to our surveys, and will continue to use this pause in the rankings publications to test new formula adjustments that find the most consensus among a large group of trusted experts.