Full list of member clubs in the new MLS youth academy league, MLS NEXT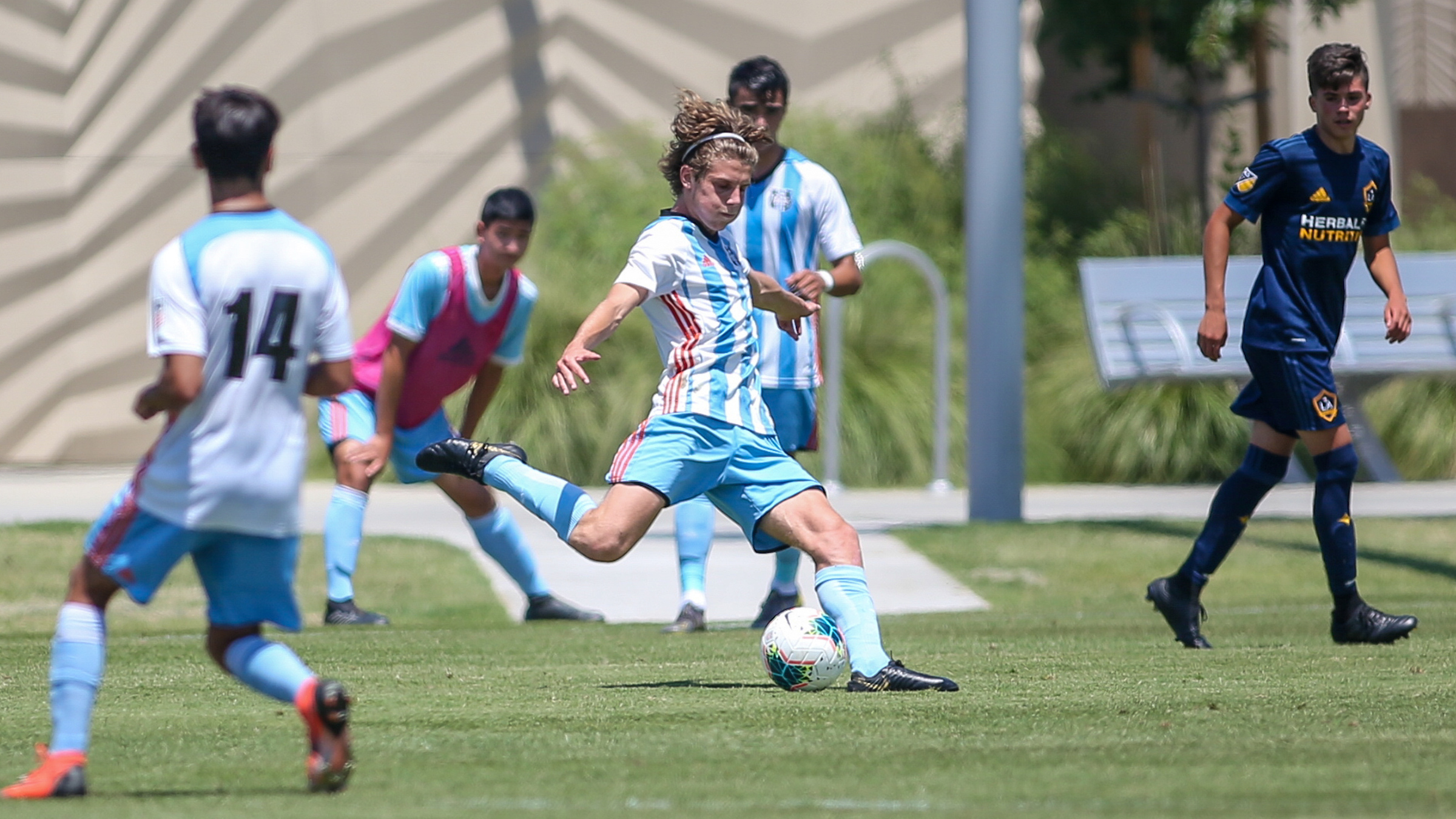 Major League Soccer's elite youth development platform, MLS NEXT, will encompass over 11,000 players across 113 clubs and six age groups, including 30 professional MLS academies, 5 USL academies and 78 additional elite academies.
The platform will feature competition across six age groups: U-13, U-14, U-15, U-16, U-17 and U-19. [Official Website]
Several new clubs have also been accepted to begin play during the second season of MLS NEXT in the 2021-2022 campaign.
2020-21 Member Clubs
* – Founding Members
| Club Name | Location |
| --- | --- |
| Achilles FC | Silver Spring, MD |
| Albion SC* | San Diego, CA |
| Albion SC Las Vegas | Las Vegas, NV |
| Alexandria SA | Alexandria, VA |
| Atlanta United* | Atlanta, GA |
| Austin FC* | Austin, TX |
| Ballistic United* | Pleasanton, CA |
| Baltimore Armour* | Ellicott City, MD |
| Barca Residency Academy* | Casa Grande, AZ |
| Bayside FC | Providence, RI |
| Beachside of Connecticut* | Norwalk, CT |
| Bethesda SC* | Bethesda, MD |
| Black Watch Premier Albany | Albany, NY |
| Blau Weiss Gottschee* | Queens, NY |
| Breakers FC* | Aptos, CA |
| Cedar Stars Academy Bergen* | Carlstadt, NJ |
| Cedar Stars Academy Monmouth* | Aberdeen, NJ |
| Chargers Soccer Club* | Clearwater, FL |
| Charlotte FC* | Charlotte, NC |
| Chicago FC United* | Northfield, IL |
| Chicago Fire FC* | Bridgeview, IL |
| Chula Vista FC* | Chula Vista, CA |
| Cincinnati United Premier Soccer Club* | Cincinnati, OH |
| City SC* | Carlsbad, CA |
| Colorado Rapids* | Commerce City, CO |
| Columbus Crew SC* | Columbus, OH |
| D.C. United* | Washington, D.C. |
| De Anza Force* | Saratoga, CA |
| Empire United Soccer Academy* | Rochester, NY |
| FC Bay Area | San Jose, CA |
| FC Cincinnati* | Cincinnati, OH |
| FC Dallas* | Frisco, TX |
| FC Delco* | West Chester, PA |
| FC Greater Boston Bolts* | Waban, MA |
| FC Westchester* | Scarsdale, NY |
| Florida Rush Soccer Club* | Orlando, FL |
| Houston Dynamo* | Houston, TX |
| Houston Dynamo Unidos | Houston, TX |
| IMG Academy* | Bradenton, FL |
| Indiana Fire Academy* | Carmel, IN |
| Inter Atlanta FC | Atlanta, GA |
| Inter Miami CF* | Miami, FL |
| Internationals* | North Royalton, OH |
| Jacksonville FC* | Jacksonville, FL |
| Javanon FC | Louisville, KY |
| L.A. United Futbol Academy* | Los Angeles, CA |
| LA Galaxy* | Carson, CA |
| LA Surf Soccer Club* | La Canada Flintridge, CA |
| Lamorinda SC | Morage, CA |
| Lanier Soccer Academy* | Atlanta, GA |
| Las Vegas Sports Academy | Las Vegas, NV |
| Los Angeles Football Club* | Los Angeles, CA |
| Metropolitan Oval* | Queens, NY |
| Miami Rush Kendall SC* | Miami, FL |
| Michigan Jaguars | Novi, MI |
| Michigan Wolves* | Wixom, MI |
| Midwest United | Grand Rapids, MI |
| Minnesota United FC* | Minneapolis, MN |
| MLS St. Louis* | St. Louis, MO |
| Montreal Impact* | Montreal, QC |
| Murrieta Surf Soccer Club* | Murrieta, CA |
| Napa United | Napa, CA |
| Nashville SC* | Nashville, TN |
| NEFC* | Holliston, MA |
| New England Revolution* | Foxborough, MA |
| New York City FC* | New York, NY |
| New York Red Bulls* | Harrison, NJ |
| New York Soccer Club* | Purchase, NY |
| Nomads* | La Jolla, CA |
| Oakwood Soccer Club* | Glastonbury, CT |
| Orlando City SC* | Orlando, FL |
| Orlando City Youth SC | Orlando, FL |
| PA Classics* | Manheim, PA |
| Philadelphia Union* | Wayne, PA |
| Phoenix Rising FC* | Phoenix, AZ |
| Player Development Academy* | Somerset, NJ |
| Portland Timbers* | Portland, OR |
| Real Colorado* | Centennial, CO |
| Real Jersey FC | Medford, NJ |
| Real Salt Lake* | Herriman, UT |
| RGV FC Toros Academy* | Edinburg, TX |
| RISE Soccer Club* | Houston, TX |
| RSL Arizona* | Tempe, AZ |
| Sacramento Republic* | Sacramento, CA |
| Saint Louis FC* | St. Louis, MO |
| San Antonio FC* | San Antonio, TX |
| San Jose Earthquakes* | Santa Clara, CA |
| Santa Barbara Soccer Club* | Santa Barbara, CA |
| SC Del Sol* | Phoenix, AZ |
| Seacoast United* | Hampton, NH |
| Seattle Sounders FC* | Tukwila, WA |
| SF Elite* | San Francisco, CA |
| San Francisco Glens* | San Francisco, CA |
| Shattuck-St. Mary's* | Faribault, MN |
| Sheriffs FC | Ashland, CA |
| Silicon Valley SA* | Redwood City, CA |
| Sockers FC Chicago* | Palatine, IL |
| Solar Soccer Club* | Dallas, TX |
| South Florida Football Academy* | Boca Raton, FL |
| Southern Soccer Academy* | Atlanta, GA |
| Sporting Kansas City* | Kansas City, KS |
| Springfield SYC | Springfield, VA |
| Tampa Bay United Rowdies* | Tampa, FL |
| Toronto FC* | Toronto, ON |
| Total Futbol Academy* | Los Angeles, CA |
| Total Football Club | Houston, TX |
| TSF Academy* | Wayne, NJ |
| Valeo Futbol Club* | Newton, MA |
| Vancouver Whitecaps FC* | Vancouver, BC |
| VARDAR Soccer Club* | Rochester Hills, MI |
| Ventura County Fusion* | Ventura County, CA |
| West Florida Flames* | Tampa, FL |
| Weston FC* | Weston, FL |
Members by state/province
ARIZONA
Barca Residency Academy
Phoenix Rising FC
RSL Arizona
SC Del Sol
BRITISH COLUMBIA
CALIFORNIA
Albion SC
Ballistic United
Breakers
Chula Vista FC
City SC
De Anza Force
FC Bay Area
L.A. United Futbol Academy
LA Galaxy
LA Surf Soccer Club
Los Angeles Football Club
Lamorinda Soccer Club
Murrieta Surf Soccer Club
Napa United
Nomads
Sacramento Republic
San Jose Earthquakes
Santa Barbara Soccer Club
San Francisco Elite Academy
SF Glens
Sheriffs Fútbol Club
Silicon Valley SA
Total Futbol Academy
Ventura County Fusion
COLORADO
Colorado Rapids
Real Colorado
CONNECTICUT
Beachside of Connecticut
Oakwood Soccer Club
DISTRICT OF COLUMBIA
FLORIDA
Chargers Soccer Club
Florida Rush Soccer Club
IMG Academy
Inter Miami CF
Jacksonville FC
Miami Rush Kendall SC
Orlando City SC
Orlando City Youth Soccer Club
South Florida Football Academy
Tampa Bay United Rowdies
West Florida Flames
Weston FC
GEORGIA
Atlanta United
Inter Atlanta FC
Lanier Soccer Academy
Southern Soccer Academy
ILLINOIS
Chicago FC United
Chicago Fire FC
Sockers FC Chicago
INDIANA
KANSAS
KENTUCKY
MASSACHUSETTS
FC Greater Boston Bolts
NEFC
New England Revolution
Valeo Futbol Club
MARYLAND
Baltimore Armour
Bethesda SC
MICHIGAN
Michigan Jaguars
Michigan Wolves
Midwest United FC
VARDAR Soccer Club
MINNESOTA
Minnesota United FC
Shattuck-St. Mary's
MISSOURI
MLS St. Louis (begins in 2021)
Saint Louis FC
NEVADA
Albion SC Las Vegas (begins in 2021)
Las Vegas Sports Academy (begins in 2021)
NORTH CAROLINA
NEW HAMPSHIRE
NEW JERSEY
Cedar Stars Academy Bergen
Cedar Stars Academy Monmouth
New York Red Bulls
Player Development Academy
Real Jersey FC
Springfield South County Youth Club
TSF Academy
NEW YORK
Black Watch Premier Albany
Blau Weiss Gottschee
Empire United Soccer Academy
FC Westchester
Metropolitan Oval
New York City FC
New York Soccer Club
OHIO
Cincinnati United Premier Soccer Club
Columbus Crew SC
FC Cincinnati
Internationals
ONTARIO
OREGON
PENNSYLVANIA
FC Delco
PA Classics
Philadelphia Union
QUEBEC
RHODE ISLAND
TENNESSEE
TEXAS
Austin FC
FC Dallas
Houston Dynamo
Houston Dynamo Unidos
RGV FC Toros Academy
RISE Soccer Club
San Antonio FC
Solar Soccer Club
Total Football Club
UTAH
VIRGINIA
Alexandria Soccer Association
WASHINGTON