SoccerWire Club Profile: The St. James FC Virginia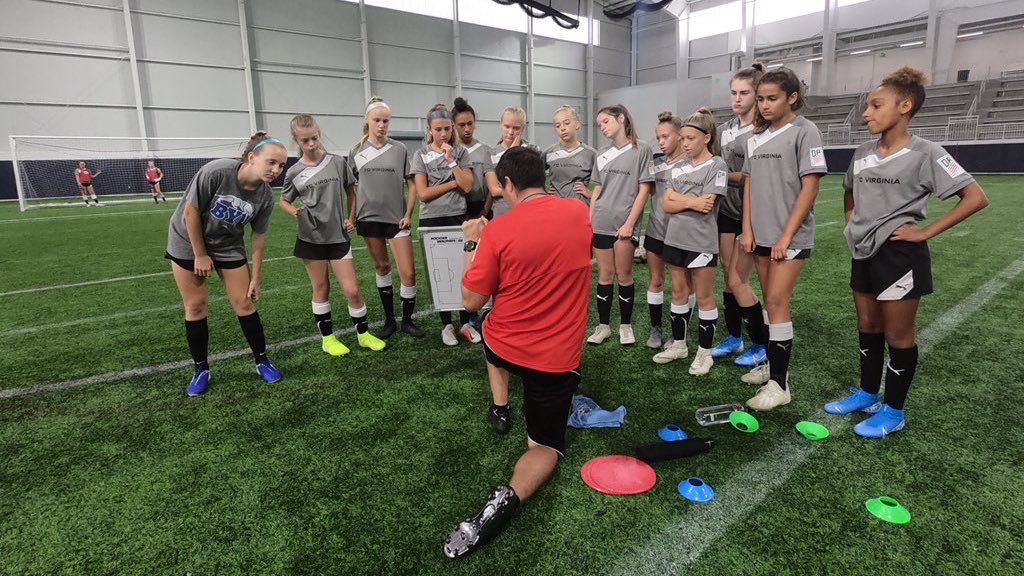 Following the acquisition of FC Virginia by The St. James announced in May, the newly-branded The St. James FC Virginia program has entered its inaugural competitive soccer campaign during the 2019-2020 season.
The club's travel program carries over the bulk of FC Virginia's existing talent across the boys and girls divisions, while adding numerous layers of professional support and resources for their expanding membership.
Buoyed by an existing FC Virginia membership which features one of the most successful elite girls programs in the country and an up-and-coming boys' side, the leadership team has wasted no time laying the groundwork out on some ambitious long-term projects.
Leading TSJ FCV's soccer staff are: Doug Homer (Director of Soccer), Christian Cziommer (Technical Director), Bobby Puppione (Girls DA Director), Karen Kelser (Director of Tier One Programs), Bruce Murray (Director of Player Development & Parent Engagement) and Myron Flowers (Strength & Conditioning Director).
One of the key projects being undertaken is providing youth players with access to an in-house team of specialists focused on the pivotal areas of nutrition, mobility and injury prevention, along with strength and conditioning. While continuing their weekly training on field sites primarily in Loudoun County, TSJ FCV teams will benefit from access to The St. James' robust support staff including a medical team through a partnership with MedStar Health.
As youth clubs across the country continue to evolve in those areas as well, what Homer expects to set TSJ FCV apart is a unique level of individualized care, starting at an early age.
"We'll be offering 'next level soccer', which is very wholistic and focused on the complete athlete," Homer said. "Our incredible strength and conditioning team can assess each child's needs from an athletic standpoint, and what kind of specialized training they will need."
Highlighting the TSJ FCV travel program are the U.S. Soccer Girls' Development Academy teams, which reached the playoffs in all three postseason-eligible age groups last season. FC Virginia became a founding member of the Girls' DA ahead of the inaugural 2017-2018 season, and prior to that was a perennial East Coast power in the Elite Clubs National League (ECNL) under the direction of Cziommer.
With Puppione in his 2nd full season leading the Girls' DA program, their teams are already off to a strong starts this fall, after being selected as one of 24 clubs across the country to be placed in the top tier (Red Division) for the inaugural Girls' DA Cup.
The club's Girls' DA teams were among the first to benefit from The St. James' resources during preseason training camp. Teams spent a segment of their camp on site at The St. James, training on full-size FIFA pitch, and participating in off-the-field activities like yoga and rock climbing, along with injury prevention and nutrition seminars.
"It's going to be a great year with our Girls Development Academy program and all of our teams at The St James FC Virginia," Puppione said. "We look forward to continuing to build on the quality daily environment that we provide at the club."
TSJ FCV has seen continued success in recent months with developing Youth National Team level talent, as players such as Ella Carter (U.S. U-15), Olivia Migli (U.S. U-18) and Dori Haugen (Norway U-19) continue to receive call-ups.
Along with their DA teams, elite female players within the club are set to compete in the opening season of the ECNL's new Virginia Regional League.
On the boys side, TSJ FCV travel teams will continue competing in some of the most prominent regional leagues, including the Elite Development Program (EDP), US Club Soccer's Virginia Premier League (VPL) and the National Capital Soccer League (NCSL).
Guided by the expertise of Cziommer, who holds a Masters of Sports Sciences from Germany's Deutsche Sporthochschule Köln as well as a UEFA A-License from The German Soccer Federation, the club's developmental pathway is aiming to provide players a full range of Long-Term Athletic Model fundamentals.
Another project that Homer and his staff are undertaking include the launch of a year-round futsal academy, run by Gus Donolo, who is known as one of the top futsal coaches in the Mid-Atlantic region.
"Having a year-round futsal program will be a game-changer, since most youth players typically just play futsal in the winter," Homer said. "Our players will have more opportunities to improve technically and practice playing in tight spaces, which translates back to soccer."
The new futsal academy will supplement an array of offerings for players provided at The St. James Center for Soccer Excellence, which feature soccer education training programs, skill development and team competition, and performance resources for athletes.
After focusing on the launch of The St. James Center for Soccer Excellence last year, Homer said that he and the TSJ FCV staff have shifted their attention to the needs of their members across Loudoun County, Fairfax County, and all over the D.C. metro area. In addition, TSJ FCV is focused on developing partnerships with a number of top tier professional clubs, both domestically and abroad.
"We're looking at ways to increase the value for the members with great programs, people and facilities, and partnerships outside of The St. James," Homer said.
For more information on The St. James FC Virginia programs, visit: https://www.thestjames.com/socceracademy/