Snow starts new cycle with U.S. U-15 Girls' National Team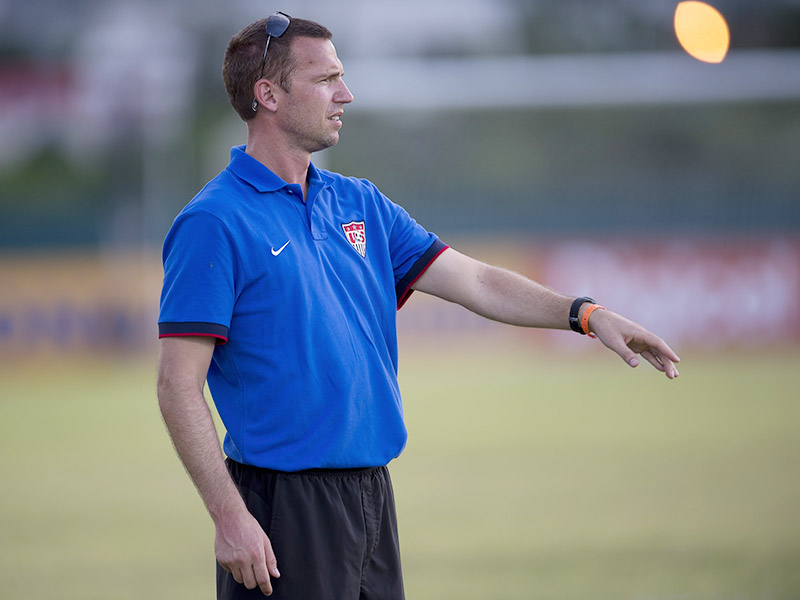 CHICAGO – The U.S. Under-15 Girls' National Team will come together for a training camp at the U.S. Soccer National Training Center in Carson, Calif., from April 19-26 as head coach B.J. Snow has called up 36 players.
This age group will form the core of the team that will attempt to qualify for the 2016 FIFA U-17 Women's World Cup. The camp will be the last for this group at the U-15 age level before they transition to the U-17 level in June. To be eligible for the 2016 U-17 Women's World Cup, players must be born on or after Jan. 1, 1999. The majority of players called up are 1999s, with four born in 2000 and one in 2001.
The U-15 GNT will scrimmage the Under-16 Slammers FC on Friday, April 25 at 6 p.m. PT.
U.S. U-15 GNT Roster By Position:
GOALKEEPERS (3): Hillary Beall (West Coast FC; Laguna Beach, Calif.), Brooke Bollinger (Space Coast United; Melbourne, Fla.), Anna Smith (Crossfire Premier; Issaquah, Wash.)
DEFENDERS (11): Kerry Abello (Team Chicago; Aurora, Ill.), Caitlin Cosme (Albertson Soccer Club; New Hyde Park, N.Y.), Joanna Harber (Eastside FC; Bellevue, Wash.), Kai Henderson (Crossfire Premier; Mill Creek, Wash.), Karlie Paschall (Tennessee Soccer Club; Brentwood, Tenn.), Brooke Redington (SoCal Blues; Manhattan Beach, Calif.), Karina Rodriguez (SoCal Blues; Torrance, Calif.), Sophia Serafin (West Coast FC; Glendora, Calif.), Jenna Soriano (Maryland United FC; Columbia, Md.), Emma Thomson (Team Sockers FC; Park Ridge, Ill.), Sydney Zandi (Penn Fusion; West Chester, Pa.)
MIDFIELDERS (10): Emina Ekic (Javanon; Fairdale, Ky.), Ari Green (Maryland United FC; Bowie, Md.), Nicolette Hernandez (NSA Rockets; Naperville, Ill.), Jaelin Howell (Real Colorado; Windsor, Colo.), Madison Lowe (Buffalo Soccer Academy; Webster, N.Y.), Casey Palmer (Matchfit Academy; Brick, N.J.), Ashley Sanchez (SoCal Blues; Monrovia, Calif.), Taryn Torres (Solar-Chelsea; Frisco, Texas), Kali Trevithick (Crossfire Premier; Redmond, Wash.) Jillian Wachira (PDA; Plainsboro, N.J.)
FORWARDS (12): Olufolasade Adamolekun (Lonstar SC; Spicewood, Texas), Rachael Dorwart (Penn Fusion; Mechanicsburg, Pa.), Olivia Jones (Ahwatukee Foothills SC; Chandler, Ariz.), Emily Knous (Legends FC; Long Beach, Calif.), Civana Kuhlmann (Colorado Rush; Littleton, Colo.), Tara McKeown (Eagles; Newbury Park, Calif.), Taryn Ries (FC Portland; Portland, Ore.), Allison Schlegel (Colorado Storm; Parker, Colo.), Frankie Tagliaferri (PDA; Colts Neck, N.J.), Riley Tanner (Grand Rapids Crew Jr's; Caledonia, Mich.), Jordan Taylor (Ohio Premier Eagles; Wadsworth, Ohio), Kelsey Turnbow (Crossfire Premier; Liberty Lake, Wash.)