Semifinals set at US Youth Soccer Region IV Championships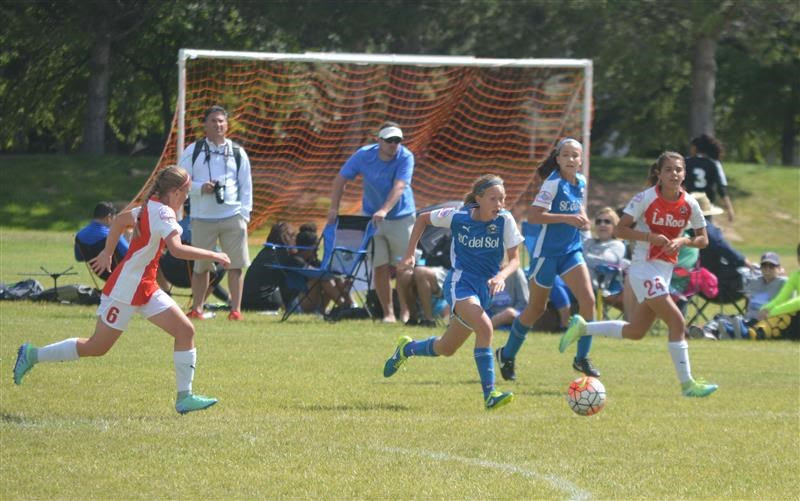 Boise, Idaho (Via US Youth Soccer) – Two days of play remain at the 2016 US Youth Soccer Region IV Championships after quarterfinal matches were completed on Friday.
Of the 216 teams that began the tournament, the dreams of 50 remain alive in the Under-13 through Under-18 Boys and Girls age groups and the Under-19 Boys age group.
After losing to Colorado Rush (CO) 1-0 on the first day of group play, So Cal Blues won when it meant the most as the Southern California side will head to the US Youth Soccer National Championships after a 3-0 win over Rush in the finals. Sasha Stephens, Alyssa Alvarez and Ally Prisock, who has played for the U.S. Under-19 and Under-20 Women's National Teams in the past couple of months, found the back of the net for Blues to take the Under-19 Girls regional title.
FC Golden State (CA-S) used a 5-0 win over Westside Timbers 96 Copa (OR) to advance to the regional finals. 2015 National Championships Golden Ball award winner Gabriel Costa opened the scoring in the 16th minute, and Cyro Oliveira, Luis Filho, Erick Villatoro and Maicon Abreu all added goals for the defending national champions before the finals whistle. Arizona Arsenal 97 Premier (AZ) will try to deny FC Golden State its second regional title after defeating Rio Rapids SC (NM) in the semifinals. Alexander Touche and Isaiah Liddell scored first-half goals for Rio and Arsenal respectively. A goal could not be found in the second half or extra time, so kicks from the mark were needed to determine the winner, where Arsenal prevailed to move on to the finals.
Of the six defending regional champions that entered the tournament, four still remain as Under-14 Boys EC Real Galaxy FC 01 (CA-N, Under-16 Girls La Roca Premier PO (UT), Under-17 Boys Seattle United 98 Copa (WA) and Under-17 Girls La Roca FC (UT) still have hopes of winning back-to-back regional titles.
Additionally, all four former National Champions are still alive as Under-16 Girls Legends FC 99 (CA-S), Under-17 Girls Eastside FC 98 Red (WA), Under-18 Girls Beach FC Academy 97 Joyner (CA-S) and FC Golden State (CA-S) all still have the opportunity to return to the National Championships.
FC Nova 97/98 (ID) is the sole Idaho team remaining after a 4-1 win in the semifinals over Rio Rapids 98 (NM).
The US Youth Soccer National Championship Series (State, Regional and National Championships) creates a unique environment where any team is open to compete, but only those that earn their way can progress to the next stage until the National Champion is decided.  That environment attracts scouts from universities, professional teams and U.S. Soccer National Teams looking for players that can move on to the next level of play.
Notes on today's games
Under-13 Boys
Southern California sides FC Golden State PDA 2003 (CA-S) and Strikers FC Chingirian (CA-S) put forth impressive quarterfinals wins and will now meet in the semifinals. FC Golden State defeated Sereno SE 03 Chelsea White (AZ) 4-0 with all four goals coming from Juan Bonola, who now leads all scorers with nine goals in the tournament. Strikers defeated Westside Timbers 02 Copa (OR) 3-0 to secure a spot in the next round with goals coming from Noah Mangosing, Sean Foster and Connor Walcott.
The other semifinals match will feature two teams from Washington as both Seattle United 02 Copa (WA) and FC Alliance 02A (WA) won their semifinals match on kicks from the mark. Seattle United and CV SJ Earthquakes 03 PDA (CA-N) were knotted at two after regulation after Aiden Azavedo and Carson Pina scored for Seattle, while Aaron Edwards and Marvin Telule Quijada scored for Earthquakes. Seattle would ultimately advance after winning kicks from the mark 3-2.
FC Alliance defeated defending regional champs Total Futbol Academy (CA-S) in extended kicks from the mark. Jesus Ciriaco-Trujillo began the scoring for Alliance just five minutes into the match, but Pablo Caparelli would equalize for the defending champs in the 47th minute. The match would head to extra-time where Mark Dormoh would find the back of the net for Alliance, only for Jordan Weiss to equalize for TFA. Both FC Alliance's Avary Olson and Gerardo Martinez made saves during kicks from the mark, but ultimately a missed TFA kick propelled the Washington side to the semifinals.
Under-13 Girls
SC del Sol 03 Lester scored the match's first and last goal against La Roca PO (UT), but the Utah side managed to score four goals in-between for the 4-2 win. La Roca received goals from four different players as Sarah Wynn, Brynlee Meyerhoffer, Tiani Fonoti and Kaitlyn Richins all found the back of the net, while SC del Sol's goals came from Jayla Patrick and Calista Daugherty. SD Surf Academy (CA-S) defeated CV San Jose Earthquakes 02 Academy (CA-N) 4-0 to secure a spot in the semifinals. Madison Smith netted a pair of goals to go with goals from Mandalyn Taylor and Samantha Duggan.
Seattle United 02 Copa (WA) defeated fellow Washington side Crossfire Premier 02 Baumgardt (WA) 2-0 thanks to goals from August Hunter and Maia Buswell. Seattle United will take on So Cal Blues 02 Baker (CA-S), who defeated 02/03 Indie Chicas Lime (ID) 8-0 in the quarterfinals.
Under-14 Boys
Defending regional champs and national finalist EC Real Galaxy FC 01 (CA-N) defeated FC Golden State PDA 02 (CA-S) 3-1. Galaxy's Abraham Montano, Felipe Torres and Julien Peguero gave the defending champs the 3-0 lead, before Jacob Cervantes scored for FC Golden State.  Facing off against Galaxy will be Eastside Timbers Ajax (OR) after a 3-1 over SC del Sol 02 Leebrook (AZ). Victor Guzman-Gastelum broke the scoreless stalemate in the 16thminute, only for SC del Sol's Jose Bernardo Lora Leyva to score an equalizer three minutes later. Keller Storlie and Wesley Frankel would score unanswered goals for Eastside as the match ended 3-1.
Real Colorado National 01/02 (CO) advanced to the semifinals after a 3-0 win over Eastside FC 01 Red (WA). Trevor Wright scored in the fourth and 14th minutes to give Real the 2-0 lead, and Tallyn Bronson would add a third goal in the 67th minute. Joining Real will be LVSA 02 Red (NV) after a 1-0 win against Maui United Soccer Club 2002 (HI) thanks to Jesus Ubario's goal in the 35th minute.
Under-17 Boys
After a scoreless regulation and extra time, SC Del Sol 99 Colavecchia (AZ) and USA 99 Premier (UT) needed kicks from the mark to decide who would advance to semifinals. SC Del Sol ultimately got the victory and will take on defending regional champions, Seattle United 98 Copa (WA). Seattle United overcame a 2-0 deficit against West Coast Wyss (CA-S) to win 3-2 and continues its quest to defend its regional title. Brett Jones and Andrew Antoun got West Coast up 2-0 before halftime, but the second half would be controlled by Seattle United as Samuel Casad, Ian Mejia and Jackson Ragen all beat the keeper to send Seattle United to the semifinals.
LA Premier FC White (CA-S) and Capital FC Timbers 98 Red (OR) will meet in the other semifinal match after quarterfinal wins. LA Premier defeated LVSA 99 (NV) 4-1 thanks to Jorge Orellana's brace combined with goals from Tyler Jovel and Edwin Quiroz. Justin Rasmussen would score for LVSA. Diego Olivera's goal in the ninth minute got Capital FC on the board, but Santa Clara Sporting 98 Black (CA-N) would equalize with Amir Zeid's goal. Stuart Aeschliman would net the game-winner in the 76th minute to secure the Oregon side's trip to the semifinals.
Under-17 Girls
2013 Region IV and National Champions Eastside FC 98 Red (WA) will take on 2015 Region IV Champion La Roca FD (UT) after both sides earned 3-0 wins in the quarterfinals. Eastside used a brace from 2013 National Championships Golden Ball winner Joanna Harber in addition to Olvia Van Der Jagt's goal to advance, while La Roca received goals courtesy of Amber Marshall, Sadie Brockbank and Ellie Maughan.
Three Rivers SC Black (WA) and Celtic Storm 99 Premier (UT) would need extra time to break a 2-2 draw as with Storm eventually winning 4-2 in overtime. Haley Thomas put the Washington side up 1-0 right before halftime, but Storm would respond with goals from Siri Dahl and Ashley Hughes. Thomas added her second goal of the match to knot things up 2-2, but it was a pair of goals from Cameron Tucker in extra time that would decide the match as Storm won 4-2.
HSC Bulls Academy 99 (HI) outlasted LA Premier FC (CA-S) 1-0 in extra time to claim the final Under-17 Girls semifinals spot. Under-15 U.S. Women's National Team player and 2015 US Youth Soccer ODP Thanksgiving Interregional participant, Sunshine Fontes scored the match's only goal.
Under-18 Boys
2015 region finalists South San Jose PAC Indios (CA-N) defeated Classic FC Toros (NM) to claim a semifinals slot. Albert Munante found the back of the net for PAC in the 6th minute, and Angel Gil-Briseno would double the Northern California side's lead with a goal in the 24th minute. Gustavo Vargas would add a third and fourth goal in the 40th and 64th minutes, while Toros would receive a goal from Sergio Ramirez.
PAC will be playing against TSA 98 Red (AZ) after a 4-3 win over Sparta 98 Premier MD (UT). TSA got out to a 3-0 lead after Johnny Ramirez, Giovanni Ahumada and Christopher Banuelos all scored for the Arizona squad. Zachary Mass would bring the lead to two with a goal for Sparta right after halftime, but Adrian Valenzuela scored his side's fourth goal to make the score 4-1. Benjamin Fankjauser and Mass would find the back of the net to make the score 4-3, but TSA would fail to concede a fourth goal to shut down the comeback attempt.
Crossfire Oregon 97 Green 1 (OR) defeated hometown Idaho Rush Premier (ID) 2-1 to advance to the next round. Crossfire's Alberto Gonzalez broke through for the first goal in the 20th minute. Rowan Pierson scored an equalizer in the 71st minute, but just nine minutes later Lewie Coates would net the game-winner. DMS11 Academy (CA-S) used goals from Fernando Robledo, Daniel Martinez, Yosimar Hernandez, Diran Bebekian and Salvador Segura en route to a 5-2 victory over Las Vegas Gunners 98 (NV), while Gustavo Ortega and Christian Pango scored for the Nevada side.
Under-18 Girls
98 Celtic FC premier (UT) defeated the defending regional champs and in-state rival La Roca Premier (UT) 2-0 to advance to the semifinals. After over 75 minutes of scoreless play, Tabitha McKendrick got Celtic on the board with a goal in the 76 minute, and Elise Flake would add an insurance goal in the final minute.
Celtic's reward for making the semifinals is a match against 2014 National Champions Beach FC Academy 97 Joyner (CA-S), who defeated Arizona Arsenal 98 Premier Teal (AZ) 5-2 today. Beach struck first with Jessica Johnson's goal in the 19h minute, but Arsenal would claim a 2-1 lead after Samantha Iannone and Whitley Johns scored right before halftime. However, the second half would belong to Beach as a Taylor Bistline brace and goals from Tavia Leachman and Jacqueline Kimble gave the former national champs the 5-2 win.
West Coast Wild (CA-N) is headed to the semifinals after a 2-1 win over Olympique Montreux (UT). Paola Samaniego scored the match's opening goal for Wild in the 17th minute, but Brooke Nielsen would knot the score at one apiece seven minutes later. Camila Fonseca scored the eventual game-winner in the 75th minute for the 2-1 win.
FC Nova 97/98 (ID) rounds out the semifinals teams after a 4-1 win over Rio Rapids 98 (NM). Aimee Shrock began the scoring for Rio in the 34th minute, but a second-half brace from Raimee Sherle paired with goals from Makayla Welch and Karli Stone gave the Idaho side the 4-1 win.
The US Youth Soccer National Championships will consist of US Youth Soccer Regional Champions in the Under-13 through Under-19 Boys and Girls age groups as well as the US Youth Soccer National League qualifiers in the Under-14 through Under-18 Boys and Girls age groups to complete the field of 96 teams.