Q&A: Cincinnati United's Bobby Puppione on his club's Ohio dominance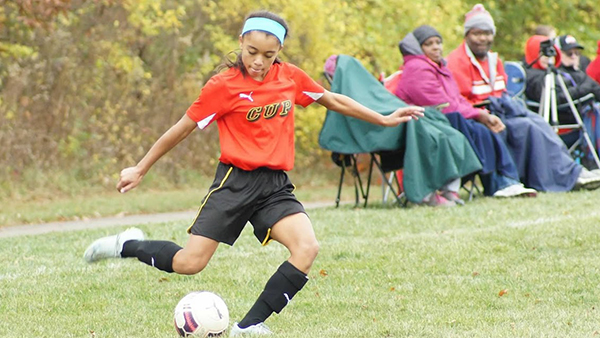 Many U.S. soccer watchers have recently turned their attention to southern Ohio thanks to the big crowds and big ambitions of FC Cincinnati, the city's new United Soccer League professional team. But the Queen City is also home to another success story, one with a deeper and even more impressive track record.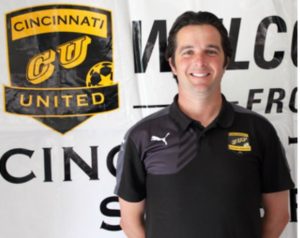 Cincinnati United SC has long been a respected youth club. But their performances in this spring's Ohio South State Cup competition, as well as the success of several of their teams in national play, may have set a new bar.
CUP, the club's competitive travel division, cleaned house with an Ohio-best 10 State Cup wins – seven on the girls side and three for the boys. Beyond the state lines, eight CUP teams took part in US Youth Soccer's Region II Championships, two have qualified for Nationals in July, two won the Premier division of their Regional League and four girls teams qualified for National League. The club is now the largest of its kind in Ohio, with more than 200 competitive teams slated for the new season ahead, and looks likely to continue its steady growth.
CUP has also cultivated a growing list of alumni at the professional and international levels, including rising U.S. Women's National Team prospect Rose Lavelle and current FC Cincy players Austin Berry and Luke Spencer.
Earlier this month SoccerWire.com chatted with Bobby Puppione, the club's director of coaching, about the good things happening along the Ohio River.
SoccerWire.com: Ten State Cup trophies and a bevy of teams doing well in national and regional competition – what is behind Cincinnati United's success this spring?
Bobby Puppione: Ohio is always a very competitive area; I've been here for almost nine years now, but even before I was here, I always knew it is a very competitive state despite being a smaller state. Especially in Cincinnati, there's so many youth soccer players in the greater metropolitan area. We've a good opportunity to develop a lot of players, especially over the last four or five years, to move on to youth and full national teams, as well as obviously tons and tons of players to move on to the college and pro ranks.
Winning seven State Cup titles on the girls side and three on the boys side, it was more titles [combined] than any other club in the state. Obviously winning titles is a great thing and it's evidence of the work that we're doing, but more importantly, it's an example of the development of players that we're trying to do on a daily basis, and the environment that our coaches try to provide. We have a heavy emphasis on the training environment that we provide, in allowing the players to reach their fullest potential. Winning league titles and regional titles and State Cup titles are always great things that give us some good evidence.
But most important to me, I'm just proud of the daily improvements that I'm seeing amongst the players. That comes back to us with retention of players, and during tryout season, players wanting to come be a part of the environment we provide. We're in a place where it's important to show everyone what we have to offer, but the environment, I think, is the reason why people continue to want to join our club … It's a massive organization, but still has that family feel as well, where players can find a place to play, whether it's on the national scene, or regional, statewide or local.
SW: Many observers have only recently realized what a soccer hotbed your city has become, thanks to your new pro team.
BP: Obviously we're very proud of FC Cincinnati and the success that they're having as an organization. Our club 100 percent supports them and their success – we have a lot of season-ticket holders, and have teams going to support them this weekend at their next match. So that's been great, to have professional soccer in town to support – that they bring in 10-15,000 fans a game is awesome. So we're getting that notice for our city.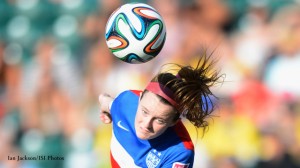 But then we also have Rose Lavelle, who's one of our alums in the club, she's a senior at Wisconsin and has now been into two full Women's National Team camps at the age of 21. So that's been great, to have an alum as well just a player from Cincinnati in the full Women's National Team camp. And then we have a couple of our 2002s that are headed to another national team camp in July. So we're getting it done on the youth level, the professional level and then obviously with the team [FC Cincy] as well.
SW: Your club seems to be in a position where it's reached a strong position in the local and regional scene, but on the next level up, there's that elite class of nationally-competitive youth clubs out there. Do you see CUP trying to move towards that "superclub" status?
BP: Yeah, I think so, your clubs like PDA, Tophat, Legend, Eclipse, Scott Gallagher, just to name some of those clubs. We actually have great interaction with all those clubs and a lot of our youth teams at [U-]13, 14, 15, we participate in events with and against them, friendlies, tournaments, things like that, so it actually shows where we are compared to where those clubs are. And we've gotten great feedback from those types of clubs.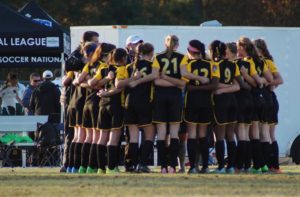 Every summer we send teams up to the Eclipse [Chicago] event in August and we've had some success there … and having [Michigan] Hawks, Scott Gallagher, PDA [New Jersey] not too far away from us, we're able to find them at events and compete, and learn from what we've seen out of those experiences, and then get back to the daily environment and see where we need to grow, and where we're doing a good job.
The game is ever-evolving, and we want to continue to put ourselves against some of the best competition that we can – because that's only going to make us better – but also still keep our identity and focus on what we want to do. Because every market is different.
SW: Interestingly, CUP was once a close affiliate partner of Columbus Crew SC, but you exited that arrangement and have moved from strength to strength since then. 
BP: We've stayed competitors on the field – the Crew is an hour and a half, hour and 45 minute-drive from us, and it was a good partnership when we brought a couple clubs together to make Cincinnati United. It was a good way to tie us in and be a part of a pro organization and we supported them during those years. But we also want to have our own identity as well. So more than three years ago now, we went our separate path. Our directors on the boys side still meet with the boys directors at the Crew, and still have great relationships with them. There's no bad blood or ill will or anything – we still get along with them great. And it allows our teams to go and compete against their teams and makes both get better. We don't block anything from them – if kids have an interest, then we will support that. So it's only competitors in a good way, to make both clubs better.
So now we're trying to build our own identity here in southwest Ohio and see that grow at the events we go to on the regional and national stage. We're definitely getting our name out there, there's still more room, but that's good. We're continuing to focus on the development of our youth players and now as they get into the older ages, we're seeing a lot of the fruits of that labor, in the types of players that we're developing. So that's been great.
We signed on with Puma a couple years ago and with Puma we've had relationships with Borussia Dortmund now – and that's been a completely free venture, no money changing hands or anything like that, it's just part of our sponsorship with Puma. We've sent coaches over there for coaching education, we've sent some of our youth players over there on the boys side to participate in activities within the Dortmund system as well as having some of their coaches come over here and do some clinics and things for our coaches… That's been a partnership that they've benefited from, and we've obviously benefited from it as well.
SW: Talking about identity, do you think Cincinnati United is building a certain brand of play or player?
BP: In the younger age groups, we really focus on developing players that are not just technically sound but that understand the game, making them problem solvers and creative players and not ones that are just robotic and going through the motions. The game is ever-changing and they're going to have to be able to read situations and make decisions.
Rather than being joystick coaches, we try to put them in situations where they're going to be able to problem-solve and make decisions – but still give them an outline for it. All of our teams value playing out of the back. All of our teams value moving the ball quickly, but still allowing themselves to have some individual creativity where they can be special as well. With our kids, you get hard-working kids that are committed to making themselves better and kids that absolutely love the game, too.