San José State women's soccer adds three to signing class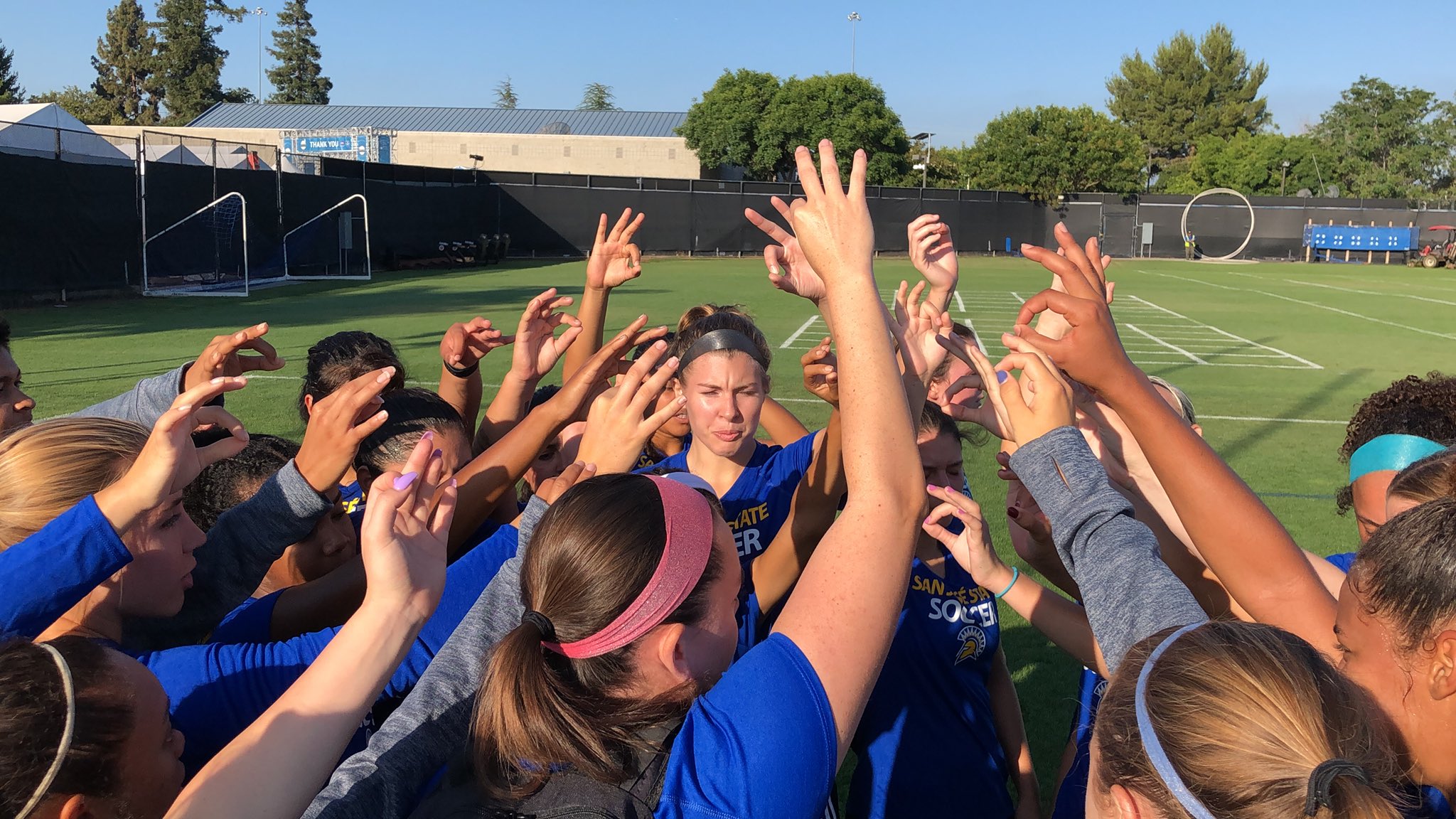 SAN JOSE, Calif. – The San José State women's soccer team is welcoming the addition of three more players as part of their 2020 signing class.
Transfers Juliane Laurent and Batya Bagully, and incoming freshman Jaiden McClellan have signed their national letters of intent and are set to join the Spartans. Head coach Lauren Hanson made the announcement.
"We are thrilled to have added three top notch players to our already incredible 2020 class. I am sure the fans can't wait to see what they can do!" Hanson said.
Laurent joins the Spartans by way of Martinique, France, where she plays club ball for Olympique Lyonnais. The midfielder appeared in 28 games in 2018-19, tallying nine goals and seven assists as she helped lead the team to Rhone Alps Cup and Region Championship. In 2017-18, Laurent played for RC Lorraine where she scored 20 goals in 25 games. The year prior, she was a member of RC Saint Joseph in 2016-17 and struck for 10 goals.
COACH HANSON ON JULIANE LAURENT
"Juliane is a top French international striker. She will instantly contribute great experience and goal scoring ability. She does things on the ball that are super savvy and we can't wait to add that dimension to our attack."
A 2018 graduate of San Marcos High School, Bagully returns to her home state after spending the 2019 season at the University of Hawaii, where she redshirted in her lone season. She was a two-time letter winner at San Marcos High and helped lead to the team to a runner-up finish in the state championship as a sophomore. She picked up Avocado Conference East first-team and All-CIF second team honors. In three years of high school ball, Bagully tallied 41 goals, including seven game-winners.
Bagully also has national team experience as a member of the Kazakhstan National Team U16, U17 and U19 since 2014. She has made 22 appearances for the squad and played in eight different countries. At the age of 17, she was called up to the adult women's team to train and play in two World Cup qualifying matches against Russian and England.
COACH HANSON ON BATYA BAGULLY
"Batya is a top notch striker with loads of international experience playing with Kazakhstan. She is crafty and very technical and we look forward to her adding her experience into our attack."
True freshman Jaiden McClellan joins the Spartans from Portland, Oregon where she was a two-time team captain for the No. 1 ranked team in the nation, Jesuit High School. As a four-year varsity player, McClellan helped lead Jesuit High to three state championship titles and picked up numerous accolades along the way. The midfielder was a two-time all-state and all-metro selection and was an All-American selection as a senior. McClellan was invited to play with the U14 United States National Team and attended the U.S. Youth Soccer National Training Camp. She played club ball for Crossfire United under her father, Eric. In 2017, she helped the squad advance to the ECNL Champions League Playoffs and in 2016 they won the ECNL Showcase Championship.
COACH HANSON ON JAIDEN MCCLELLAN
"Jaiden is an incredible soccer player. Her knowledge of the game and composure on the ball are what make her special. We are looking for her to come in and make an instant impact toward our goal of being a possession style attacking team."
The trio of Laurent, Bagully and McClellan joins previously announced signees Bianca Aikens, Cecelia Crosby, Cynthia Flores, Bella Keomounpane, Jordan Rowell, Jaedyn Sanders and Sarah Santos to round out the Spartans' 2020 class.