San Diego State men's soccer program adds Carlos Aguilar to coaching staff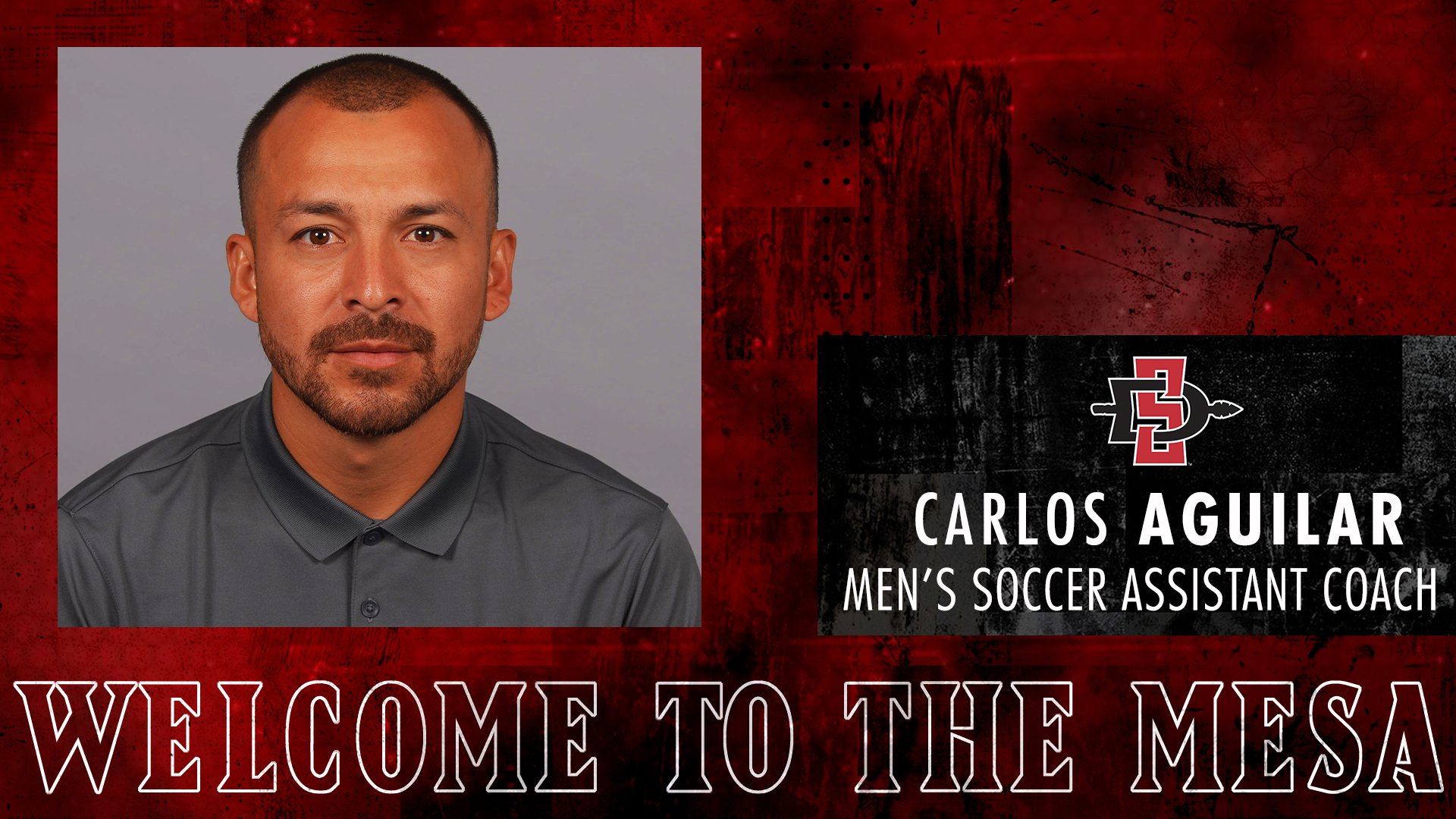 SAN DIEGO – San Diego State University men's soccer head coach Ryan Hopkins has announced the addition of Carlos Aguilar to his staff as an assistant coach. Aguilar comes from Cal State Fullerton where he served as the Titans' assistant coach for the past six seasons.
"I'm looking forward to working with Coach Hopkins and guiding student-athletes to become the best versions of themselves on and off the field, an important value we both share to instill in our team culture," Aguilar explained. "I'm excited to have the opportunity to remain in Southern California and be a part of a Pac-12 program."
Aguilar helped the Titans reach the NCAA Tournament three times (2014, 15 & 17) and win the Big West South Division championship twice. This past season, Cal State Fullerton won their first eight matches and climbed to as high as No. 13 in the United Soccer Coaches Poll.
"I am thrilled to welcome Carlos Aguilar to the San Diego State Men's Soccer program," Coach Hopkins said. "I have known Carlos for over 10 years and have always been impressed by his work ethic, honesty, passion, and ability to develop student-athletes as people first. Throughout the hiring process, many candidates would tell me what they could do for me, while Carlos's focus was how he could develop the student-athletes for life after college. That is the mindset and focus that will resonate as we build our vision for the program."
While at Cal State Fullerton under head coach George Kuntz, Aguilar assisted in APR tracking, scholarship allocation, scheduling and budget management while planning and executing training sessions and scouting opponents.
During his tenure with the Titans, he coached six all-region selections, 35 all-Big West honorees, three Big West Tournament MVPs and saw five Titans secure professional contracts.
"Carlos is a tireless recruiter that knows the California market as well as anybody," Hopkins praised. "I have full faith he will bring the right student-athletes who want to pursue getting a degree at a world class university while challenging themselves at the highest levels of college soccer. Carlos was a magnificent attacking player at UC Irvine and helped build Cal State Fullerton into one of the most dangerous attacking teams in the country over the last six years. I know our players will benefit from his expertise for the attacking high-tempo soccer we want to play. Most importantly, Carlos shares my core values on what college soccer should be all about."
Prior to his time at CS Fullerton, Aguilar worked under Kuntz at UC Irvine from 2011-14 where he helped guide the Anteaters to two NCAA appearances (2011 and 2013) and two Big West regular season and tournament championships.
Before coaching at UC Irvine, Aguilar played professionally in the USSF D-2 with the Rochester Rhinos in 2010, helping them win the regular season championship.
Collegiately, Aguilar played under Kuntz at UC Irvine (2008-09) where he was an All-Big West first team selection in 2009 and the 2009 Big West Conference Tournament MVP. In 2008, he was a part of the Anteater team that became the first in school history to win the Big West regular season and tournament championship and qualify for the NCAA Tournament.
Aguilar came to UCI from Taft College (2006-07) where he was a two-time Central Valley College First Team selection and helped his team win the Junior College state championship in 2007.
Aguilar played prep soccer at Palmdale High School, where he was named to the All-CIF third team and earned All-Golden Valley First Team honors. As a senior, he helped lead his team to the CIF semifinal match.
"I want to thank Ryan Hopkins, Tim Lanski and the rest of the San Diego State administration for this incredible opportunity to join Aztec Nation," Aguilar stated. "I'd also like to thank my family and [CSF head coach] George Kuntz for all the support they have given me throughout my coaching career."
Aguilar is fluent in Spanish and holds a USSF C License and is working towards his B license. He graduated from UC Irvine in 2012 with a degree in criminology, law and society.