Emmett Rutkowski appointed as head coach for Stetson University men's soccer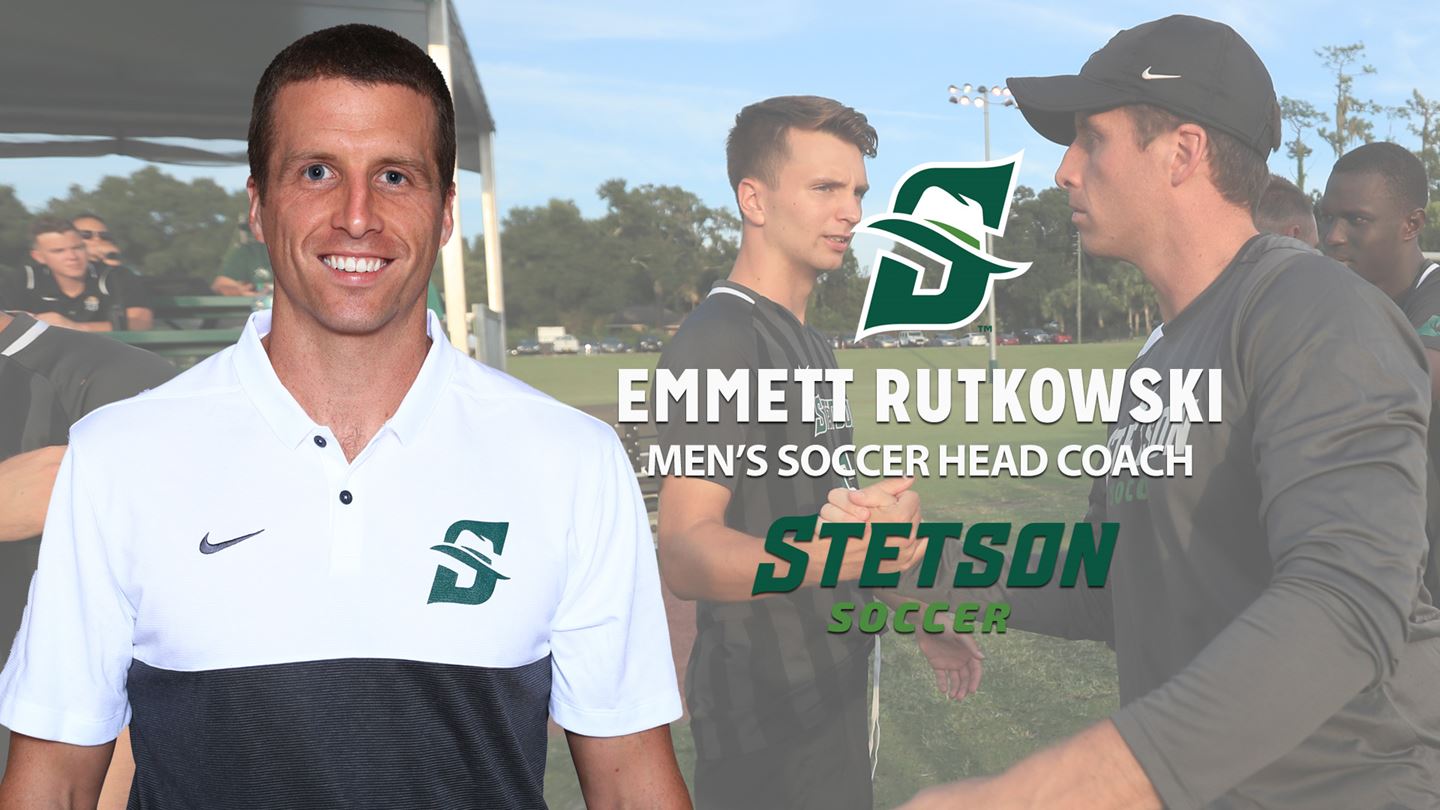 Stetson University Athletics today announced the promotion of Emmett Rutkowski to men's soccer head coach. Rutkowski had served the previous two seasons as an assistant coach for the Hatters.
"We are excited to elevate Emmett to the full-time head coaching role here at Stetson," Stetson Deputy Athletic Director Alicia Queally said. "He has consistently helped lead a team of talented players over the last two years as our assistant coach. Throughout this latest search process, it became clear that Emmett is the right person for the job. He has the support of his peers both inside and outside the department, and the leadership group of the current team. Many other individuals he has worked with, both on campus and at other institutions, came out to speak on his behalf.
"Emmett embodies what we are looking for in a head coach at Stetson: integrity, leadership and an ability to create a successful team environment so that our student-athletes can thrive in the classroom, in the community and on the playing surface."
Over the last two seasons, Rutkowski has been the driving force behind the Hatters' success, helping lead Stetson to 15 wins overall and strong success in the ASUN Tournament. In 2018, the Hatters reached the ASUN finals, and in 2019 they advanced to the semifinals.
"I am very grateful to be the next head coach of the Stetson men's soccer program," Rutkowski said. "I want to thank Jeff Altier and Alicia Queally for giving me the opportunity to lead the program into the future. I am excited to build a consistent winner in the classroom, community, and on the field."
In the last two seasons, the Hatters have garnered seven all-conference awards, and four all-freshman honorees. In 2019, Ian McCauley was selected as the ASUN Defensive Player of the Year and was an all-region pick.
Rutkowski came to Stetson from Mercer where served as the Bears' recruiting coordinator, goalkeeper coach and camp director. In his two seasons at Mercer, the Bears won back-to-back Southern Conference championships and appeared in the NCAA Tournament each year.
Prior to his time at Mercer, he was the associate head coach of the Shreveport (La.) Rafters, an NPSL expansion team. While he was with the Rafters, Rutkowski also spent two seasons as the head coach at Division III Centenary College.
A 2010 graduate of Mary Washington University in Fredericksburg, Va., Rutkowski began his coaching career at Frostburg (Md.) State, before moving on to Dartmouth and his turn at Mercer.
Rutkowski holds several professional coaching licenses, including a USSF National "B" License. Rutkowski received a Master's degree from Frostburg State in 2012.