Oklahoma State, Baylor and Iowa State players receive Big 12 weekly awards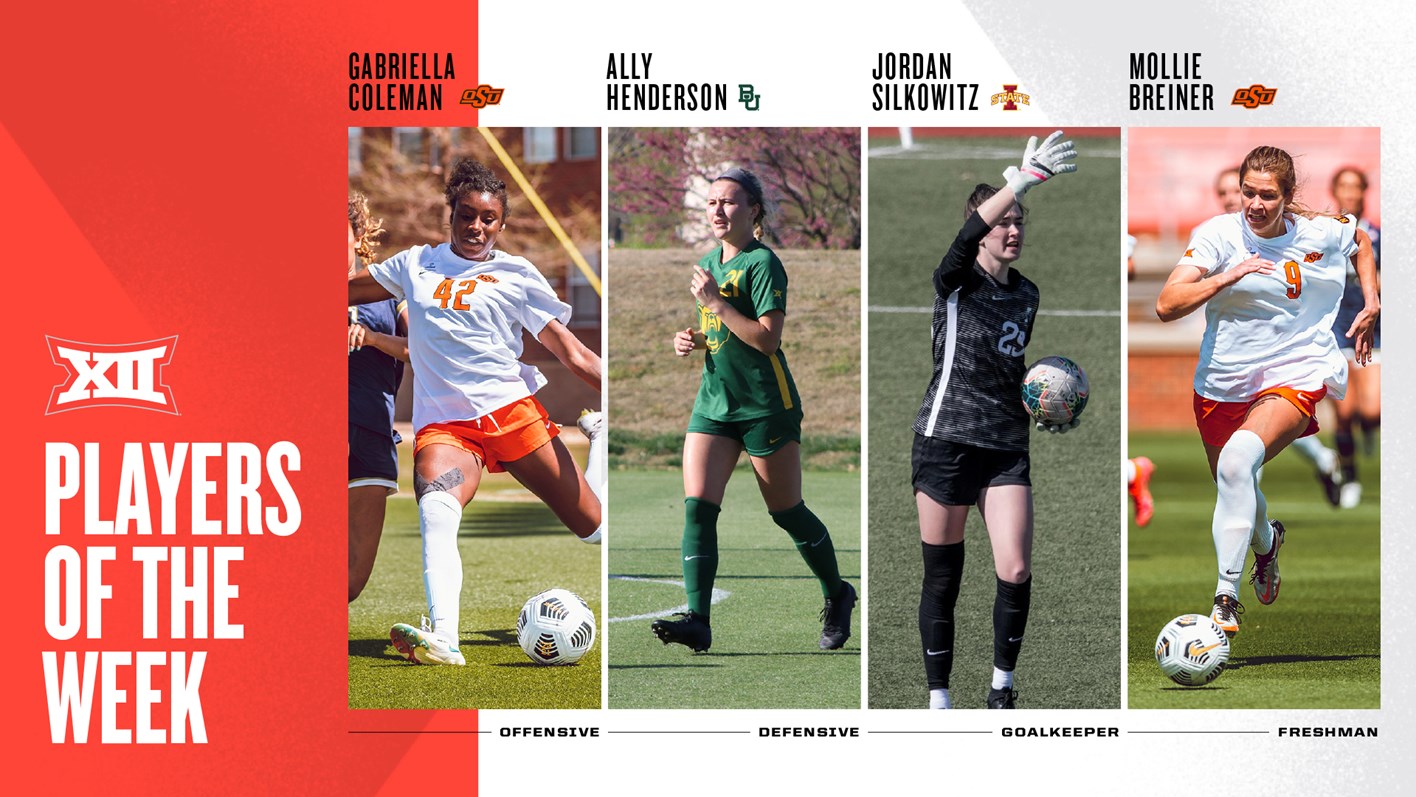 Soccer student-athletes from Baylor and Iowa State, along with a duo from Oklahoma State, were honored with Big 12 weekly awards.
Oklahoma State's Gabriella Coleman took home Big 12 Offensive Player of the Week recognition, while defender Mollie Breiner was tabbed Freshman of the Week. Baylor's Ally Henderson earned Defensive Player of the Week and Iowa State's Jordan Silkowitz was named Goalkeeper of the Week.
Coleman had a part in both OSU goals in the Cowgirls' 2-1 overtime win against Notre Dame. The senior recorded an assist on OSU's first goal and tallied the golden goal in the 98th minute. She played all 98 minutes in the match and recorded a pair of shots.
Henderson netted what would be the game winner in the 86th minute in Baylor's 2-1 victory at Oklahoma. The senior booted a shot from well outside the box that found the back of the net and put the Bears back on top. A defensive midfielder, Henderson spent most of her time holding down the middle of the field, making it difficult for the Sooners to get anything going through the inside. Henderson had a slew of takeaways on the day to go with her third goal of the season.
Silkowitz tallied her third shutout of the season in Iowa State's 1-0 victory over K-State.  The sophomore's clean sheet included four saves, as she helped the Cyclones close the 2020-21 regular season with a victory. She jumped in the air to knock a potential game-tying shot over the crossbar to preserve Iowa State's 1-0 lead. It was Silkowitz's second shutout in the past four matches, and second clean sheet versus a Big 12 foe this season.
Breiner made just her second career start and played 81 minutes in the Cowgirls' overtime win over Notre Dame. The freshman played in place of OSU All-American and All-Big 12 First Team performer Kim Rodriguez, who was on duty with the Mexican National Team. Breiner anchored a backline that held the Irish to a goal and 10 shots.
This is the fourth honor for Silkowitz and second for Henderson this season. Breiner and Coleman are first-time selections.
BIG 12 SOCCER PLAYERS OF THE WEEK – WEEK 16
Offensive Player of the Week
Gabriella Coleman, Forward, Sr., Oklahoma State
Defensive Player of the Week
Ally Henderson, Midfielder, Sr., Baylor
Goalkeeper of the Week
Jordan Silkowitz, So., Iowa State
Freshman of the Week
Mollie Breiner, Defender, Oklahoma State