No. 3 UCLA finishes road sweep of Top 2 teams, beating No. 1 North Carolina 2-1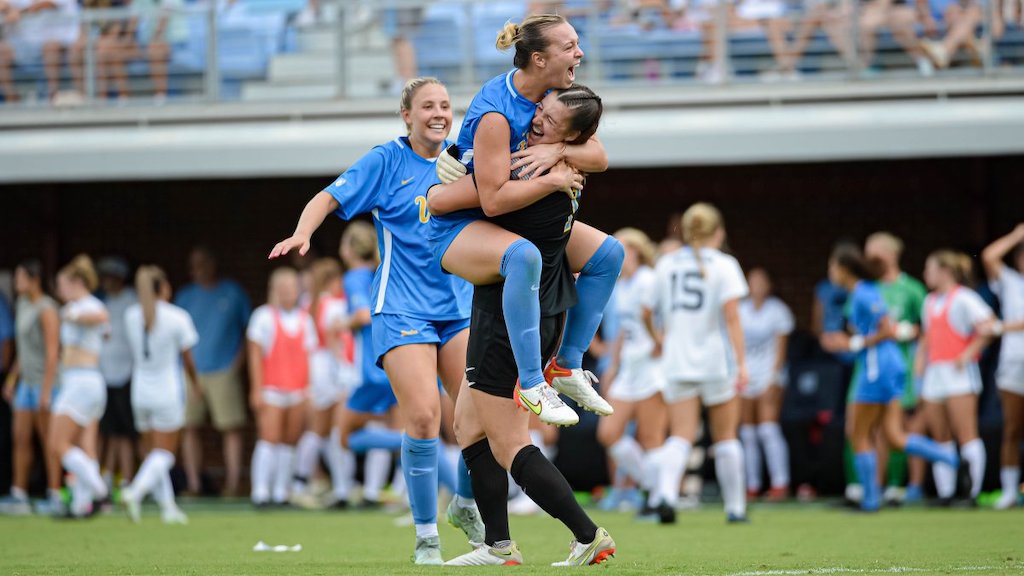 (Photo by Anthony Sorbellini)
Chapel Hill, N.C. – No. 3 UCLA completed a weekend road sweep of the Top 2 teams in the nation, coming from behind to beat No. 1 North Carolina, 2-1, at Dorrance Field.
Trailing 1-0 after a 48th minute Tar Heels goal, the Bruins came roaring back to tie on a Lexi Wright strike in the 61st minute and then won the game on a Reilyn Turner goal in the 84th minute.
The victory comes on the heels of the Bruins' 2-1 win at No. 2 Duke on Sept. 1 and is UCLA's first win over a top-ranked team since beating Florida State, 2-1, on Aug. 29, 2019.
After a scoreless first half, North Carolina (5-1) came out swinging early in the second half, taking advantage of a corner kick in the 48th minute and scoring the first goal on a header by Tori Dellaperuta. The Bruins (5-0) nearly answered immediately, with Wright sending a dangerous cross in front of goal just out of reach of the nearest player. Wright took her own shot in the 57th minute but was blocked.
Wright would not be denied in the 61st minute, however, as she delivered the equalizer with an incredible individual effort. After receiving a pass at midfield, she turned to beat her defender and sent a pass over to Quincy McMahon down the left sideline. McMahon returned the ball to Wright, who drove up the field, cut back twice and then fired a left-footed rocket to the far post for her second goal of the season.
RT if this late game-winning goal by @reilynturner1 to beat No. 1 North Carolina should be on @SportsCenter's #SCTop10! 🔥#GoBruins pic.twitter.com/OhzoTAwx2X

— UCLA Women's Soccer (@UCLAWSoccer) September 4, 2022
North Carolina put the Bruin defense under pressure to try to reclaim the lead. Following a corner kick in the 69th minute, a header by Tori Hansen in front of goal was cleared off the line by Wright. A follow-up shot by Lauren Wrigley was blocked by the Bruin defense. UCLA goalkeeper Lauren Brzykcy prevented another big opportunity in the 76th minute, just getting a piece of an Isabel Cox shot that went off the crossbar and rebounded out to Maddie Dahlien. Brzykcy was there again to make the save on Dahlien's shot. Two minutes later, a long-distance shot by Eily Moxley was struck on target to the left post, but Brzykcy made a big diving save to keep it out of goal, and Sofia Cook blocked Cox's follow-up shot.
Presenting further evidence that @laurenbrzykcy11 is, in fact, a brick wall. 🧱 pic.twitter.com/xB6F5oHwGj

— UCLA Women's Soccer (@UCLAWSoccer) September 4, 2022
With UCLA's defense holding firm, Turner once again provided the winning margin, winning a ball at midfield and taking it all the way down the field. With just one defender to beat, Turner fired a perfectly-placed shot from just outside the box past Tar Heel goalkeeper Marz Josephson for her second game-winner in as many games.
The Tar Heels outshot the Bruins in the game, 16-7, and had a 10-1 advantage in corner kicks. Brzykcy made four saves for UCLA to earn the victory.