Rising USWNT attacking talent featured on NCAA Forwards to Watch List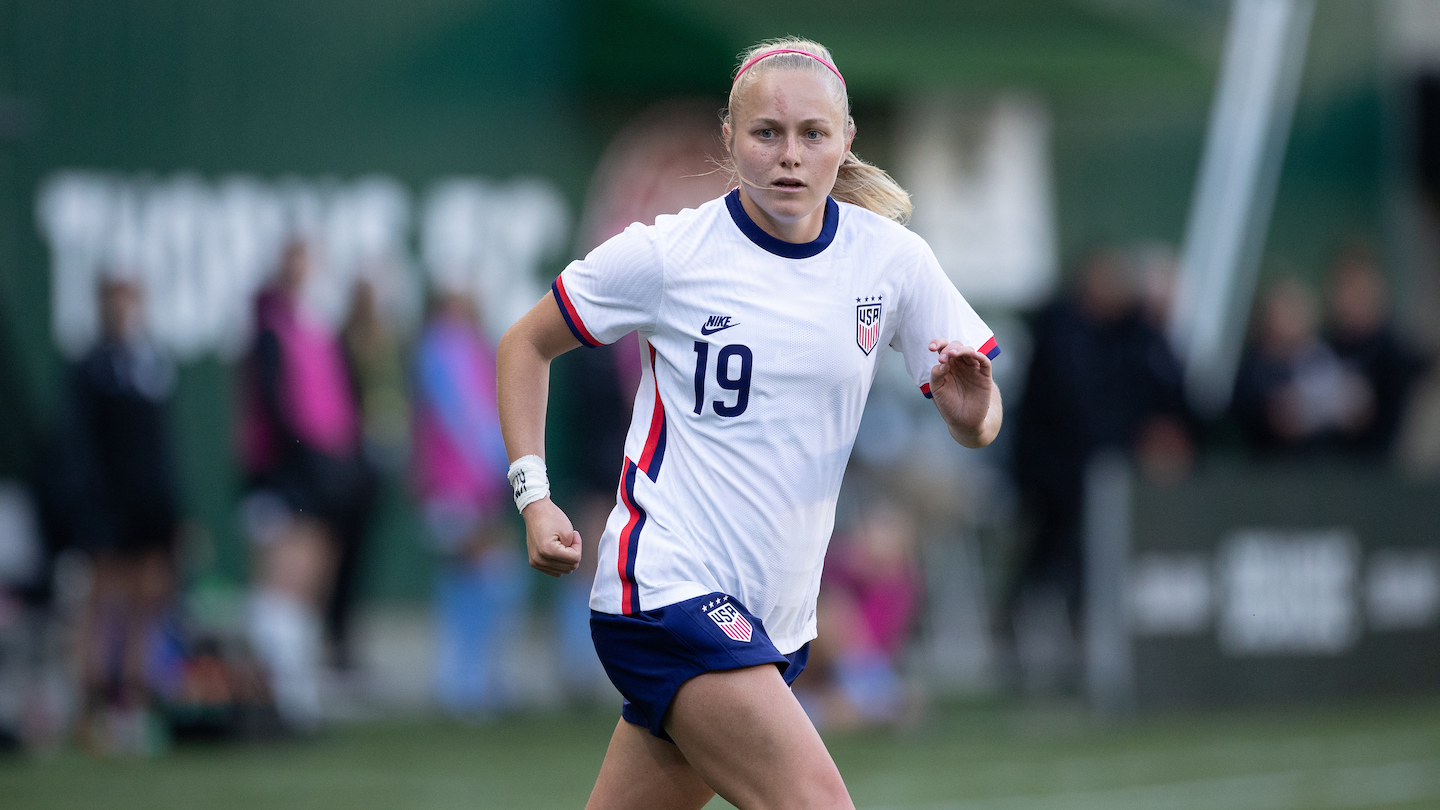 KANSAS CITY, Mo. – United Soccer Coaches has announced the forwards on its NCAA Division I Players to Watch lists for the 2022 intercollegiate season.
The lists are comprised of 41 women and 30 men, led by 8 total returning All-Americans. The returning women's All-Americans include Messiah Bright (TCU), Michelle Cooper (Duke), Nicole Douglas (Arizona State), Penelope Hocking (pictured above) (Penn State), Megan Nemec (Loyola-Chicago), Brittany Raphino (Brown), and Jaida Thomas (Tennessee).
The lists are being released for the first time this season by the Division I All-America Committees to promote college soccer leading up to the official start date for the regular season later this month. The lists include United Soccer Coaches All-Americans and first or second team All-Region players from 2021, who are scheduled to return for the 2022 season.
See below for a look at the 2022 Forwards to Watch on the women's side. To view the men's side, click here.
2022 NCAA Division I Women's Players to Watch – Forwards
| | | | |
| --- | --- | --- | --- |
| Name | Class | School | Hometown |
| Tanya Boychuk | GR5 | University of Memphis | Edmonton, Alb. |
| Messiah Bright | GR5 | Texas Christian University | Dallas, Texas |
| Trinity Byars | So. | University of Texas | Richardson, Texas |
| Angela Caloia | Sr. | Harvard University | Washington, D.C. |
| Rebecca Cooke | Jr. | Quinnipiac University | Dublin, Ireland |
| Michelle Cooper | So. | Duke University | Clarkston, Mich. |
| Izzy D'Aquila | Jr. | Santa Clara University | Mission Viejo |
| Rylee Donaldson | Sr. | Bucknell University | Allentown, Pa. |
| Nicole Douglas | GR5 | Arizona State University | London, England |
| Kayla Fischer | GR5 | Ohio State University | Kent, Ohio |
| Brooklynn Fugel | So. | Georgia State University | Dacula, Ga. |
| Mackenzie George | GR5 | University of Tennessee | Lincoln, Calif. |
| Molly Grant | Jr. | Lipscomb University | Plainfield, Ill. |
| Maya Hansen | Sr. | South Dakota State University | Savage, Minn. |
| Emma Hawkins | Sr. | University of Oklahoma | Forney, Texas |
| Penelope Hocking | GR5 | Penn State University | Anaheim, Calif. |
| Meg Hughes | Jr. | Providence College | Ajax, Ont. |
| Kelsie James | Jr. | Valparaiso University | Carmel, Ind. |
| Jameese Joseph | Jr. | North Carolina State University | Beltsville, Md. |
| Louise Lillback | Jr. | Florida Gulf Coast University | Stockholm, Sweden |
| Sydney Martinez | GR5 | University of South Florida | Rincon, Ga. |
| Taylor Moon | Sr. | Baylor University | Highland Village, Texas |
| Carla Morich | Sr. | Old Dominion University | Hamburg, Ga. |
| Daniella Murguia | GR5 | University of Georgia | Cleburne, Texas |
| Megan Nemec | Sr. | Loyola University Chicago | Tinley Park, Ill. |
| Beata Olsson | Jr. | Florida State University | Enkoping, Sweden |
| Ioanna Papatheodorou | So. | University of Massachusetts-Lowell | Nea Erithraia, Greece |
| Anna Podojil | GR5 | University of Arkansas | Cincinnati, Ohio |
| Brittany Raphino | Sr. | Brown University | Randolph, Mass. |
| Ally Schlegel | Sr. | Penn State University | Parker, Colo. |
| Suzuna Shibukawa | Sr. | Saint Mary's College of California | Hyogo, Japan |
| Lena Silano | Sr. | Long Beach State University | Agoura Hills, Calif. |
| Katie Soderstrom | Sr. | Butler University | Carmel, Ind. |
| Alexa Spaanstra | GR5 | University of Virginia | Brighton, Mich. |
| Jaida Thomas | Jr. | University of Tennessee | Dallas, Texas |
| Riley Tiernan | So. | Rutgers University | Voorhees, N.J. |
| Nicolette Trucco | Sr. | Cal Poly | San Ramon, Calif. |
| Reilyn Turner | Jr. | UCLA | Alisa Viejo, Calif. |
| Tori Waldeck | Jr. | Pepperdine University | Newhall, Calif. |
| Allie Winstanley | Sr. | Dartmouth College | Concord, Mass. |
| Summer Yates | GR5 | Washington | Pasco, Wash. |
*GR5 Indicates student-athletes exercising their extra year of eligibility due to COVID-19