Duke, Notre Dame and Virginia standouts honored as ACC Players of the Week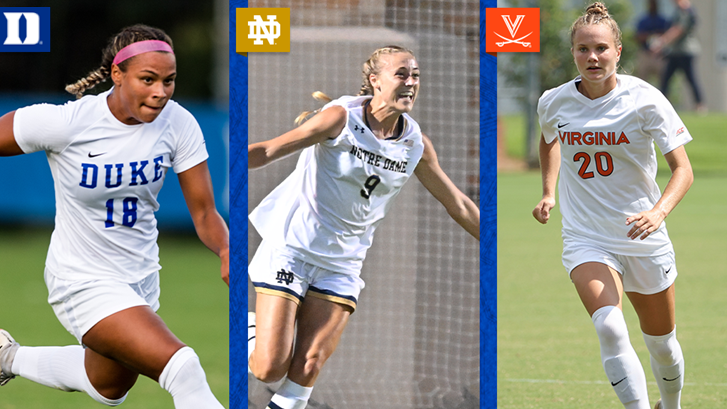 GREENSBORO, N.C. – Duke sophomore forward Michelle Cooper and Notre Dame graduate forward Olivia Wingate were named the Atlantic Coast Conference Women's Soccer Co-Offensive Players of the Week, while Virginia senior defender Talia Staude earned ACC Defensive Player of the Week honors.
Cooper collected three goals and one assist for seven points in contests against No. 3 UCLA and No. 6 TCU. The native of Clarkston, Michigan, helped the Blue Devils to a 3-1 road win against No. 6 TCU on Sunday night with two goals and an assist. At home Thursday versus No. 3 UCLA, she tallied the first goal allowed by the Bruins all season in a 2-1 loss. Cooper has scored goals in four straight contests and leads Duke with 13 points and five goals this season.
Wingate recorded her first career hat trick in a 4-1 win on Thursday over No. 22 Wisconsin. The native of Wilmington, Massachusetts, recorded all three goals in the second half, scoring the Fighting Irish's first, second and fourth goals of the match. It marked the 71st hat trick in program history, as Wingate now boasts a team-best five goals this season.
Staude played the full time in a pair of shutout victories for the Cavaliers. A native of Atlanta, she helped anchor a back line that held James Madison without a shot on Thursday in a 2-0 victory and also played the full 90 minutes in a 5-0 shutout of No. 23 Memphis on Sunday. Staude helped limit the Tigers to only two shots on frame. It was the second shutout of a nationally-ranked team this season for UVA and the Cavaliers' fifth straight shutout. Virginia has gone 468:08 without allowing a goal.
ACC teams have combined to post a 60-7-11 record (.840 win percentage) during the first three weeks of non-conference action. Non-conference play wraps up this weekend. ACC Network features a women's soccer doubleheader on Thursday, with Oregon State visiting Virginia at 6 p.m. and North Carolina traveling to Duke for a non-conference match at 8 p.m. On Sunday, Syracuse plays host to Cornell at 3:30 p.m. on ACCN.
2022 ACC Women's Soccer Offensive Player of the Week
Aug. 23 – Amanda West, Sr., F, Pitt
Aug. 30 – Haley Hopkins, Gr., F, Virginia
Sept. 6 – Michelle Cooper, So., F, Duke; Olivia Wingate, Gr., F, Notre Dame
2022 ACC Women's Soccer Defensive Player of the Week
Aug. 23 – Tori Hansen, Sr., D, North Carolina
Aug. 30 – Leah Klenke, Fr., M/D, Notre Dame
Sept. 6 – Talia Staude, Sr., D, Virginia