New No. 1 club takes over in SoccerWire Top 100 Girls Club Rankings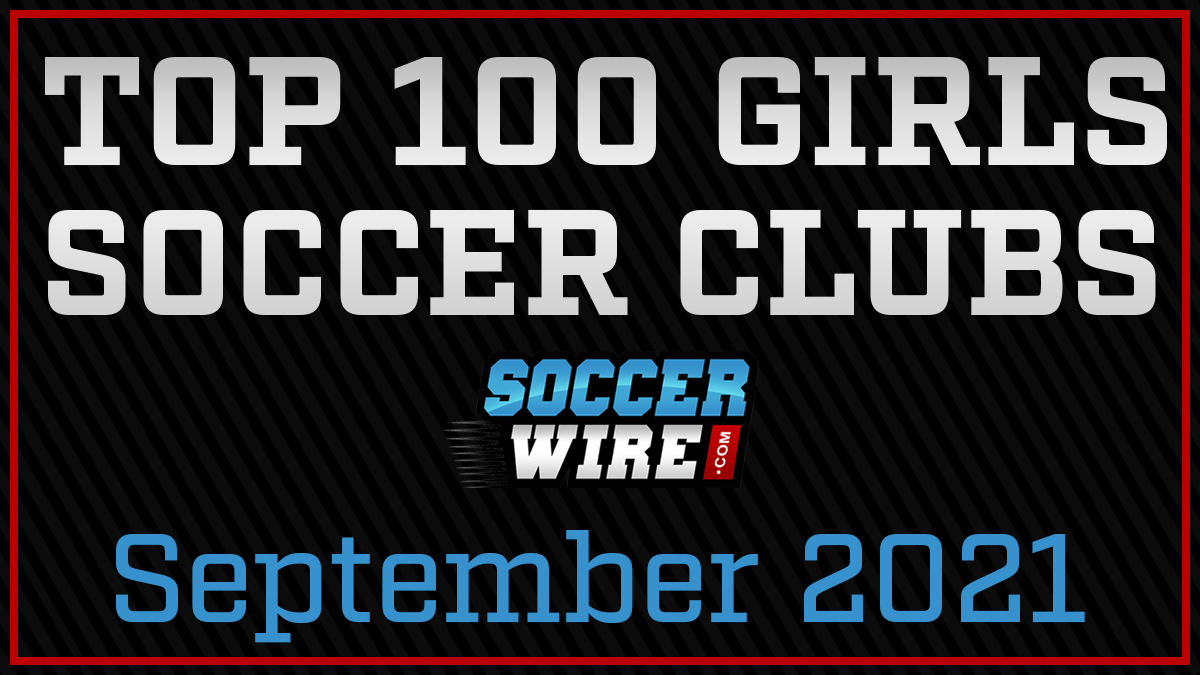 Sterling, Va. – SoccerWire has revealed the Top 100 Girls Club Rankings for September 2021, as youth soccer teams across the country embark on a new season.
This month's rankings feature an emphasis on the final results from both the ECNL and Girls Academy championships. The nation's top two girls leagues each concluded their 2020-21 campaigns over the summer, providing a key snapshot on where things stand in the competitive landscape.
Other factors such as U.S. Youth National Team roster pool membership and individual team rankings provided by YouthSoccerRankings.US also continue to play a significant factor in SoccerWire's ranking process. Throughout the 2021-22 season, new data will continually be introduced as it comes in on a monthly basis.
Taking over the No. 1 spot this month is LAFC Slammers, while longtime top club Solar SC is now featured in the No. 2 position. LAFC Slammers and Solar SC saw their battle for the ECNL Overall Club Championship come down to the wire this summer, and the Southern California powerhouse came out just ahead of the Texas giant.
Rounding out the top five are another ECNL club, So Cal Blues at No. 3, followed by a pair of Girls Academy members in Cincinnati United Premier (CUP) and Tophat. CUP makes its first appearance in the top five after a remarkable performance in the inaugural GA Postseason, coming away with national titles in both the U14 and U16 age groups, while finishing as semifinalists at the key U17 level.
See below for the full set of September 2021 rankings.
| | | |
| --- | --- | --- |
| 1 | | LAFC Slammers |
| 2 | | Solar SC |
| 3 | | So Cal Blues |
| 4 | | Cincinnati United Premier |
| 5 | | Tophat |
| 6 | | MVLA |
| 7 | | San Diego Surf |
| 8 | | Nationals |
| 9 | | FC Dallas |
| 10 | | Eclipse Select SC |
| 11 | | Crossfire Premier |
| 12 | | Real Colorado |
| 13 | | PDA |
| 14 | | Michigan Hawks |
| 15 | | The St. James FC Virginia |
| 16 | | SLSG (MO) |
| 17 | | NEFC |
| 18 | | Concorde Fire |
| 19 | | Charlotte Soccer Academy |
| 20 | | IMG Academy |
| 21 | | FC Stars |
| 22 | | Oklahoma Energy FC |
| 23 | | FC Bay Area |
| 24 | | Internationals SC |
| 25 | | Lonestar SC |
| 26 | | SUSA |
| 27 | | NC Courage Academy |
| 28 | | Legends FC |
| 29 | | Colorado Rapids |
| 30 | | Beach Futbol Club |
| 31 | | GSA |
| 32 | | Sporting Blue Valley |
| 33 | | Challenge SC |
| 34 | | D'Feeters Kicks SC |
| 35 | | KC Athletics |
| 36 | | Colorado Rush |
| 37 | | Richmond United |
| 38 | | San Juan SC |
| 39 | | Tennessee SC |
| 40 | | McLean Youth Soccer |
| 41 | | Weston FC |
| 42 | | South Shore Select |
| 43 | | City SC |
| 44 | | SC del Sol |
| 45 | | World Class FC |
| 46 | | ALBION SC San Diego |
| 47 | | Minnesota Thunder Academy |
| 48 | | West Coast FC |
| 49 | | Real So Cal |
| 50 | | Dallas Sting |
| 51 | | Utah Royals FC – Arizona |
| 52 | | Match Fit Academy |
| 53 | | Houston Dash Academy |
| 54 | | OL Reign Academy |
| 55 | | Tampa Bay United Rowdies |
| 56 | | FC Prime |
| 57 | | Crossfire United |
| 58 | | Lamorinda SC |
| 59 | | Davis Legacy |
| 60 | | Michigan Jaguars FC |
| 61 | | STA |
| 62 | | Arlington Soccer |
| 63 | | Portland Thorns Academy |
| 64 | | WNY Flash Academy |
| 65 | | Mustang SC |
| 66 | | Ohio Premier |
| 67 | | Oakwood SC |
| 68 | | Bethesda SC |
| 69 | | CESA |
| 70 | | Heat FC |
| 71 | | Utah Avalanche |
| 72 | | SC Wave |
| 73 | | Sockers FC Chicago |
| 74 | | Connecticut FC |
| 75 | | PA Classics |
| 76 | | FC United |
| 77 | | Florida Elite SA |
| 78 | | East Meadow SC |
| 79 | | Washington Premier FC |
| 80 | | Cedar Stars Academy – Monmouth |
| 81 | | Indiana Fire Juniors |
| 82 | | Indy Premier United |
| 83 | | Midwest United FC |
| 84 | | Slammers FC |
| 85 | | FC Alliance |
| 86 | | New York SC |
| 87 | | FC Pride |
| 88 | | Albion Hurricanes |
| 89 | | Tulsa SC |
| 90 | | Phoenix Rising FC |
| 91 | | LA Surf |
| 92 | | Classics Elite SA |
| 93 | | SLSG – IL |
| 94 | | Virginia Development Academy |
| 95 | | Cleveland Force |
| 96 | | Ohio Elite |
| 97 | | Pittsburgh Riverhounds DA |
| 98 | | Maryland United FC |
| 99 | | Penn Fusion SA |
| 100 | | Dallas Texans |