New Jersey native Frankie Tagliaferri joins Rutgers as graduate transfer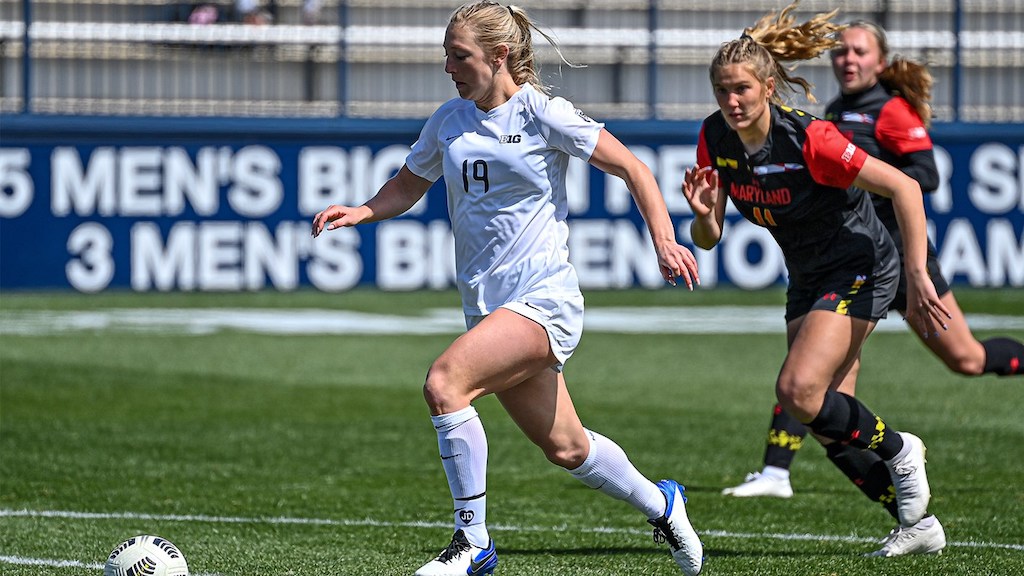 PISCATAWAY, N.J. – Rutgers women's soccer announces the addition of graduate transfer Frankie Tagliaferri to join the Scarlet Knights in 2021-22.
Tagliaferri, a native of Colts Neck, New Jersey, returns home for her extra year of eligibility following a standout four-year career at Penn State.
Tagliaferri arrives "To the Banks" as an All-American, two-time All-Region, four-time All-Big Ten, and three-time Academic All-Big Ten honoree. Across her first four collegiate years, the midfielder started 64 of 90 games, totaling 79 points, 27 goals, 25 assists and seven gamewinners.
"We are excited for the addition of grad transfer Frankie Tagliaferri to this year's class. She will help make an already very talented incoming class even better. To be able to add a quality player and quality person like Frankie is a testament to our culture that has been built by past and present players both on and off the field.  Frankie's success and experience at the highest level will have an impact on the program.  We are excited to welcome her back home to New Jersey," said Head Coach Mike O'Neill.
"This past year has been tough on everyone, but the one thing it has blessed us with was time at home with our families. Which is why after a lot of thought I've decided that I want to come home for my 5th year. Home to my family, friends, and past teammates. To have the opportunity to play for my state University,  a place that has great academics, and a nationally ranked soccer program," said Tagliaferri.
This spring, Tagliaferri led the Big Ten in points (29) and was second in goals (10) and assists (9). Her 29 points were tied for ninth in the NCAA. The New Jersey native is the NCAA active leader in games played (90), eighth in assists (25) and 16th in points (79).
Across her four years, Tagliaferri became a two-time Big Ten Tournament Champion and a two-time conference regular season champion. The midfielder has appeared in four straight NCAA Tournaments, including two quarterfinal runs.
Tagliaferri is also a member of the U.S. Women's National team pool, most recently joining he U-19 squad for camp in May 2018. She has been rostered on the USWNT at the U-14, U-15, U-17, U-19 and U-20 levels.
The Academic All-Big Ten honoree graduated with a degree in kinesiology this May.
FRANKIE TAGLIAFERRI FILE
HONORS/AWARDS
2020-21 All-American Second Team
2020-21 All-Region First Team
2020-21 All-Big Ten First Team
2020-21 Big Ten All-Tournament Team
2020-21 Academic All-Big Ten
2019 All-Big Ten Second Team
2019 Big Ten All-Tournament Team
2019-20 Academic All-Big Ten
2018 All-Region First Team
2018 All-Big Ten First Team
2018-19 Academic All-Big Ten
2017 Big Ten All-Freshman Team
RECORDS
Tied Big Ten and Penn State record with four assists in a single game twice (Sept. 22, 2019 and April 3, 2021).