Minnesota's Stefanie Golan hired as second head coach in Mizzou soccer history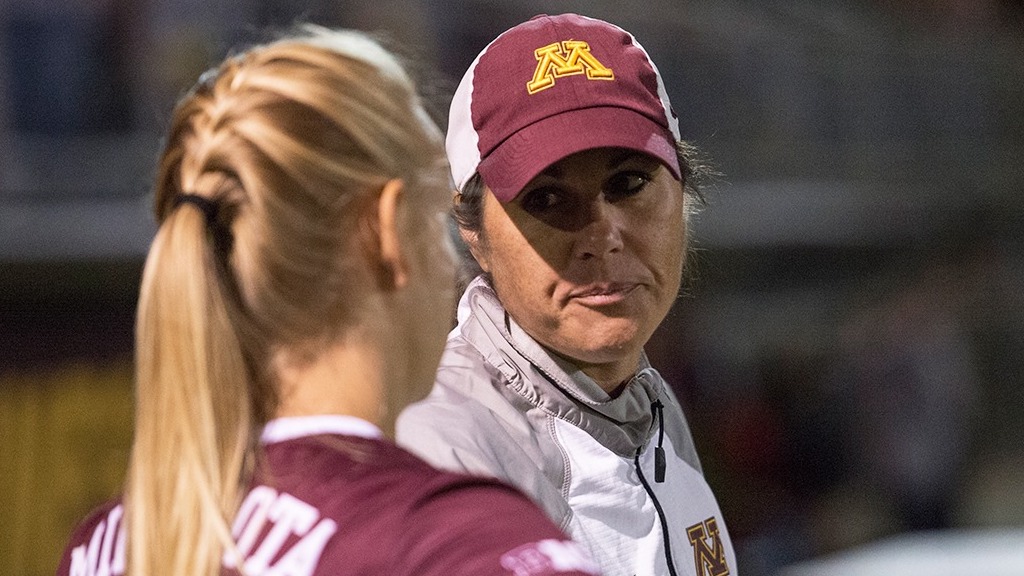 Columbia, Mo. – Stefanie Golan, a St. Charles, Mo., native who has spent the last nine seasons building a championship program at the University of Minnesota, has been selected as the second head coach in Mizzou women's soccer history following a nationwide search, MU Director of Athletics Jim Sterk announced Thursday.
"We are thrilled to introduce Stefanie Golan as the second head coach of the Mizzou Women's Soccer program," Sterk said of Golan, who agreed to a five-year contract. "Stefanie is a passionate leader of young women who has demonstrated academic and athletic excellence throughout her playing and coaching career, and those experiences will help her elevate Mizzou to great success on and off the pitch in future seasons. We are excited to welcome Stefanie, and her children, Travis and Max, to our Mizzou family and Columbia."
In nine seasons as head coach at Minnesota, Golan fashioned a 92-64-24 (.578) record with four NCAA Tournament appearances, one Big Ten regular-season title, a pair of Big Ten Tournament championships and eight winning seasons. Prior to taking the Gophers' job just two weeks prior to preseason camp ahead of the 2012 season, Golan spent nearly six years at Army West Point, the last three as the program's head coach. Her Black Knight teams went 33-18-10 (.623) under her leadership, highlighted by their second-ever NCAA Tournament appearance in 2011, to give Golan a 12-year head coaching record of 125-82-34 (.589).
"I am incredibly excited about the opportunity at Mizzou and the environment that my boys and I get to be a part of in CoMo," said Golan, who ranks as the second-winningest coach in the history of the Minnesota women's program. "It was evident from the moment I set foot on campus that Mizzou is a special place with incredible people. I have known Bryan Blitz ever since I was playing club soccer as a young girl in St. Louis, and I have always respected him as a person and as a coach, and I am excited to continue to build upon the foundation he has in place.
"I am grateful to President Choi, Jim Sterk, Tim Hickman and the entire search committee for this opportunity to continue to build a competitive program within the SEC that competes at a high level both on and off the field, and that develops women of high character who are ready to take on their next phase of life as confident women," she added. "I am looking forward to getting to know each woman on the team individually as well as the team collectively so we can drive forward together and maximize our potential this fall."
Minnesota bounced back from the only non-winning season (2019) in Golan's Gopher coaching career to post a 5-4-3 record playing against all Big Ten slate in 2020-21 due to the COVID-19 pandemic.
The 2018 Gophers put together an incredible run to the 2018 Big Ten Tournament championship by not allowing a single goal after entering the event as the seventh-seeded team. That momentum carried over into the NCAA Tournament, as Minnesota upset Auburn, 2-0, in a first-round match before falling to UCLA in the second round. The 2017 campaign saw Golan earn her 100th career victory, as the Gophers went 11-5-3 overall and finish second in the Big Ten for the second-straight season (7-3-1).
Golan was named the 2016 Big Ten Coach of the Year after leading Minnesota to a 16-3-4 record, and the program's first-ever sweep of the Big Ten regular-season and tournament titles. Minnesota made back-to-back NCAA Tournament appearances for the first time since a five-year run in the mid-1990s, and was rewarded with a No. 4 seed. The Gophers finished the 2016 campaign ranked in the Top 15 nationally after earning the highest national ranking in program history at No. 8 along the way. That squad also boasted the Big Ten Forward of the Year in Simone Kolander and the Big Ten Defender of the Year in Rashida Beal, who earned All-America honors and was drafted by FC Kansas City.
In 2015, Golan guided Minnesota to the second round of the NCAA Tournament for the first time since 2010 and a 12-7-3 record. The program was ranked as high as No. 11 during the season and Kolander earned the first of two Big Ten Forward of the Year honors. The Gophers posted a winning record, both overall and in the conference, as they reached the 2014 Big Ten Tournament semifinals.
The Golden Gophers earned an at-large bid into the 2013 NCAA Tournament, only the program's third trip since 1999, and picked up two signature wins in their 11-8-2 season with upsets over then-No. 13 Michigan and No. 7 Penn State. The team once again earned the NSCAA Team Academic Award with 10 student-athletes named Academic All-Big Ten. In addition, freshman Tarah Hobbs earned a pair of invites to the U20 Women's National Team Training Camps after a season where she was honored with NSCAA second-team All-Great Lakes, 2013 Big Ten Goalkeeper of the Year, All-Big Ten first team and Big Ten All-Freshman Team honors.
Golan arrived in Minneapolis two weeks before preseason started in 2012 and led the Golden Gophers to a fourth-place finish in the Big Ten and an 11-7-2 overall record. The 2012 team was awarded the NSCAA Team Academic Award and 12 student-athletes were named Academic All-Big Ten. Sophomore Taylor Uhl was named to the first-team All-Great Lakes, first-team All-Big Ten and third-team All-America teams during Golan's first season.
Before moving to the Twin Cities to guide the Minnesota program, Golan spent nearly six years at Army West Point, the last three as head coach. She first served as the program's Associate Head Coach for the 2007 and 2008 campaigns under 24-year head coach Gene Ventriglia, and together they helped the Black Knights to a Patriot League championship and the program's first-ever NCAA Tournament appearance in 2008.
After debuting as the Black Knights' head coach in 2009, Golan's 2010 squad registered the program's highest win total since 1996 with its 14-4-3 record and allowed just six goals on the season en route to a share of the Patriot League's regular-season championship. In her final season at West Point, the Black Knights went 12-4-5, and won the 2011 Patriot League Tournament title with a thrilling 2-0 win over arch-rival Navy to earn the second-ever NCAA Tournament appearance in program history.
Prior to joining the Army West Point staff, Golan served as an assistant coach at the University of Pittsburgh and the University of Evansville after launching her career as a graduate assistant at Mercer University. An active member of the NSCAA and former Chair of the NSCAA Great Lakes Region for the organization's All-America Committee, she earned a soccer scholarship to Duke University, where she earned a Bachelor of Arts degree in Political Science in 2001. Golan earned her Master's in Sports Leadership from Northeastern University in 2012.
She has two sons, Travis and Max, and a pair of dogs, Sarge and Captain.
Golan replaces Bryan Blitz, who stepped down at the end of Tigers' 2020-21 season after starting the Mizzou program from scratch and serving 25 seasons as its head coach.
STEFANIE GOLAN'S CAREER HEAD COACHING RECORD

 Year
Overall
Pct.
Conf. Record
Conf. Pct.
Conf. Finish
NCAA Tournament
 Army
 2009
7-10-2
.421
2-4-1
.351
6th
–
 2010
14-4-3
.738
4-0-3
.786
1st#
–
 2011
12-4-5
.643
3-1-3
.643
4th!
First Round
 Army Total
33-18-10
.623
9-5-7
.595
 Minnesota
 2012
11-7-2
.600
6-4-1
.591
T-4th
–
 2013
11-8-2
.571
4-5-2
.455
T-8th
First Round
 2014
11-9-1
.548
7-5-1
.577
T-5th
–
 2015
12-7-3
.614
6-4-1
.591
6th
Second Round
 2016
16-3-4
.783
7-1-3
.773
T-1st^*
First Round
 2017
11-5-3
.658
7-3-1
.682
T-2nd
–
 2018
12-9-2
.565
5-5-1
.500
T-6th*
Second Round
 2019
3-12-4
.263
2-7-2
.273
13th
–
 2020
5-4-3
.542
5-3-3
.591
T-7th
 Minnesota Total
92-64-24
.578
49-37-15
.559
 Career Total
125-82-34
.589
58-42-22
.566
# denotes Patriot League regular-season title
! denotes Patriot League Tournament title
^ denotes Big Ten regular-season title
* denotes Big Ten Tournament title