New England Revolution Academy unveils 85-player roster for MLS NEXT season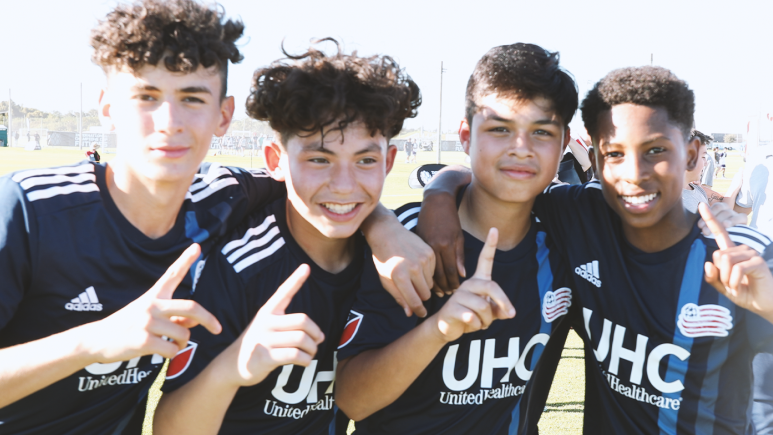 FOXBOROUGH, Mass. – The New England Revolution Academy will field a roster of 85 players in the inaugural MLS NEXT season beginning this September. With players representing all six New England states, the Revolution will field four teams in the Under-14, Under-15, Under-17, and Under-19 age groups.
The 2020-21 season will see the continuation of the Revolution Academy's Residency Program now in its second year. The club will continue to house players at a full-time residence located near the Revolution Training Center in Foxborough, Mass. The players, who all continue their high school educations through online schooling, live under the supervision of Academy Director of Coaching and Under-17 Head Coach Patrick Ouckama and Academy Residency Coordinator Emily Hess. By eliminating key barriers such as transportation, the Residency Program allows players from throughout New England and beyond to benefit from the club's fully-funded, elite development program.
"We're eager to begin a new chapter and a new season for the Revolution Academy," Revolution Director of Youth Development and Under-19 Head Coach Bryan Scales said. "We're very excited to return to the field for the upcoming season in a new league with the addition of several new players to our roster, and we are happy to welcome Shalrie to our coaching staff."
This season, the Academy will return 50 players, while welcoming in 35 newcomers across all four age groups. On the coaching staff, the club welcomes back MLS great and Revolution All-Time Team selection Shalrie Joseph. New England's all-time leader in MLS appearances, starts, and minutes played, Joseph returns to the club as head coach of the Under-15 team following his stint at the helm of the Grenada National Team. As a player with New England, the four-time MLS Best XI selection totaled 37 goals in 261 appearances from 2003-12 and 2014.
The Revolution Academy is coming off a shortened 2019-20 season that saw two players receive international call ups to U.S. Soccer Youth National Team camps and squads, as well as multiple first-team training opportunities and professional debuts with Revolution II. In November 2019, Damian Rivera (Cranston, R.I.) became the seventh Revs Academy product to sign with the first team, while fellow graduates Meny Silva (Roxbury, Mass.) and Dennis Ramirez (Waltham, Mass.) signed USL contracts with Revolution II.
Two other graduates, Trevor Burns (Southborough, Mass.) – who earned this year's UnitedHealthcare Academy Player of the Year honors – and Kaoru Fujiwara (Lexington, Mass.) became the first two current Revolution Academy players to feature in a professional match for the club's USL League One side, making their first appearances for Revolution II on July 25.
Six other Academy players have made their professional debuts with Revolution II this year, including Colby Quinones (Bedford, N.H.), Morris Matthews (Westwood, Mass.), Hikaru Fujiwara (Lexington, Mass.), Michael Tsicoulias (Newton, Mass.), Nathan Metsack (Ashford, Conn.) and Diego Souza (Hyannis, Mass.).
Entering its 13th season, the Revolution Academy is the only fully-funded, professional youth development program in New England, and competes in the newly-established MLS NEXT elite youth development platform as well as the MLS Generation Adidas Cup. Qualified and talented players are accepted into the program without regard to their financial situation. All players' needs and expenses related to soccer activities – training, facilities, equipment, uniforms, travel associated with competitions – are provided by the Revolution at no cost to the players or their families.
The complete Revolution Academy roster, including coaching staffs for each age group, is below.
No.
Name
Position
Hometown
Former Club
Year
  8
Joseph Buck
Midfielder
Arlington, MA
Bolts
2002
  30
Aiden Farwell
Midfielder
Randolph, MA
GPS
2002
  4
Lucas Fernandez
Defender
Brockton, MA
Hammer Academy
2002
  3
Greg MacLean
Defender
Walpole, MA
Bolts
2002
  19
Ronilson Mendes
Forward
Brockton, MA
Hammer Academy
2002
  17
Diego Souza
Defender
Hyannis, MA
Valeo FC
2002
  75
Michael Tsicoulias
Forward
Newton Centre, MA
Valeo FC
2002
  53
Ethan Williams
Defender
Fall River, MA
Durfee HS
2002
  77
Nickolas Cardona
Goalkeeper
Boston, MA
Bolts
2003
  84
Cole Dewhurst
Defender
Lancaster, MA
FC Stars
2003
  86
Hikaru Fujiwara
Midfielder
Lexington, MA
GPS
2003
  27
Jorge Garcia
Midfielder
Somerville, MA
GPS
2003
  9
Estevao Gouveia
Forward
Nashua, NH
Seacoast United
2003
  44
Colby Quinones
Defender
Bedford, NH
Seacoast United
2003
  39
Cole Richardson
Defender
North Easton, MA
Bolts
2003
  1
Alvaro Rodriguez
Goalkeeper
Cambridge, MA
Spain
2003
  93
Zachary Sardi-Santos
Defender
Newtown, MA
Valeo FC
2003
  95
Felipe Vieira
Forward
Malden, MA
Valeo FC
2003
  78
Samuel White
Midfielder
Sterling, MA
Bolts
2003
  69
Triton Beauvois
Forward
Malden, MA
Bolts
2003
  89
Morris Matthews
Defender
Cambridge, MA
Valeo FC
2003
  33
Brandonn Bueno
Forward
Framingham, MA
GPS
2004
  13
Patrick Garcia
Forward
Lynn, MA
Bolts
2004
  29
Matteo Gomes
Midfielder
Dracut, MA
NEFC
2004
  47
Jack Panayotou
Midfielder
Cambridge, MA
GPS
2004
  43
Henri Richter
Defender
Newton, MA
Bolts
2004
  46
Chance Therrien
Midfielder
Charlotte, VT
Portland Timbers
2004
  50
Matthew Tibbetts
Goalkeeper
Westborough, MA
NEFC
2004
  31
Dylan Walsh
Defender
Arlington, MA
NEFC
2004
  45
Jason Zacarias
Forward
Billerica, MA
Bolts
2004
  26
Alessandro Bacabac
Midfielder
Somers, CT
Connecticut FC
2005
  47
Matt Bergquist
Midfielder
Shrewsbury, MA
Bolts
2005
  20
Noel Buck
Midfielder
Arlington, MA
NEFC
2005
  58
Jack Burkhardt
Defender
Sutton, MA
NEFC
2005
  34
Brady Elmblad
Goalkeeper
Sharon, MA
Bayside FC
2005
  59
Malcolm Fry
Forward
Groton, MA
Castelnau-Le Cres FC
2005
  48
Ed Fundunyan
Forward