Minnesota United FC reveals structure for new Youth Development Program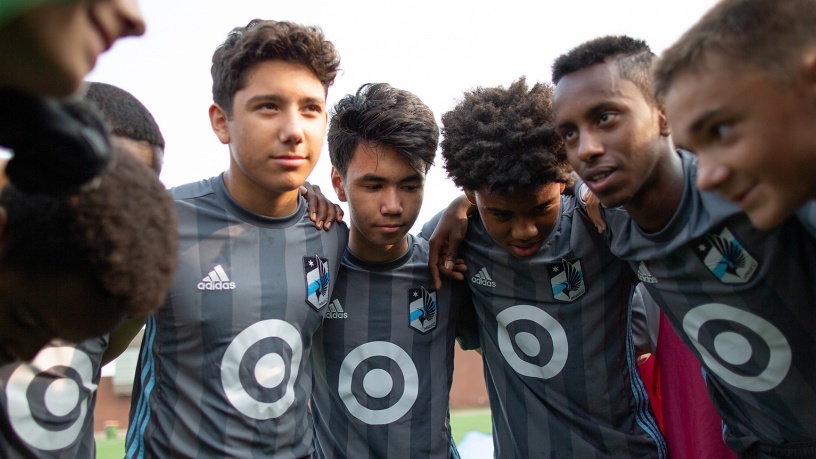 After notably cutting ties with a majority its Academy staff back in June, MLS club Minnesota United FC has unveiled plans for the next iteration of its youth programming.
MNUFC's new Youth Development Program, detailed below, will involve significant collaboration with local clubs to identify and develop the area's top players.
Minnesota United Press Release
GOLDEN VALLEY, Minn. – Minnesota United today announced the Youth Development Program — the club's plan for youth soccer development and the pathway towards building the First Team from the ground up in Minnesota, dedicated and targeted to the soccer culture and environment of the state of Minnesota.
Minnesota United's mission — to inspire and unite our community, through soccer — demands deep involvement and engagement with soccer at all levels, beyond the first team professional level. In building an extensive relationship with the local community, the club has continued to foster a connection with the game beginning at the youth level with youth soccer clubs, academies and player pools across the state. Prior to this announcement, the former iteration of the MNUFC Development Academy led to the club's first Homegrown signing in Fred Emmings as well as developmental successes for players across all age levels.
When U.S. Soccer made the decision to shut down the Development Academy system, it gave MNUFC an opportunity to reconsider how our involvement with youth soccer was structured as MLS stepped in to define its vision for youth soccer at an elite level.
In developing a new structure, the club considered a variety of areas to improve the connection to youth clubs and the pathway to First Team success. The nature of the Development Academy's structure limited the club's ability to capture all of the available talent in Minnesota while not being able to fully support youth clubs across the state. The new MLS structure provided greater flexibility to rethink the approach for our market and ensure we connect with all youth soccer communities.
The DA system comprised a set of national standards that were not responsive to what is needed in Minnesota specifically. In the new structure, the club can better focus on developing players for Minnesota United as well as the U.S. youth and national teams.
In partnering with local clubs to collaborate on development, MNUFC will ultimately provide a better chance at turning more Minnesota youth soccer players into professional soccer players. The club needed the freedom to create a structure that would reflect and respond to Minnesota's unique elements as a market, namely climate — a great deal of training must be done indoors due to the long winters — and geographical isolation — with the nearest MLS markets six or seven hours away, players were spending more time traveling than playing.
Framework for a new vision
In order to realize this vision, MNUFC created a plan that both connects with Major League Soccer's vision of youth soccer through the Pro Player Pathway and with local clubs in a way that can benefit the entire soccer culture in Minnesota. This new program will:
Develop professional players at the elite MLS level (U15 and up) who can compete and are committed to MNUFC.
Invest in youth soccer training and programming at local clubs (ages 8–14) to improve early development and talent recognition.
Facilitate participation in credible youth soccer programs for local youth regardless of their social or economic situation.
Engage the community at multiple levels to create an indelible bond between the community and the club.
"This program is about raising the level of elite development throughout the entire state. It is about collaborating with the community on a grassroots level to collectively enhance each and every Minnesota youth soccer player's experience," said MNUFC Chief Soccer Officer Manny Lagos. "Additionally, it is about elevating our existing elite development programs that now align both with MLS's new vision and do what's best for Minnesota youth soccer. It is about connecting the pathway from our Elite programs at 15 and above into a reserve team and ultimately to our first team. We want every young youth soccer player in the state to dream of playing in Allianz Field and we want to give them the ability to not only dream but follow a path for them to achieve their dream."
In this model, players across the region will be selected to play for Minnesota United and encouraged to play in their local clubs. Those players in local club soccer will play in parallel with both MNUFC and their local club or organization. The integrated pathway includes professional staff involvement and mentoring across the youth soccer level. Minnesota United will add a Reserve team in the coming seasons, and this will bridge the gap between youth soccer and the First Team.
MLS's vision for the Pro Player Pathway begins formally at the U15 level, then moves to a U17 level, then a U23/reserve team level and, finally, to the first team for each MLS club. The U15 and U17 teams will compete in the MLS Development League, which means league games, playoffs, Generation adidas Cup games and international games. The U15 level is for recognizing potential from local clubs, the U17 level is for developing that potential, and the U23 level will constitute a reserve/second team level for MNUFC that will compete in the MLS reserve team league. Minnesota United is also investing in U10 to U14 programs that will assist in player development in collaboration with local clubs.
Rather than the top-down model of the previous Development Academy — where decisions were often being made at a national level — this model allows for bottom-up and grassroots development that responds to the unique demands of our market. Our aim is to cultivate the soccer culture here through collaboration and communication.
This gives MNUFC greater flexibility and scope to access the very best players in Minnesota soccer. This project is unique and new to Minnesota but the concept has been developed and managed in many parts of the world. Minnesota United is dedicated in time, effort and financial support to create the best path forward for Minnesota soccer.
The new Youth Development Program will be run by newly appointed Minnesota United Director of Youth Development, Noel Quinn. Quinn has extensive experience and expertise in youth development. Currently finalizing his UEFA A License from the Irish Football Association, Quinn has been heavily involved in Minnesota youth soccer for over 15 years, including as a director at Edina Soccer Club, EPSC and Blaine SC. Quinn coached high school soccer for thirteen seasons, winning the 2016 State Championship for St. Thomas Academy, competing in the state tournament seven times and coaching in the state championship game four years in a row from 2014 to 2017.
"It is a great privilege to work in youth soccer and especially at the professional level developing players and people," said Quinn. "I believe this program gives MNUFC the opportunity to create an illustrated and achievable pathway to professional soccer for the talented and motivated players we have in Minnesota. Raising the level of soccer in Minnesota overall is a lofty ambition, but is possible if we take a collaborative approach in which everyone plays a role in the development of MNUFC players."
"Player development in our country and in our state must improve. I applaud Minnesota United's renewed commitment to creating a pathway that fosters a competitive culture which will allow young players to pursue their professional dreams," said Bill Vance, Totino-Grace High School Soccer Coach. "This unique partnership with Minnesota's youth soccer community is putting the player first. It is an exciting opportunity for many Minnesota soccer constituents to work together for the good of our aspiring youth players and our community."
For players and families: More soccer for players, including MNUFC training and approximately 45 games per year in addition to club play as well as additional integration of the First Team throughout the youth soccer program. Competition and motivation to make it as a professional player, competition will drive the program throughout the pathway.
For clubs: top players stay with their clubs, players receive additional training, players become club leaders. The goal is to raise the overall level of soccer with more high-level competitions and developing the best players.
Please follow Minnesota United's social channels and check our website mnufc.com for regular updates on the club and the season going forward.
ADDITIONAL QUOTES
Steve May, President of the MYSA: "Minnesota Youth Soccer Association (MYSA) stands proudly with Minnesota United FC for their commitment to elevate the game of soccer for our youth and provide a healthy pathway to the professional ranks."
Matt Tiano, CEO of TCSL: "Twin Cities Soccer Leagues looks forward to Minnesota United's involvement and interest in the player development space. We believe that a clear pathway is important and that collaboration is vital. We look forward to seeing how MNUFC can help raise the overall level and add value to Minnesota clubs."
Jon Lowery, Head Men's Soccer Coach at University of St. Thomas: "A great moment for soccer in Minnesota. The benefits of Minnesota United addressing a developmental model based on what's right for our market will raise the bar for soccer in our state. This will have a positive impact at all levels with a vertically integrated process for development including our program at the University of St. Thomas playing a part as our state's first and only Division I men's soccer program. Adding to the model a Minnesota United reserve team and the peak being the first team is a great model for ambitious players."